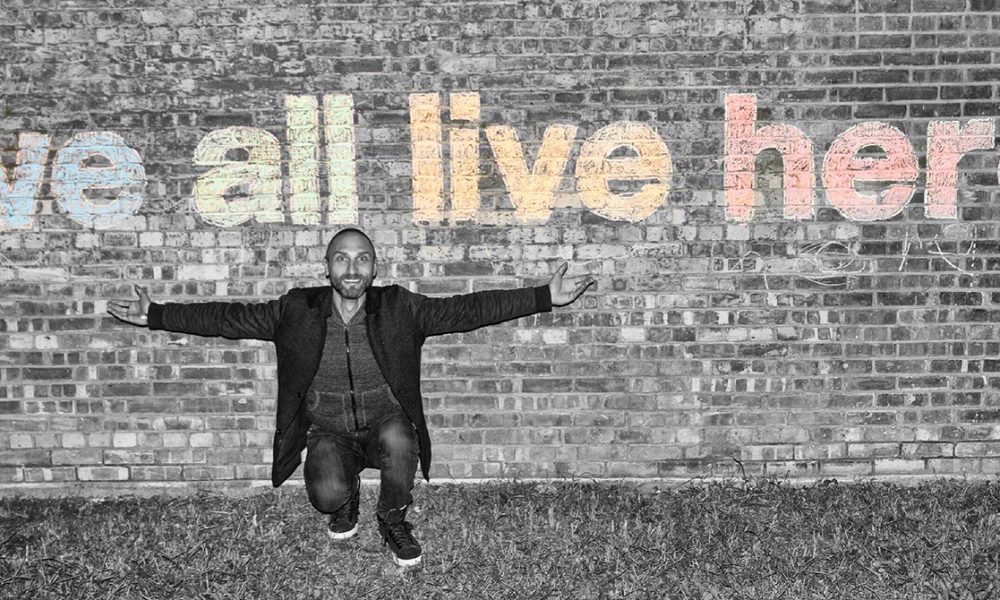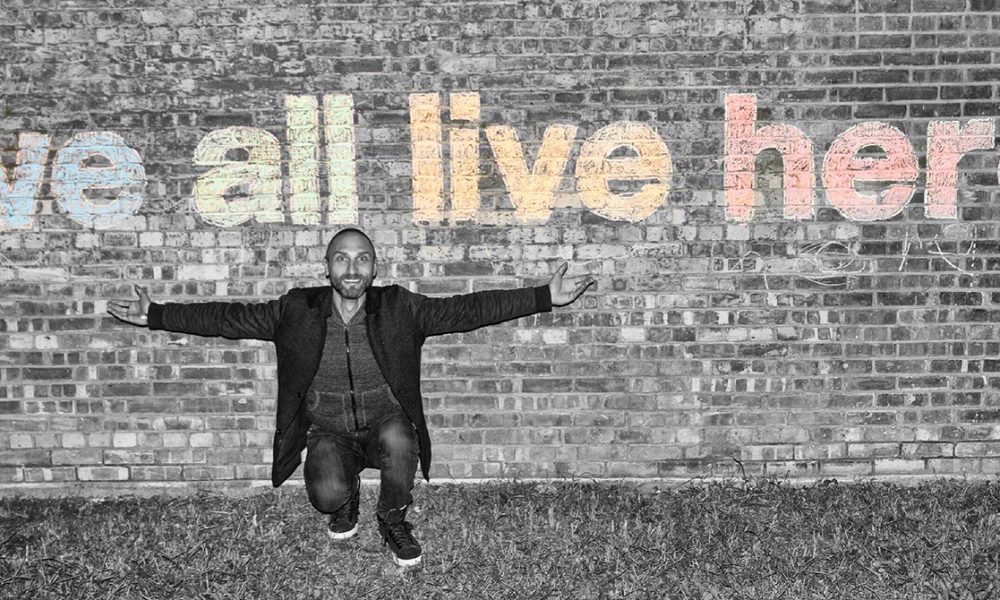 Today we'd like to introduce you to Rich Alapack.
Rich, please share your story with us. How did you get to where you are today?
Back in 2015, I was doing Creative and Brand Strategy for Tumblr. Life was good. But as part of my job, I interacted with people in cities all over the globe. Whenever the subject of Chicago came up, I would consistently hear people talk about the negative parts about our city. People genuinely didn't know about the amazing things happening which far outnumber the negative things. I wished I could do something about that.
Then, one day, walking my dog, I had a crazy idea. There was this white walled garage in my neighborhood that always looked like it was about to fall down before the next dog walk, but for some reason it had never been tagged and never been graffitied. Since I was an advertising person. I had been trying to think what could I write on that wall that might not need to be removed? This particular night, I was thinking about how I had ended up in Chicago from Canada. I was remembering how I had moved to a whole new high school for my senior year to play baseball. I ate lunch by myself. I missed my family and my friends. But those weren't the hardest things. The hardest things were how I suddenly started hearing people saying so called "harmless" hateful things all the time about a Native American Tribe that ran a successful tribal Casino. I tried correcting it whenever I heard it. I didn't care if it was the captain of the football team or the prom queen. If you said something hateful, I chimed in. But as I did this I realized I was alienating myself. Regrettably, eventually I started pretending I didn't hear these things whenever they were said.
So, on this dog walk, with these thoughts running through my head, I think it triggered the idea "we all live here" when I got to the wall. It stopped me in my tracks. This simple 4-word phrase encompassed "income equality, gender equality, racial equality, sexual equality, and even the environment." I felt that there was a power in this simplicity and I wanted to do something with that.
The first thing I did was to print some signs that said the phrase letter by letter, word by word, and the whole phrase on the sign. I took them to Pitchfork 2015 to see if anyone would think this phrase mattered. I started asking strangers if they would hold the signs while I took their picture to put on a blog. Immediately people let me. Then, I took it to the touristy spots around the city and finally Lollapalooza that summer. I made animated gifs out of most of the pictures and posted them on a blog on Tumblr. Normally, Tumblr has rules against featuring employee blogs, but they believed in the message and liked the GIFs. The blog went viral and I had 25K followers in less than a week. People from all over then started sending me messages encouraging me to keep spreading this message.
Next, I had the opportunity to speak to a Media Studies class at Oak Lawn Community High School about the blog. That went well enough to make the local paper and then the Principal called and asked me what they could do as a whole school with the phrase.
Sensing this was my chance to do something meaningful, I created a program designed to create public art featuring the phrase as a theme. The program works like this: I visit the school to brainstorm the project with the Principal and the Art Teacher. Then, I do an assembly for the entire population and show the students what we'll be doing at their school and work through a drawing exercise where they get to share with me what the phrase means to them through their art. I then go through some basics of graphic design and ask the students to marry their "we all live here" drawings with elements from the visual identity of their school (logo, mascot, fonts, colors, etc.) I then create we all live here logo for each school based on the student's ideas. The logo gets put onto merchandise which we sell to raise the money necessary to create the art.
Fast forward to today and we all live here has brought the ACT program to 87 Chicago schools, the Chicago Children's Choir recorded we all live here song and album, we put the phrase in all 77 Chicago neighborhoods, worked with the UIC Library System to make their libraries more welcoming, been featured by Deloitte Impact Day, participated in Chicago Ideas Week, done a TEDx Talk, we've been booked for Lollapalooza 2018 and we are just getting started.
Overall, has it been relatively smooth? If not, what were some of the struggles along the way?
It depends on how you definite struggle. Nothing about this journey has been smooth. I had to quit my fantastic job. That was a risk. I had to move out of my dream apartment. I had to sell my dream car. The lifestyle change was drastic but worth it in every single way. Material things never actually matter. Unfortunately, no one figures that out till after they've bought things. Other people probably think I'm crazy because they think I've given up so much but that's because they probably haven't been to an assembly and had a student-run up to me afterward to give me a hug because what we're doing meant so much to them.
we all live here – what should we know? What do you guys do best? What sets you apart from the competition?
we all live here was conceived as a way to bring people together. I figured schools were already in the heart of many communities. So, if I created the right program, with this message, we would have the excuse to bring students, teachers, parents, neighbors of the school, local businesses, and big companies together to create a positive and inclusive message that everyone would be proud to have been a part of. So, we specialize in putting unity in your community through public art activities. These projects could be murals, sculptural (signs), graphic designs, etc. Whatever they are they must be public which gives everyone a chance to enjoy them AND be recognized for helping them come to life. I'm most proud of the 40-foot x 40-foot, 6400 tile mural we made in the West Loop with the entire community in response to some racist graffiti that someone sprayed on the bridges over the highway. Now, there is this huge physical reminder of what we can achieve when we work together. I'd say it's our creativity and willingness to push boundaries and collaborate that sets us apart.
What is "success" or "successful" for you?
Success has nothing to do with money, fame, or fortune. It has to do with what you feel when you put your head on the pillow at night. Did you have a good day? Did you do your best? Did you inspire others? Did you make progress? These are the markers I measure myself by.
Pricing:
Custom corporate public art programs $5K and up
Sponsor an ACT program at a less fortunate school $25, $50, $100, $250, $500
we all live here murals $500 and up
Contact Info: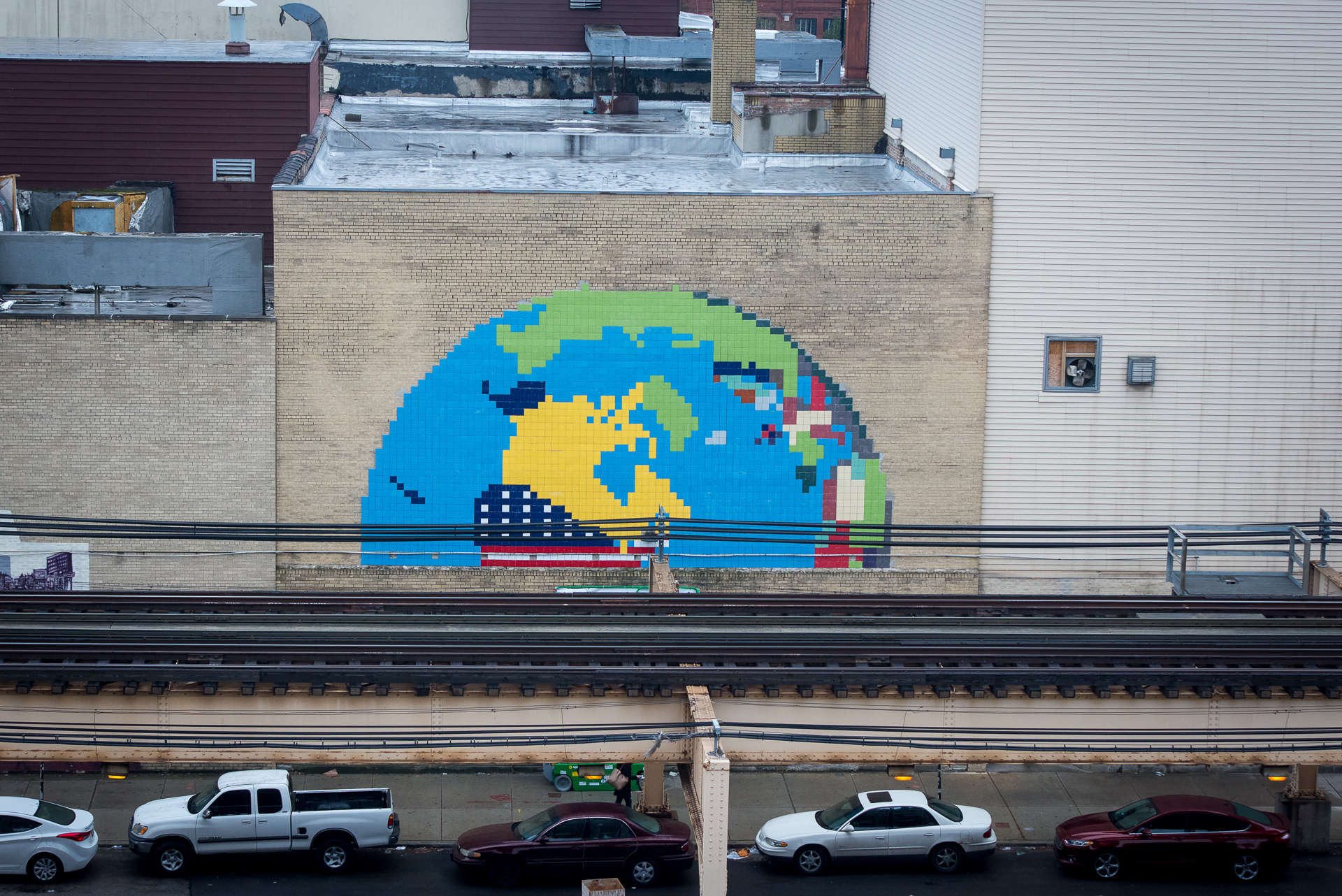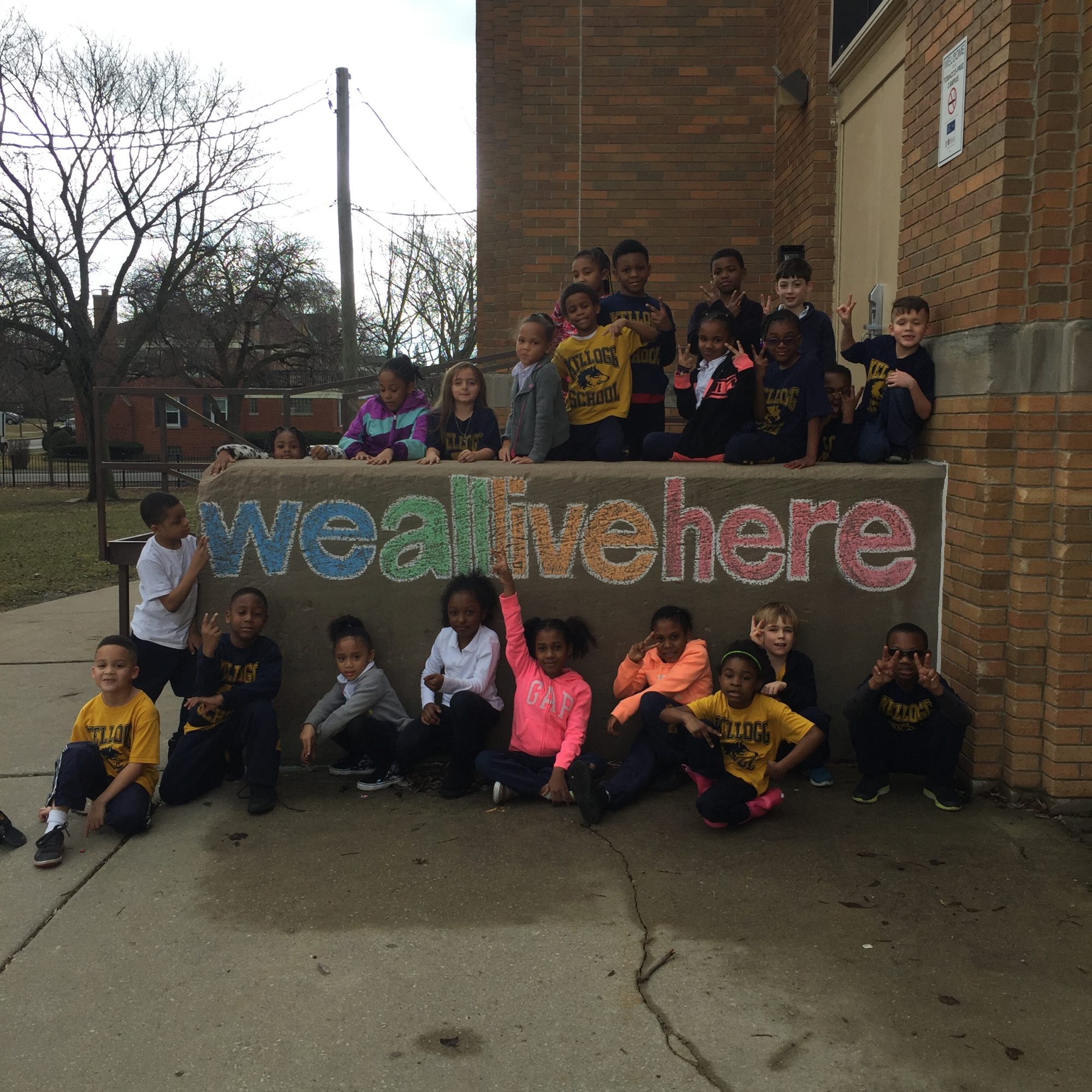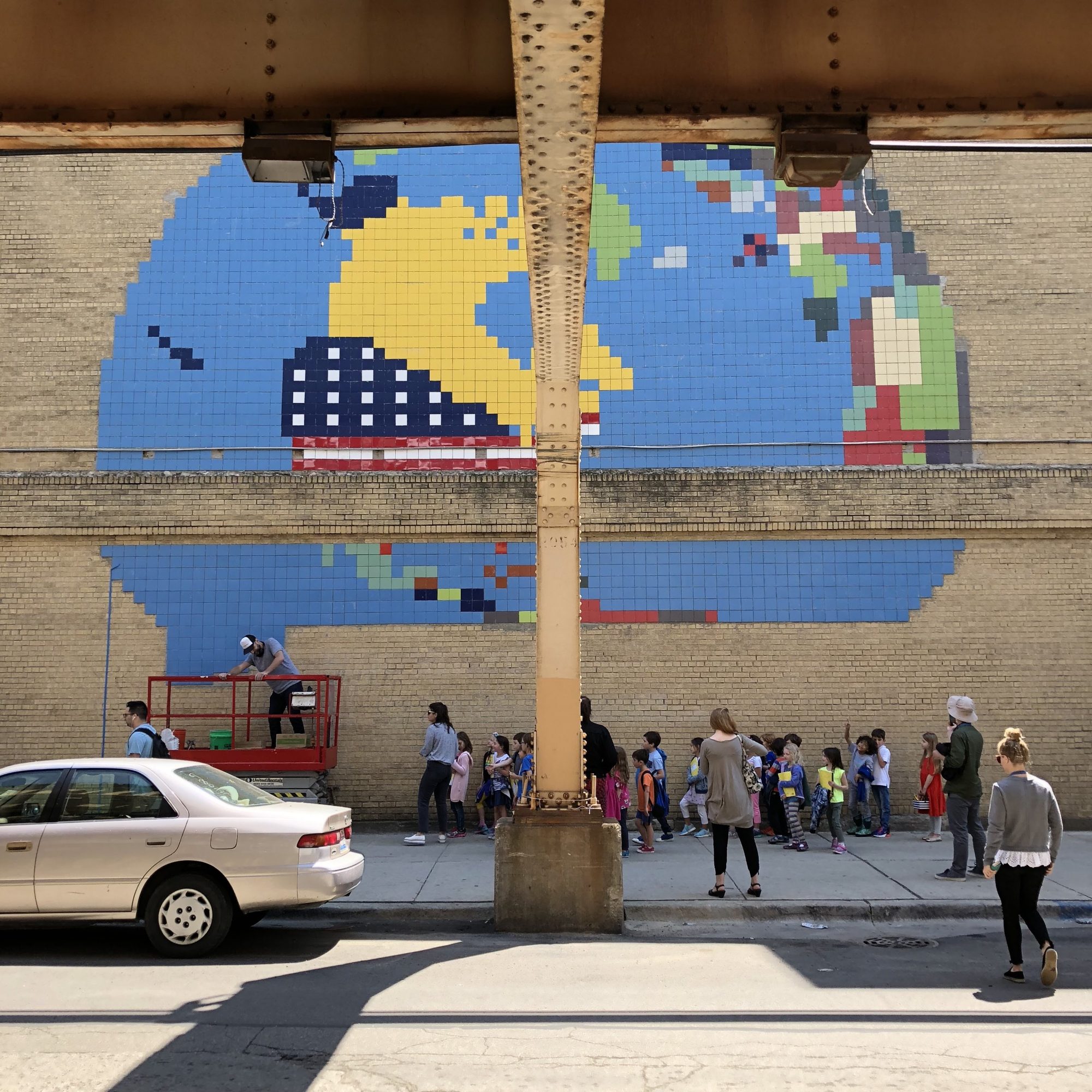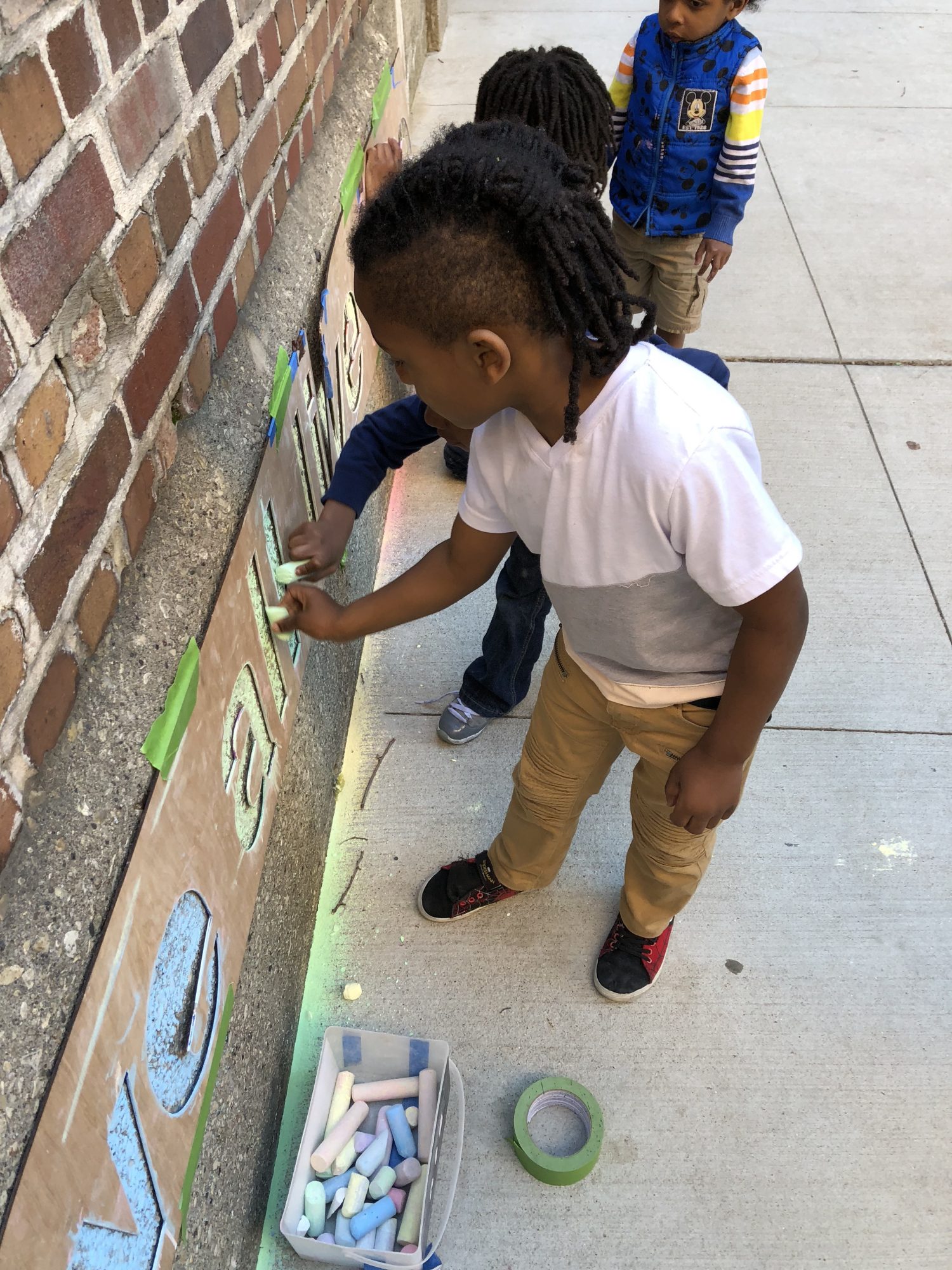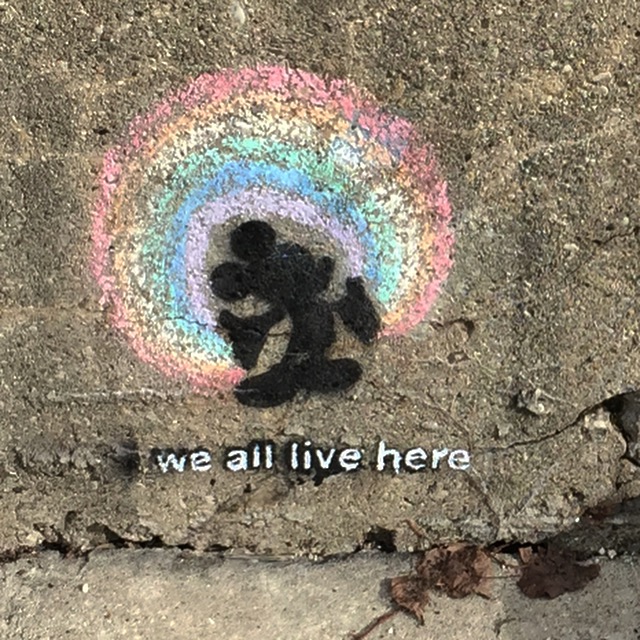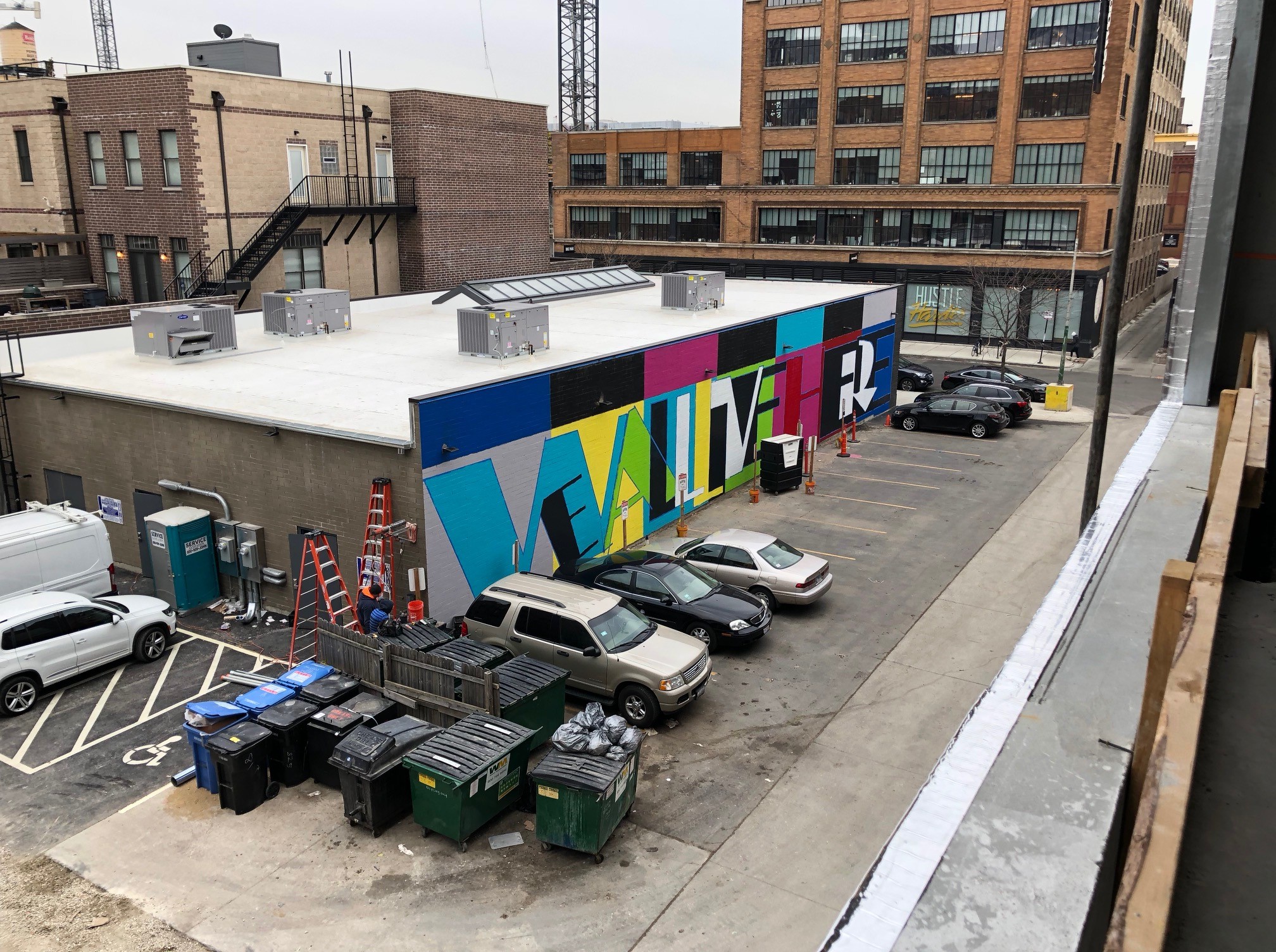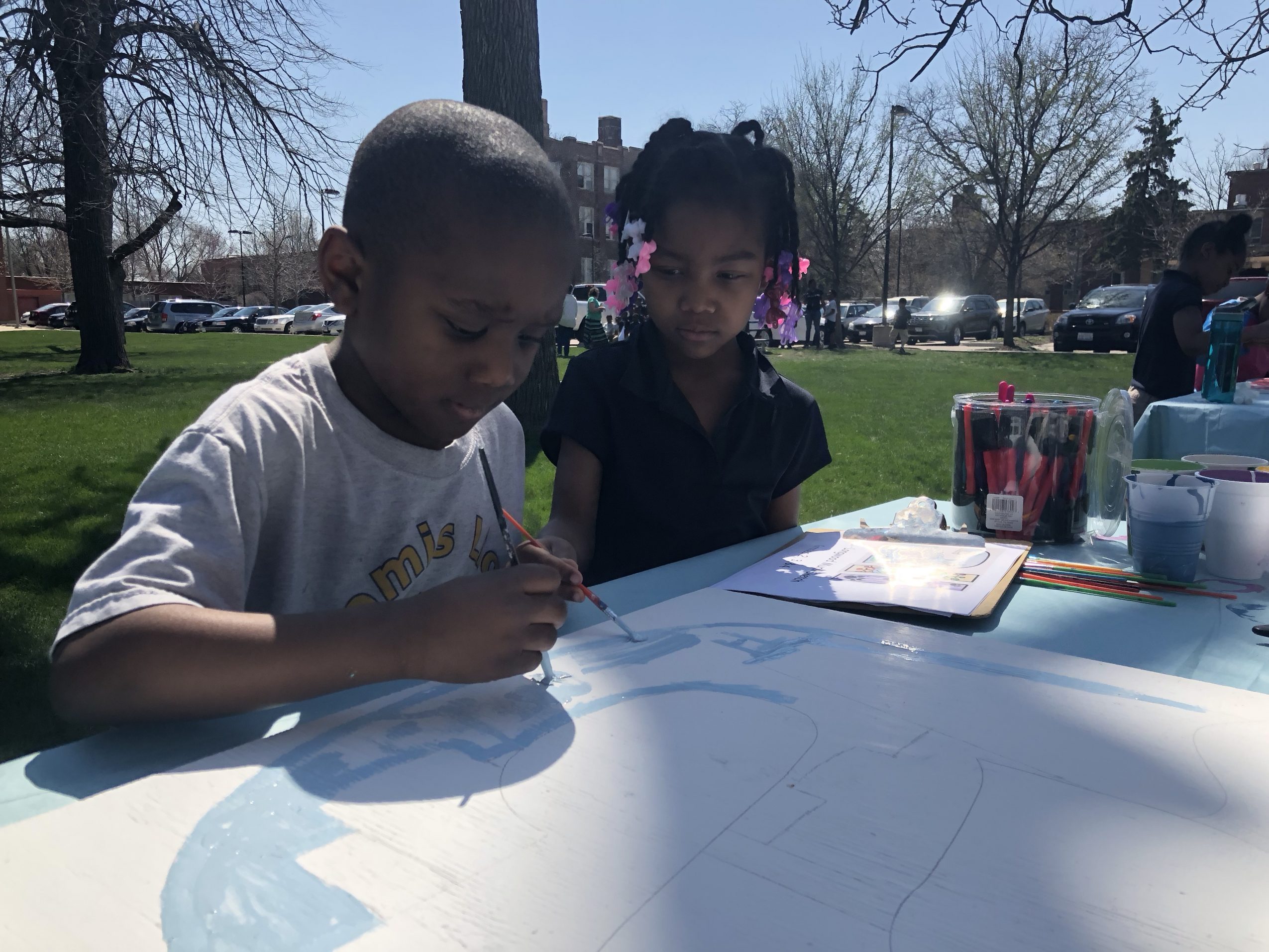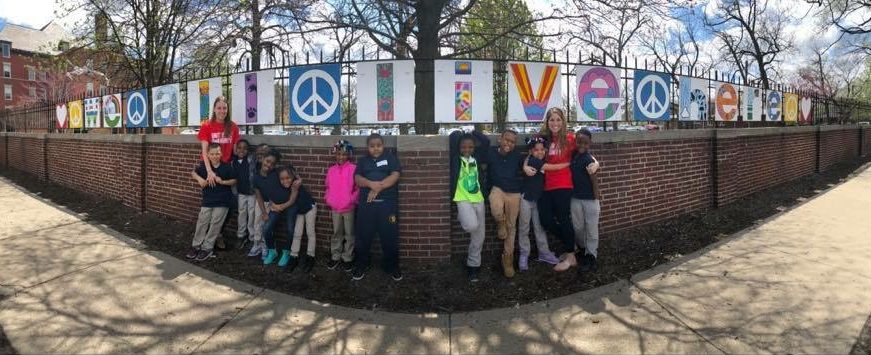 Image Credit:
Kenneth Johnson (kjohnsonpictures.com)
Getting in touch: VoyageChicago is built on recommendations from the community; it's how we uncover hidden gems, so if you know someone who deserves recognition please let us know here.