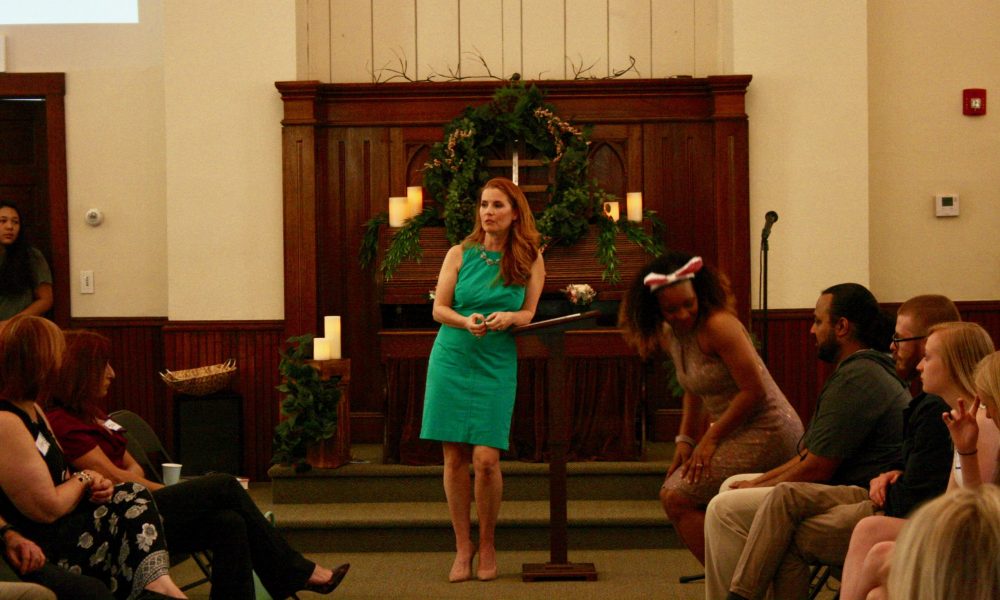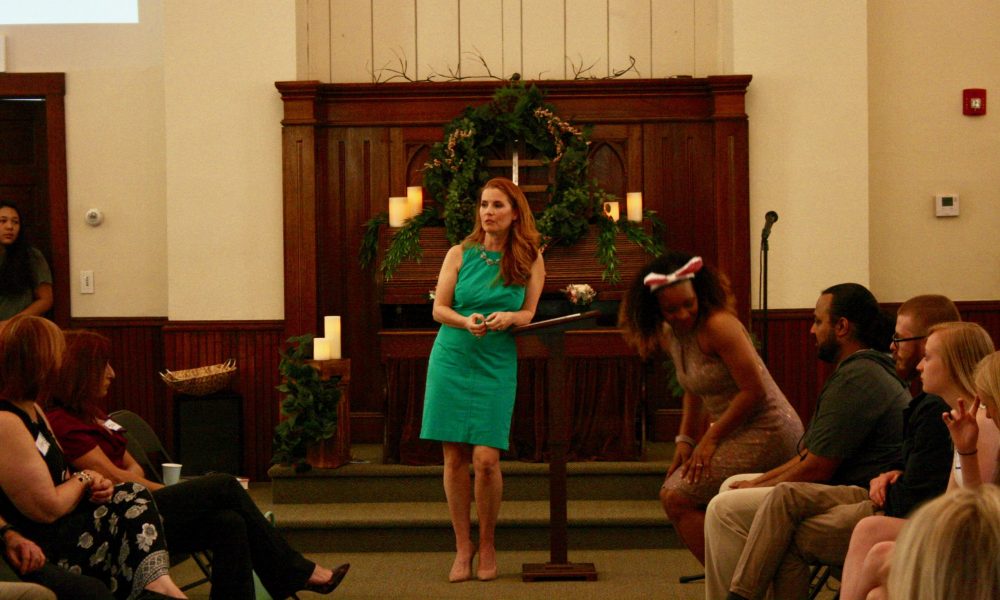 Today we'd like to introduce you to Maureen Muldoon.
Thanks for sharing your story with us Maureen. So, let's start at the beginning and we can move on from there.
The genesis of SpeakEasy Spiritual Community came from a desire to have a spiritual community where spiritual curiosity, female leadership and the spectrum of diversity were not just welcomed, but celebrated. I was raised in a church that had no model for female leadership and no tolerance for questions or nonconformity. As a curious girl, that was a problem.
I also happened to have five older sisters who were my first teachers. It felt odd that my church was not recognizing this, and that all this amazing resource of feminine leadership was not being appreciated or nurtured. I am sure that if it had been, I may have become a priest. Instead, I became a television actress.
I took my desire for telling motivational stories, and directed my energies on an acting career, though my spiritual thirst and curiosity never left me. For the first chapter of my life, I lived in LA with palm trees, swimming pools, and celebrity neighbors, while I worked in TV and films. It was a great way to find my voice and build my confidence.
While in LA I had co-written and produced a play called, "Booby Trap, the very breast show in town". It was a beautiful celebration of a woman's relationship with her breasts. I was using it to raise money for breast cancer awareness as a way to honor my mother's battle and death when I was 13 years old.
The show was produced in Hollywood and someone from the Chicago area was at one of the shows and asked if the theatre department at Elmhurst College could produce the show to raise money for one of their theatre professors who was also battling breast cancer. I said yes, and made plans to come see their show.
When I arrived in Chicago, I had a visceral experience where I somehow knew that I was supposed to jump ship from Hollywood and move to the Chicago area. I can't really put the experience into words, except to say that I had no real choice. I called my husband to tell him that we needed to sell the house and move to Chicago and he said, YES! It made no sense what-so-ever. We were both working in an industry where people never leave.
We put our house on the market and it sold right away. We said good bye to the celebrities and moved from lala land to La Grange. It was surreal. At the time I had also gotten my credentials as a spiritual practitioner, which is like a life coach that helps people navigate rough patches using spiritual tools.
When I arrived in Chicago I began working for a New Thought church in Lincoln Park. One day the minister asked me to do a series of talks on a book that I was teaching called A Course In Miracles, I said YES.
Standing on that stage before a thirsty audience and allowing the truth to flow that had been bubbling in me since I was a little girl, was nothing short of audacious. From that day to this, I have been guided by an inner compass that tells me where to go, what to do and what to say. It is in partnership with this internal compass that I have been able to create and support a growing and thriving community in the Western Suburbs.
Because of my creative background, we attract a lot of creatives and artists. Another event that I produce is called Voice Box Stories that I co-host with Cathy Richardson from Jefferson Starship. She contacted me one day to help her as a life coach and we have been collaborating and creating ever since. I feel extremely blessed to be in partnership with such an amazing talent. Voice Box Stories is for the people who might never come to church. Again, it's a place to hear and speak the truth and celebrate the human condition. Voice Box and SpeakEasy have the same goal, to help people connect and to support engaging conversations.
We like adding our own twist to things, we are all about creating and not conforming. And we don't just preach it, we live it. Voice Box is unlike any other story night because we thread the stories with songs that Cathy is inspired to sing after hearing each story. SpeakEasy is unlike any other Sunday morning offering; most people have come to call us the "un-church" all the love with none of the dogma.
We sit in a circle, knee-to knee and eye-to-eye, where we are all teachers for each other. We help to inspire people to know that life unfolds for us and happiness does not have to come at the cost of sacrifice. We actively engage in community conversations, that is stirred up by concepts or stories that hold applicable tools to support well-being. We say: Love is our religion, care is our currency and peace is our goal. It feels like a spiritual renaissance where people are allowed to be authentic and encouraged to think outside the box. Speakeasy is the church of the future where all voices and view points are honored and appreciated.
It seems to be answering a need. We started with a circle of five to ten people back in 2013 in a yoga studio in Brookfield, IL. and have grown into a virtual community of over six hundred members with an average Sunday attendance of 70. We do not have all the answers, but we love entertaining the questions. I am still the curious kid who is invested in finding and supporting our common ground where we can love more and fear less. It's a place to speak easily about everything on your heart, and It's a beautiful thing.
Has it been a smooth road?
The first struggle was my own resistance, confusion, and mistrust. One of my last acting jobs was on the set of Dexter, I was playing a woman who had been murdered. I was lying in a sea of fake blood and thinking, "Is this what I am supposed to be doing in my life?"
I knew that one classroom was ending, but I was really not sure about the new direction. Even when I got clear inspiration, I would wrestle with it. How was I to open a church? I was not a church lady. I was not ordained. I was not capable. When it came down to it, all the obstacles were internal. Once I said yes, the doors open, the church became available, the people arrived.
Another struggle or an area that can be a struggle if not accepted is that there is a great deal of time and energy that is call for to nurture and grow a new community. If you do it from and place of love, it does not have to drain you. But it is not something that you clock in and out of. You become your walking ministry. Today I have no idea where my life ends and my job begins, it is all one. I found this easy to accept because that was pretty much my acting career as well. You always had to be on, 24/7.
As a spiritual leader, this means that I am never unavailable. Though I think this is actually appropriate for the role. To be honest, I love what I do, I love watching people find their tribe, find their voice and find their calling. I love witnessing miracles in people's lives. I would trade a million sunrises for the opportunity to watch one man rise to a greater idea of himself. I get to see this almost every day. I have the best seat in the house. I know it can sound corny, but when you're in the business of love, it is likely to sound corny. I am okay with that. Actually, I am unapologetic about it.
We'd love to hear more about your business.
We attempt to help make God and spirituality more fun and less frightening.
We attempt to make God synonymous with breath.
We attempt to bring spiritual bridges and bringing people together from all walks and ways to engage in engaging conversations for personal and spiritual awakening.
We do our best to utilizing irreverence, humor, and storytelling to inspire and awaken others.
My special sauce is that I pray like a pope, swears like a pirate and lives an authentic and unapologetic life with her trophy husband and four children. I am not your ordinary minister but we live in extraordinary times and we are each being called to rise.
Is our city a good place to do what you do?
When I first moved here I needed to travel an hour to get to a church that fit my personal philosophy. There were many Christian churches, one temple, and no other choices. I feel like it is a great time for those that feel called to ministry, but this can take many forms, a yoga studio, a theatre, a coffee house, church does not have to look like a church.
We need to provide more options. Our careers have become fluid, our genders have become fluid, our churches and religious temples are being called in the same direction.
We don't need another religion. We can't have a universal religion, we will always and should always have diversity, but we can have a universal experience and that experience is love.
Chicago is known as the heart of America, it is the perfect place to start a spiritual renaissance.
Pricing:
Voice Box is $10.00 at the door
Contact Info:

Image Credit:
Liam Schaub
Getting in touch: VoyageChicago is built on recommendations from the community; it's how we uncover hidden gems, so if you know someone who deserves recognition please let us know here.