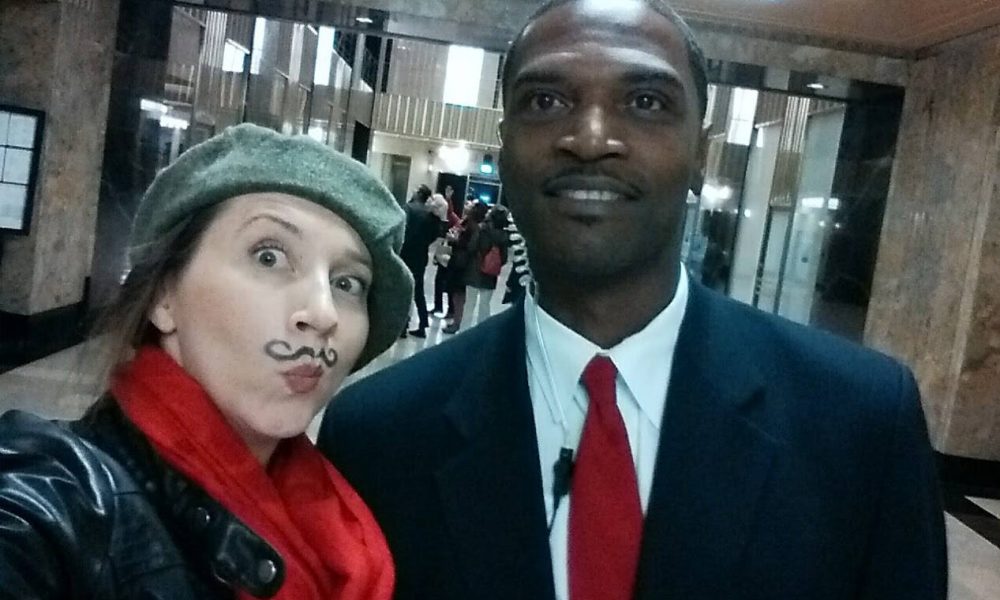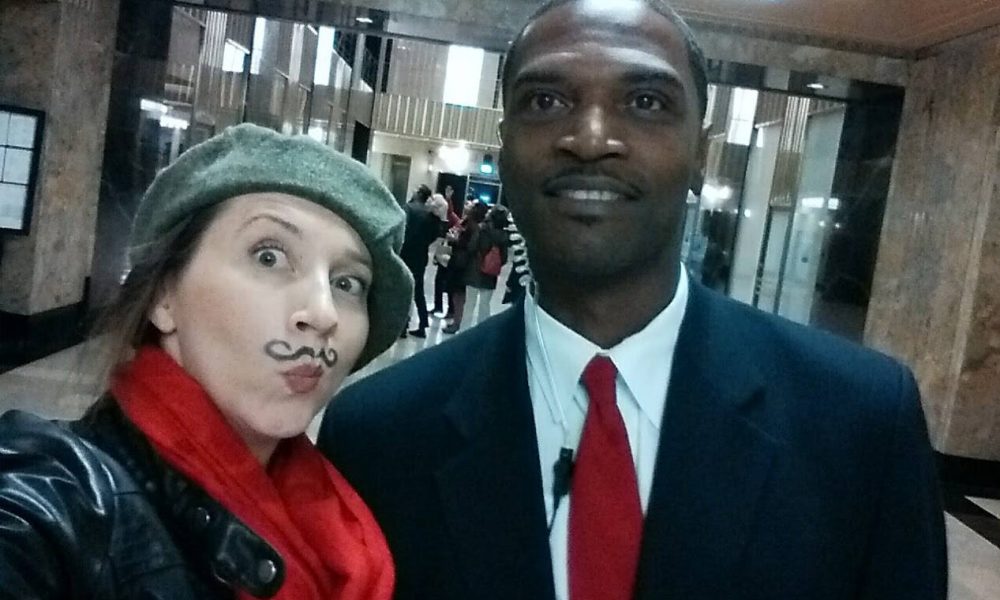 Today we'd like to introduce you to Hillary Marzec.
Hillary, let's start with your story. We'd love to hear how you got started and how the journey has been so far.
A grad school mentor of mine once told me that I'll always be teaching — maybe not in a classroom, but in some capacity. It's who I am and it's what I do well. I had never considered tourism as an avenue for a teaching career, but once I got involved in it in 2008 — my first job in tourism was as an architecture river tour guide — it opened up a whole new world of possibilities to me, and I've been moving forward on this path confidently and happily ever since. Over the next few years, I got experience guiding boat tours, food-tasting tours, and private yacht tours out on the lake; I eventually became head of Product Development at the boat tour company where I was working, which I saw as a wonderful opportunity to teach other tour guides (i.e., other "teachers") not just what to teach, but how to teach. I loved doing this, and felt like I was able to use my skill set to a further-reaching degree. However, after a couple years of doing this full-time, I felt that I missed teaching guests myself — I missed the interaction with tour guests, the ability to gauge their personal interests and respond to them, the experience of seeing their faces light up with delight and wonder at what I'm able to show them.
So I decided to start my own architecture walking tour business the day I left my old job at the boat company. That day, as soon as I got home, I came up with my business name and even created my logo. (For fun, I also created an "Inside Paris" logo for potential future goals with my brand-new business.) I spent the fall/winter of 2013 researching and creating my own tours, building on my already extensive knowledge base about Chicago, and filling them with buildings and stories that I personally find exciting and interesting: I no longer had anyone else to tell me what I should and shouldn't talk about, and every minute of my tours reflects my personal interest in and passion for what I teach about. I launched my tours in April of 2014, and since 2014, my tiny company has achieved and maintained its ranking in TripAdvisor's TOP TEN tours in Chicago. The Leo in me loves reading all of these positive reviews; the businesswoman in me loves the fact that it helps bring people to my business, as I simply don't have the marketing budget and power of the bigger companies. I depend on people coming on my tours, authentically enjoying them, and helping to spread the word. There's something very meaningful to me in that form of marketing: straight-up, truthful advertising from one customer to another potential customer.
When I was starting my business, my father — Jim Marzec — was somewhat recently retired, and was looking for stuff to do. He asked if he could help me with some of the business aspects — looking up insurance, running budget numbers, etc. — and that small offering grew into a daily partnership where we brainstorm and plan together. This year, I officially have my first regular employee, which is a small step in growing my business, but an important one. It's been very difficult to find people who have the right combination of know-how, personality, reliability, and availability. I will continue to grow my business bit by bit, entrusting my tours only in the hands of the most capable guides. This company — and my products — are my "baby," and I am extremely proud of what I've accomplished.
I also, though, feel extremely blessed to be able to do what I love for a living. I find it funny when people ask me, "So do you do this full time?" It's like they can't imagine someone having this much fun at work! But I absolutely love what I do: it's healthy and active, it's fun and social, it's creative and artistic, and it's of course pedagogical,
It even allows me to practice my foreign language skills (French and German), and to meet people from all around the world. I am proud and humbled to represent not only Chicago, but what an "American" is like to these people. I am part of the impression these people get of this country, as grandiose as that might sound, and I'm very aware of that responsibility. For many visitors, I become the relatable face of Chicago — and I take pride in that job.
We're always bombarded by how great it is to pursue your passion, etc – but we've spoken with enough people to know that it's not always easy. Overall, would you say things have been easy for you?
It has been surprisingly smooth, I'd say, though I'm also one of those "If you want it done right, you've got to do it yourself" people, so I think I plow head-first through challenges before they become major. If something has been challenging, I've generally met it head-on: don't know how to make a website, so I learn. Don't know anything about designing on a computer, so I learn. Don't know everything about Chicago's history, so I learn. It's a constant learning experience for me, even today, and I really enjoy it.
I think the biggest challenge to me is making my company known amidst the overwhelming presence of the competition. Chicago is known for its architecture, and so naturally, there are large companies that have very large marketing budgets to make sure they are the go-to for anything dealing with architecture in Chicago. The problem is that often visitors only hear about these big companies because the marketing is so ubiquitous, and they don't get a chance to try a small company like mine. But I guess this is the small business vs. big business issue in most industries.
We'd love to hear more about your business.
Inside Chicago Walking Tours is a walking tour company that combines my skills as a teacher, tour guide, improv comedian, and curriculum/product development specialist into a particularly engaging format for teaching visitors about Chicago. We go inside at least a few buildings on every tour — which is the main reason I named the company the way I did — and each tour teaches in a contextual, thematic way. Rather than giving guests a laundry list of facts, numbers, dates, and names, and just filling their brains with stuff they'll likely forget, I create tours that each tell some type of story through the buildings I choose to explore with my guests. For example, my "Telling the Story: The Historical Masterpieces of the Loop" tour takes guests on a visual and tactile path from how we used to build with load-bearing construction to how we eventually built with metal framing, making skyscrapers possible (the first ones in the world being in Chicago). My newest tour, "Look Up, Look Down: Exploring the Heights and Depths of a City" takes guests to high views and low views of downtown Chicago and the riverfront, giving them a new appreciation for the noticeable textures and layers of a city like this.
I specialize in teaching about architecture, design, engineering, and history in a highly engaging, contextual way that teaches people not just WHAT to see, but HOW to see. It's very gratifying to me that many guests will tell me that they were simply looking at the city differently after my tours, and that they notice much more than they would have before. I get people to understand why things look the way they look when they look the way they look; I equip them with mnemonic devices for recognizing various styles, and I teach them to listen to the "conversation" that the buildings are all having with each other and with us, their audience.
I'm also very big on exploring architecture as an ART. One of the things I say on my tours all the time is that architecture is an art, but it's a functional art — and we get distracted by the function. So I love putting the artist and art back into these buildings, getting people to appreciate the imagination, the decisions, the challenges, etc., that go into making even the most basic-seeming buildings.
Perhaps my favorite people to have on tours — and what makes me proudest — are the locals who've grown up around here, but have never really looked at the city in the way I teach them to. I once had a retired couple join a public tour of mine in the summer, and then bring their college-age kids back with them for a private tour during the kids' winter break. The patriarch of the family — probably late 60's — pulled me aside halfway through the tour and told me that he'd lived in Chicago most of his life, and that he had never looked at his hometown the way he does now after going on my tours. It was such a gift to him to experience his city like that, and it was a tremendous gift to me to get that kind of feedback. It's a true privilege, getting to facilitate the development of love and awe for Chicago through my tours. I'm very proud of that.
What were you like growing up?
Personality-wise, I was always the "funny, smart one" in my family. I'm a middle child in an academic family with a great sense of humor, so I grew up prioritizing smarts and humor in myself and in other people.
My home and my family were supportive of curiosity and imagination, and I'm very grateful for that. My younger siblings and I would play outside together, and we had to decide upon each play period 1) what type of horses our bikes would be that day, and 2) what magical powers each of us had. My older sister and I would play "ditch" at night with the big kids in the neighborhood. So as the middle child, I kind of had the best of both worlds: little kids and big kids. Perhaps being the middle child, I learned to talk to people of all ages and personalities in a way that would lead to productive, respectful, authentic communication. I think that this truly informs who I am and what I do. My mom has always said I can talk to anybody, and she's right.
Also as a middle child in an imaginative, playful family, I developed a sharp sense of humor, and I've always loved making people laugh. My mother is probably still my favorite person to make laugh. I didn't pursue any kind of comedy as a child, but once I got to college, I got involved in improv comedy, and I continued that when I moved to Chicago as an adult. It allowed me to carry over my imaginative side into an adult setting, being able to tell stories as a group on the spot in front of people.
I've also always been very interested in language and how people communicate. I remember being a kid in church, looking at some translation of a song from Latin into English, and trying to "translate" by looking at a word's placement in the Latin sentence, and looking for the same placement in the English sentence. It of course didn't work like that, but I had that interest from a very young age. My mother was a professor of Old and Middle English, and so I grew up being curious and eventually learning about the concept of "foreign language," and as soon as I could learn one on my own, I was super excited. My first foreign language acquisition was Latin in high school, which I loved. After two years of Latin, I got my school to OK me taking a different gym class time so that I could add French classes to my plate. So I got Latin and French in high school, continued French and started Italian in college, then lived in Austria for a bit so picked up German by watching TV and attempting conversation.
I've also always loved performing. My younger siblings and I would put on these little shows for our parents, where we would have them sit in the dining room so that we could use the doorway between the dining and living rooms as a sort of frame for our "stage," and we would perform in the living room. We used the light from my kiddie microscope with its various colored gels to cast different moods for each performance. Probably my earliest memory of performing, though, was with my older sister for our younger siblings' birthday. I was probably 3 years old. My sister and I dressed in our pajamas, and used lipstick to draw "clown" make-up on our faces, and then proceeded to basically run around the living room acting silly with jump ropes. Not exactly Abbott and Costello, but we tried. 🙂
I've also always been very keen to the suffering of others, and compassion is very important to me. Whether it's fostering animals or helping the homeless, I have always felt a sort of moral imperative to help. Growing up, this meant standing up for kids being bullied, for example, or picking as many violets as I could so that the lawnmower wouldn't get them. I remember that day: I was hurriedly picking flowers in our yard, crying the whole time. I guess you could say I'm a "bleeding heart."
Pricing:
General admission tickets are $25
Seniors (65+) and children (under 11) are $20
Small kids under 6 are free with adults.
Contact Info:
Getting in touch: VoyageChicago is built on recommendations from the community; it's how we uncover hidden gems, so if you know someone who deserves recognition please let us know here.