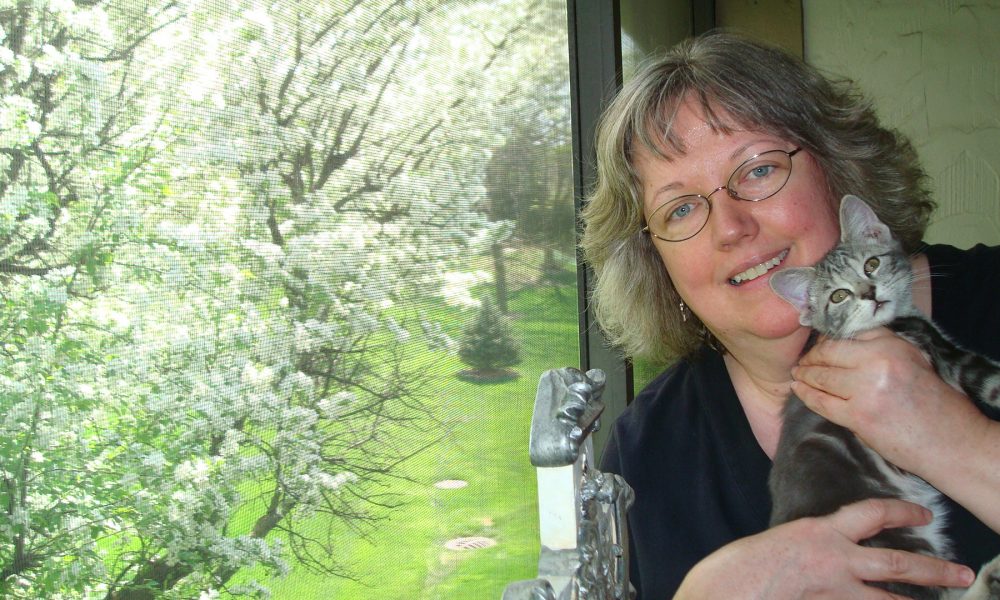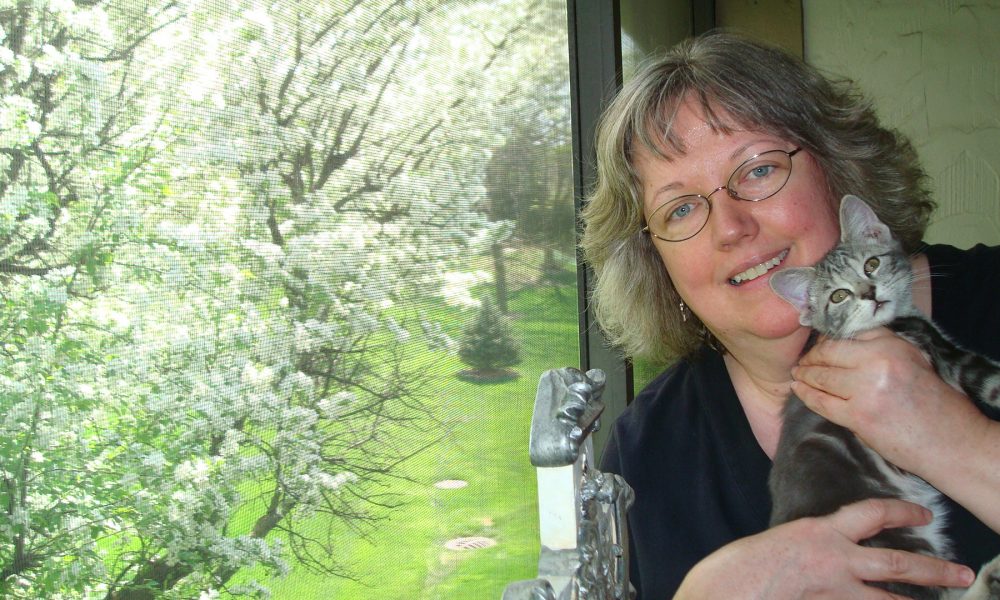 Today we'd like to introduce you to Jessica Loftus.
So, before we jump into specific questions about the business, why don't you give us some details about you and your story.
What are you grateful for?
Gratitude, the warm feeling of thankful appreciation, is the theme of our counseling practice, Gratitude Well Counseling and Resources, located in Palos Heights, Illinois. During my 20 years of experience as a Licensed Clinical Psychologist and National Certified Career Counselor, my little kitty pal, PurSneakity and I have witnessed the healing power of gratitude on many occasions.
The simple act of expressing gratitude for one's life fortunes is such a powerful antidote to depression and anxiety that we integrated this practice as a counseling "intervention" in our waiting room years ago. A table-top wishing well bearing the sign, "Gratitude Well", is displayed prominently with an invitation to "jot down one thing for which you are grateful on a piece of paper, and toss it into the well". Each week a gratitude is drawn from the well and posted conspicuously in the waiting room. The Gratitude Well inspires clients, who are usually struggling with serious life problems, to think more positively, even for the moment. Over the years, many inspiring gratitude's have been drawn from the well. One of my personal favorites is "I am on the right side of the dirt."
As founder of our counseling practice, here is a little background to its development. Creative and artistic from a young age, my first career plan was to become a graphic artist, but I decided that accounting would be the more practical career choice, a decision that ironically disappointed my mother, who knew I had an artistic gift. I worked at a large bank in Chicago's Loop after earning my accounting degree and passing the CPA exam. That job, however, left me miserably unfulfilled. Suffice it to say -gratitude was not my primary emotion at that time.
Depressed and disillusioned, I sought counseling at the Employee Assistance Program (EAP) offered by the bank where I worked. During my first session with the EAP counselor. I expressed my bitter unhappiness with my job, so the counselor asked me, "If you could do anything you wanted to do, what would it be?" Without a second's hesitation, I replied "I want to do what you do!" I'm not sure who was more surprised at hearing this, the counselor or myself. Just as surprising, my depression lifted considerably by the end of the session.
So, it was back to school – for ten years. After earning my master's degree in Community Counseling at Loyola University Chicago, I pursued my doctorate in Counseling Psychology there as well. I worked several jobs to complete my licensure requirements, having to deal with a variety of challenging bosses and institutional constraints. After obtaining my license as a clinical psychologist, I decided to go to work for the best boss I ever had in my life – – me. Talk about gratitude!
In 1997, I opened a private practice on a part-time basis while I worked full-time at a university counseling center. In 2000, I resigned from my job to pursue the practice on a full-time basis.
Given my prior experience of depression resulting from not pursuing my true calling, career counseling became one of my passions, and I became a National Certified Career Counselor. For years, I conducted career-counseling workshops for community residents at a local women's health center and a prominent book store. One of my favorite workshops, entitled "Once Upon a Career" featured well-known fairy-tale characters to describe the primary career personality types. The fairy-tale morals also served as inspiration for participants who were anxious about making a career change.
This prompted me to create a wallet-sized card entitled, "Easy Ways to Ease Stress", which listed simple tried-and-true techniques to reduce anxiety. To this day, every one of my clients receives one of these cards.
In 2007, I organized a day-long retreat, Soothing the Body, Mind and Spirit, held at a local nature center. A variety of professionals, including clergy members, psychiatrist, physician, counselor, laughter leader, pet therapist, artist, naturalist and two musicians offered their insights on easing stress. One of the recurring themes from the various experts was "gratitude". This inspired me to rename my counseling practice and institute the waiting-room intervention of the gratitude well.
In keeping with the philosophy of the Gratitude Well, my colleagues and I set out to express our gratitude through community service. Among the many workshops we facilitated over the years, here are some of the more prominent titles. Depression Found Meaningful, Hoping for a Baby, Gear up for College, Evening of Networking Magic, Discover the Secret of the Secret, Dump the Diet and Nourish Your Self and Women, Words & Wisdom. All of these were offered free of charge or for a small gratitude offering.
Practicing gratitude can have some surprising benefits. I met the man who would become my husband at one of my free community events, an 8-week course on "Healthy Weight". Having lost over 130 pounds himself, my to-be husband attended the first class intent on imparting his wisdom to the group and challenging my "psycho mumbo jumbo". By the second class, he confessed that his weight loss was not actually that healthy; in fact, he had to have his gallbladder removed during the process. By the fifth class, he teared up as he shared a very personal story of rejection. At the end of the last class, he invited me out on a date. We were married five years later.
Over the years, I have supervised many interns in my practice, and have offered several newly licensed counselors affordable opportunities to start their practices. Of all the counselors in my employ, Michelle Murray, has truly embodied the philosophy of the Gratitude Well practice in the most profound way. As an intern, Michelle worked diligently to provide counseling to underprivileged clients for a nominal fee, which was often waived and co-lead our support group for Survivors of Abuse and Other Forms of Mistreatment. She also co-presented a lecture to a local police department on The Keys to Effective Interventions with Individuals with Mental-Health Disorders.
A single mother of an adult son with severe autism, Michelle is a tireless champion for the needs of adults with autism and their families. Upon discovering the dearth of services and resources available for this population in the Chicagoland area, Michelle chose to write her doctoral dissertation on providing appropriate interventions for adults with autism and offering training for medical and other professionals to address the needs of this underserved group. Gratitude Well Counseling and Resources will be the home of such services in the near future.
One final gratitude – my little kitty pal, PurSneakity, authored his debut book entitled, Tails of Bad Habits with a bit of help from his "purrchologist who is fluent in Meow and specializes in feline issues. In this book, Pusneakity shares his "tails" of how he struggles, resists, progresses and backslides in his journey of overcoming is BAD HABITS (Boredom, Addiction, Deception, Habits, Anxiety, Bullying, Intolerance, Two-timing and Selfishness). Readers enjoy the cat's amusing antics with his littermate, Patience; his cat rival, Fido; and his beloved, Penelope as they inspire him to rethink his bad attitude that "mouses are louses who don't belong in houses".
What am I grateful for? I am grateful for all the opportunities in my life to use my true gifts to help others to find their true gifts and walk their true paths.
Overall, has it been relatively smooth? If not, what were some of the struggles along the way?
The biggest challenge has been getting paid by insurance companies, particularly in the last 8 years.
Gratitude Well Counseling and Resources – what should we know? What do you guys do best? What sets you apart from the competition?
Gratitude Well Counseling and Resources is a private-practice counseling service. We provide counseling for the following issues: depression, anxiety, grief and loss, coping with infertility, illness and disability, relationship issues, career transition, returning to college, sexual assault and abuse, spiritual concerns and growing up in an alcoholic family. In the near future, we will be offering services for adults with autism. Although we accept a variety of insurance plans, we offer counseling at a very low fee for those without insurance. In keeping with our philosophy that gratitude is healing, we express our gratitude by offering free programming to the communities we serve. In 2016, the proprietor of the practice self-published a book, "Tails of Bad Habits by PurSneakity", an allegory featuring a cat who struggles with the same bad habits that we humans tend to have.
What is "success" or "successful" for you?
Definitely not money! The practice, although busy, posts only a modest annual income. Success is touching people's lives by inspiring them to become their best selves, mentally, emotionally, spiritually and physically. This is tough to measure objectively, but is clearly obvious when achieved.
Pricing:
Counseling sessions start at $30
Contact Info:
Address: 7250 W. College Drive #1W
Palos Heights, IL 60463
Website: www.gratitudewell.com
Phone: (708) 448-1306
Email: jesiphd@gmail.com

Image Credit:
Jessica loftus
Jack Murray
Michelle Murray
Getting in touch: VoyageChicago is built on recommendations from the community; it's how we uncover hidden gems, so if you know someone who deserves recognition please let us know here.