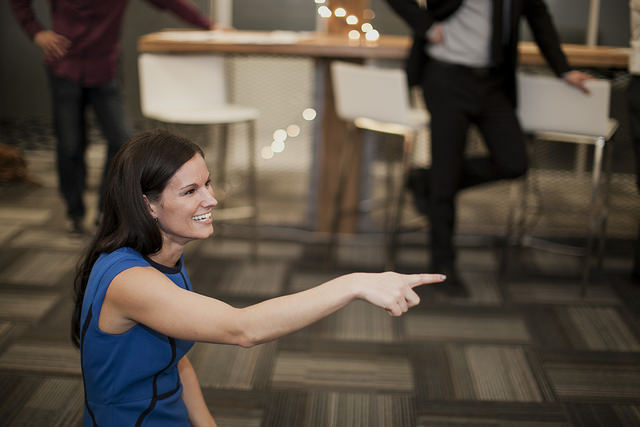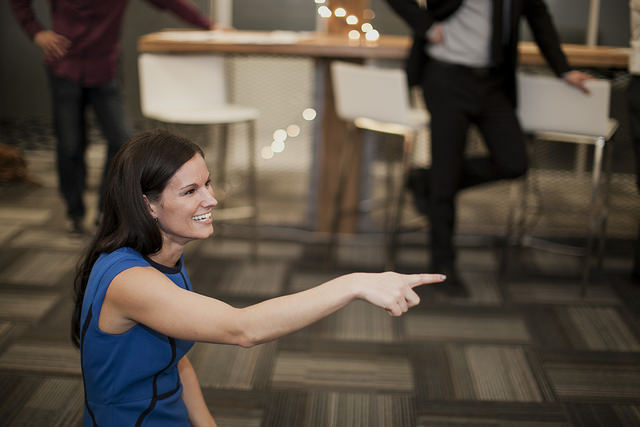 Today we'd like to introduce you to Erin Diehl.
Thanks for sharing your story with us Erin. So, let's start at the beginning and we can move on from there.
I was involved with sketch comedy and theater my entire life and these activities continue to fulfill me today. I moved to Chicago in 2005 after graduating from Clemson University to pursue a hosting career. Over the span of two years, I was cast in a leading role in an Off-Broadway show, toured the country hosting youth-focused shows and emceed events for major brands nationwide.
After two years of exciting success and lots of travel, I was keen to explore the corporate side of large-scale production events. I joined an experiential marketing firm and was involved in planning and executing national events for major brands. While this role was professionally challenging, I started to feel creatively unfulfilled. I needed a new opportunity that would allow me to connect with people on a closer, more intimate level. I began working at a recruiting firm and started taking classes at The Second City.
The skills I learned through improv challenged and enlightened my personal and professional life–I was more open, honest, lived more in-the-moment, and was also more talkative… if that's even possible! Improv became my passion. I was surrounded by some of the most supportive, talented and interesting people I had ever met and I was thriving professionally. I graduated from iO Theater and The Annoyance Theatre and tried to figure out a way to make this passion my career.
improve it! launched in June of 2014, and a few months later we won the RedEye Chicago Big Idea Award, became a nominee for the 2015 Innovation Awards, and started to experience significant growth in our client list and core business offerings. On top of building improve it!, I was a co-director, showrunner, and ensemble member at Under the Gun Theater and do freelancer with The RedEye Chicago on a segment called "Erin on the Street." I have always thrived in a busy environment and just kept my eye on growing the business and improving it (pun, intended).
In 2015 I left my full-time job as a recruiter and decided to go all in with improve it! From 2015 until now, we have grown from a full-time staff of 1 to a party of 5, and from seven improv professionals to seventeen. We have ten different short-term workshop offerings, six longer terms "tracks" and our Director of Operations, Allie Keller, is building out e-learning courses in partnership with all of our offerings.
Philanthropy has always been a large part of our mission, so we donate a portion of every profit to our non for profit partner, Bear Necessities; a national organization dedicated to eliminating pediatric cancer and providing hope and support to those who are touched by it. I am so lucky to have met and found this organization as well as the people that make up improve it! They inspire me and motivate me every single day to do better, and keep the dream alive.
Great, so let's dig a little deeper into the story – has it been an easy path overall and if not, what were the challenges you've had to overcome?
We have had our fair share of growing pains. For the first year and a half, I was the only person doing sales and account management, building our workshops, and coordinating our improv professionals. As we started to gain momentum, I realized that I needed to hire people so I could actually sleep at night😊 and we could continue to grow. This meant taking even more risks than just leaving my full-time job. I have to tell you – this scared the teal dress right off me! I knew that if I failed, it was me failing. But by bringing on others, we were responsible for the outcome of improve it! Even more so, I personally felt a ton of responsibility for their happiness and quality of life while at work.
Taking this risk only motivated me to be the best I could be -so that we could make improve it! the machine that I knew it could be. As we like to say "no risk, no champagne!" This meant personally "letting go" of projects or tasks so I could work on the business, not in the business. This meant finding our "how" and creating processes and procedures that worked for us internally, and with our improv professionals. This also meant we had to become strategic and mindful of how we spent our time. We of course always make time for laughter breaks, pranks and fun – but the clients and our mission always come first. The struggle is a part of what makes us stronger today, and I looking back – I don't think I would change a thing (well maybe the sleeping part… I like sleep)!
Alright – so let's talk business. Tell us about improve it! – what should we know?
improve it! is innovative in that it humanizes the workplace. Many companies and organizations struggle with simple day-to-day connections: working together as a team, change management, internal and external communication, taking appropriate risks in the workplace, etc. improve it! uses improvisational techniques to train on these skills, and increase workplace communication, productivity, creativity, and confidence.
improve it! offers ten "off-the-shelf" workshops that each feature a unique soft skill on which to train: Effective Communication, Team Building, Presentation Skills, Networking, Taking Initiative & Creative Risks, Thinking Quickly, Women in the Workplace, Intern 101, Sales Training, and Leadership Skills. Each workshop has been developed as a result of an observed need and has been honed into specific activities that touch on pre-determined learning objectives.
improve it! designs a suite of improvisational exercises to meet these learning objectives, encouraging attendees to work outside their comfort zones and engage with their work environment in a way they wouldn't normally have. In addition to this, we have also developed six different "tracks" or longer-term engagements that help you "think like an improviser, and work like a boss" as well as a series of e-learning courses in conjunction with our offerings.
What is unique about improve it!'s innovation is the simplicity of its techniques. Largely, the tenants of improvisation are based in a few distinct qualities – listening, support, and agreement. improve it! doesn't come into an organization to add to its structure, it works within the organization's structure to find qualities and opportunities that already exist. Every employee has the ability to listen, support, and agree – improve it! just encourages those employees to exercise and strengthen those muscles.
This presents an enticing opportunity for business owners and organizational leaders. Instead of going through the financial burden and structural hardship of employee turnover, they have an opportunity to take the resources in front of them, grow their employee's skill set, and create revenue from a better functioning overall team. Instead of shying away from difficult conversations and awkward confrontations, they are able to encourage their employees to be a part of the team, communicate their needs, and problem solve. Since our launch in 2014, we have conducted over 246 workshops and reached over 9,785 participants. improve it! differentiates itself from its competitors on three levels: customization, pricing, and our charity arm.
improve it! takes a boutique approach to client interaction – we are not an improvisational theater with a corporate arm, we are a professional training company that uses improvisation as a training technique. In this way, improve it!'s goal first and foremost is to learn an organization's structure, goals, and challenges. We then tailor our offering to the organization's specific objectives. All of our offerings are completely customize-able to an organization's needs, and scale-able to a company's size.
improve it! also boasts a pricing structure that continues to be competitive within the corporate development space. We aim to be a resource for all companies – Fortune 500s, mid-sized companies, and small businesses (like us!). improve it! is passionate about bringing the best and most creative training to an organization no matter it's price point.
Another big part of what makes improve it! unique is our charity arm. As a part of our business model, we donate a fixed portion of our revenue to a charity partner of our choice. Our 2017 charity partner is Bear Necessities, a non for profit organization local to Chicago that offers research grants and positive experiences (called "Bear Hugs") to children going through treatment for pediatric cancer. In the first quarter of 2017 through the help of our clients, we were able to sponsor two "Bear Hugs". While we provide our clients with a positive experience in their workplace, our clients, in turn, are providing a positive experience to children and families affected by cancer.
Is there a characteristic or quality that you feel is essential to success?
I have never claimed to be the best improviser or the funniest or smartest person in the room. However, I do choose to surround myself with those people. You know the saying "you become like the five people you spend the most time with – so choose wisely." I know that to be true. Finding great people and recognizing their true gifts is something I put a lot of time and effort into. I then try to support and love those people with all I have, and you know what's funny? I get the same thing in return. I've learned that what I put out is what I receive back.
I also know that I don't have to be the best improviser or the smartest entrepreneur. Nothing has ever come naturally for me (except the gift of gab- which I'm grateful for!) so I've always had to put in extra time and effort in order to be able to succeed. This will power has served me well while building improve it! Rolling up my sleeves and pounding the keyboard keys is something that I'm very used to and I'm not afraid to do it!
I also feel empowered to be a woman leading an internal all-woman team. Empowering other women through our actions and service offerings is something I'm extremely passionate about. We like to say, "if you don't give us a seat at the table, we will bring our own folding chairs!" It's funny because it's true😊.
I think surrounding myself with wonderful human beings, putting in the elbow grease, and having confidence in our services as well as my team has been vital in the success of improve it!
Contact Info: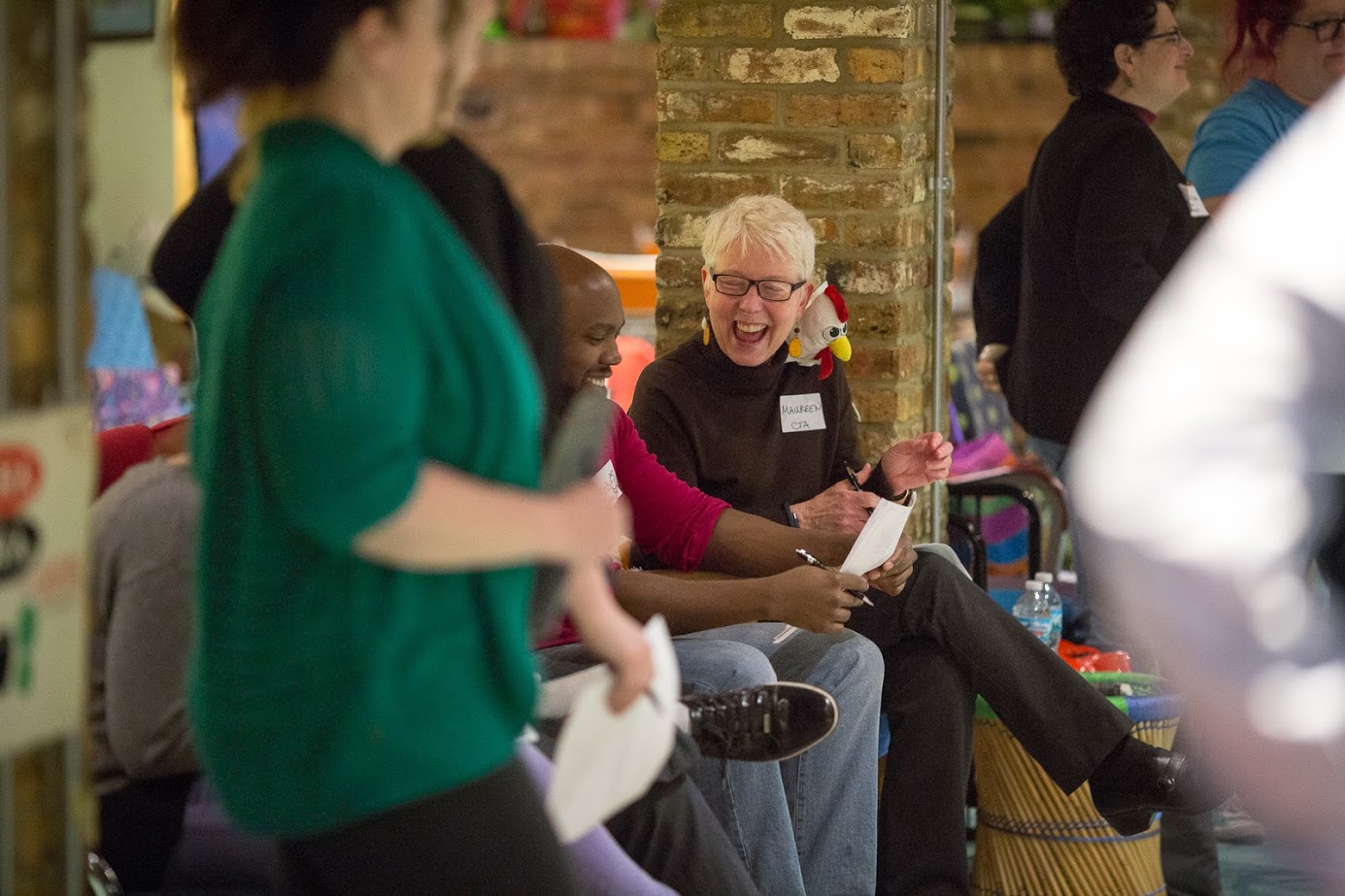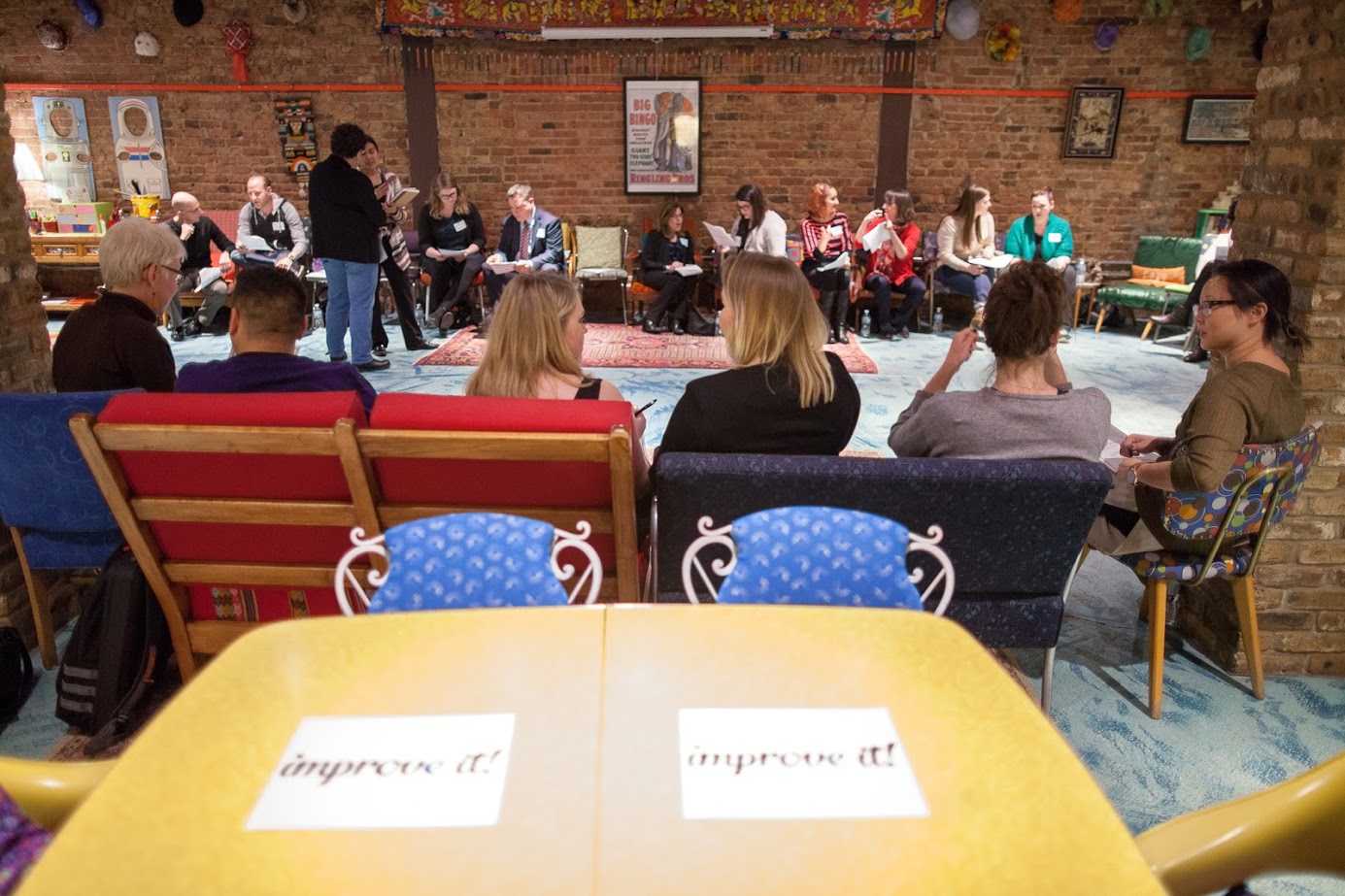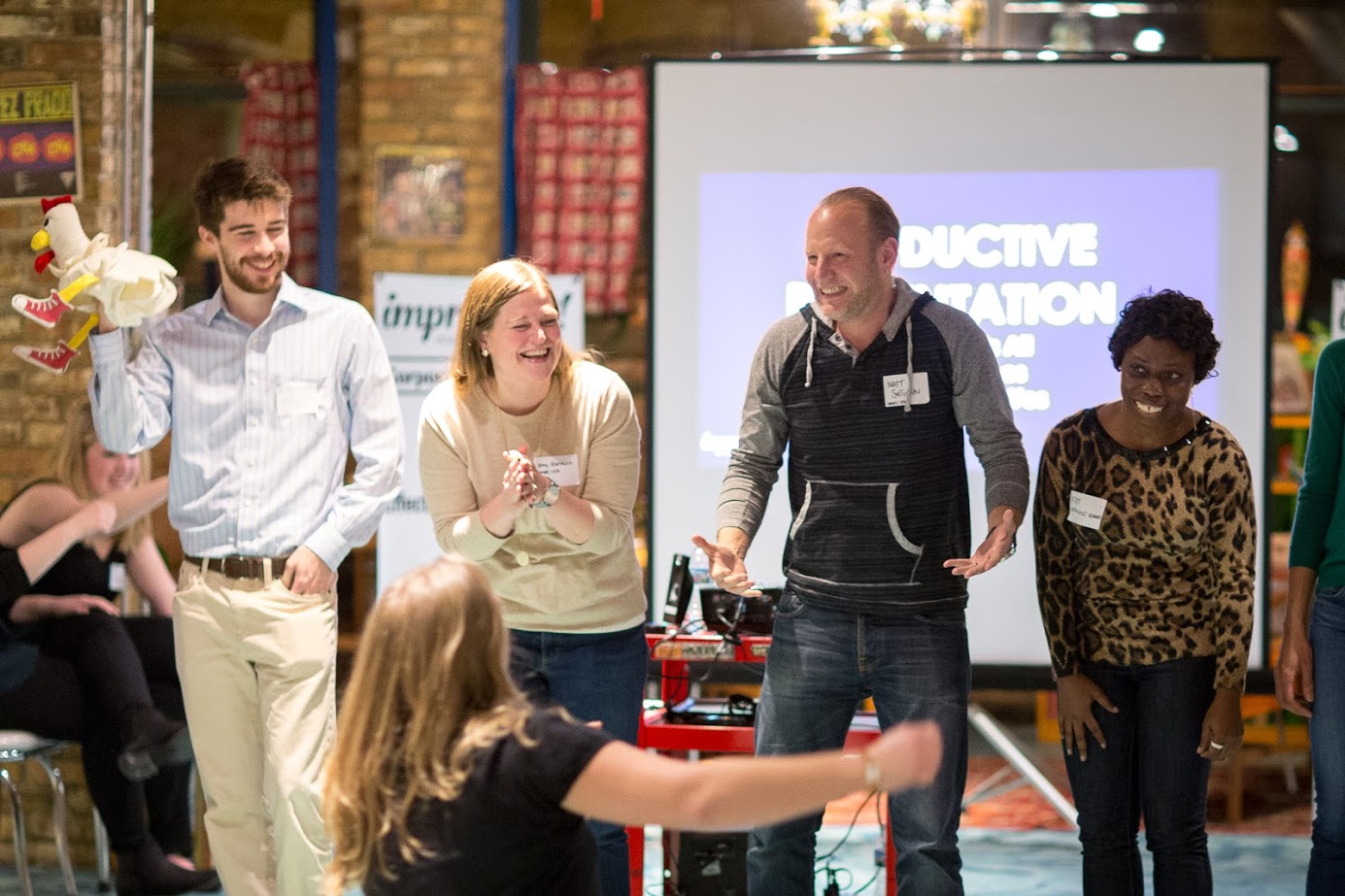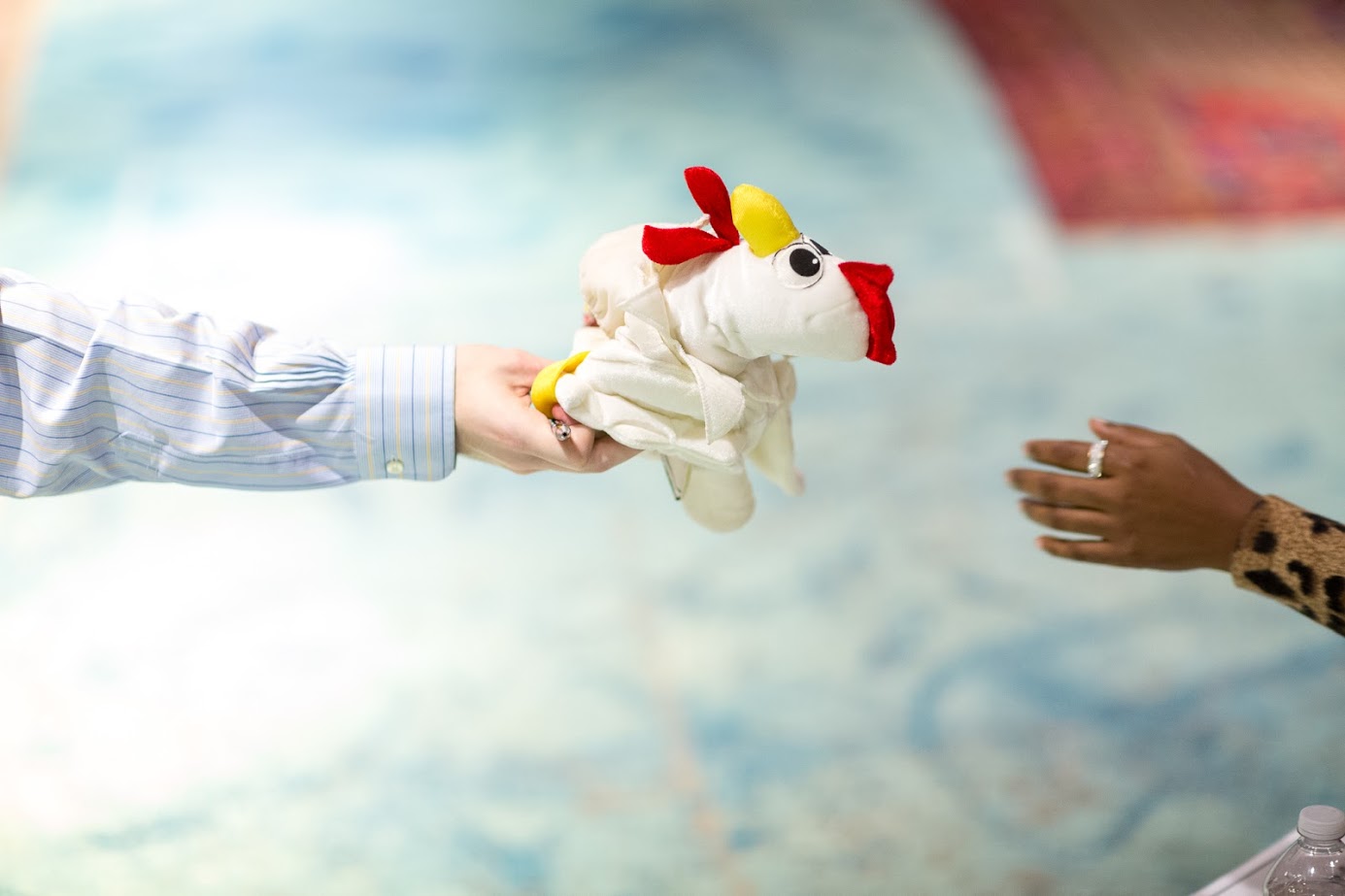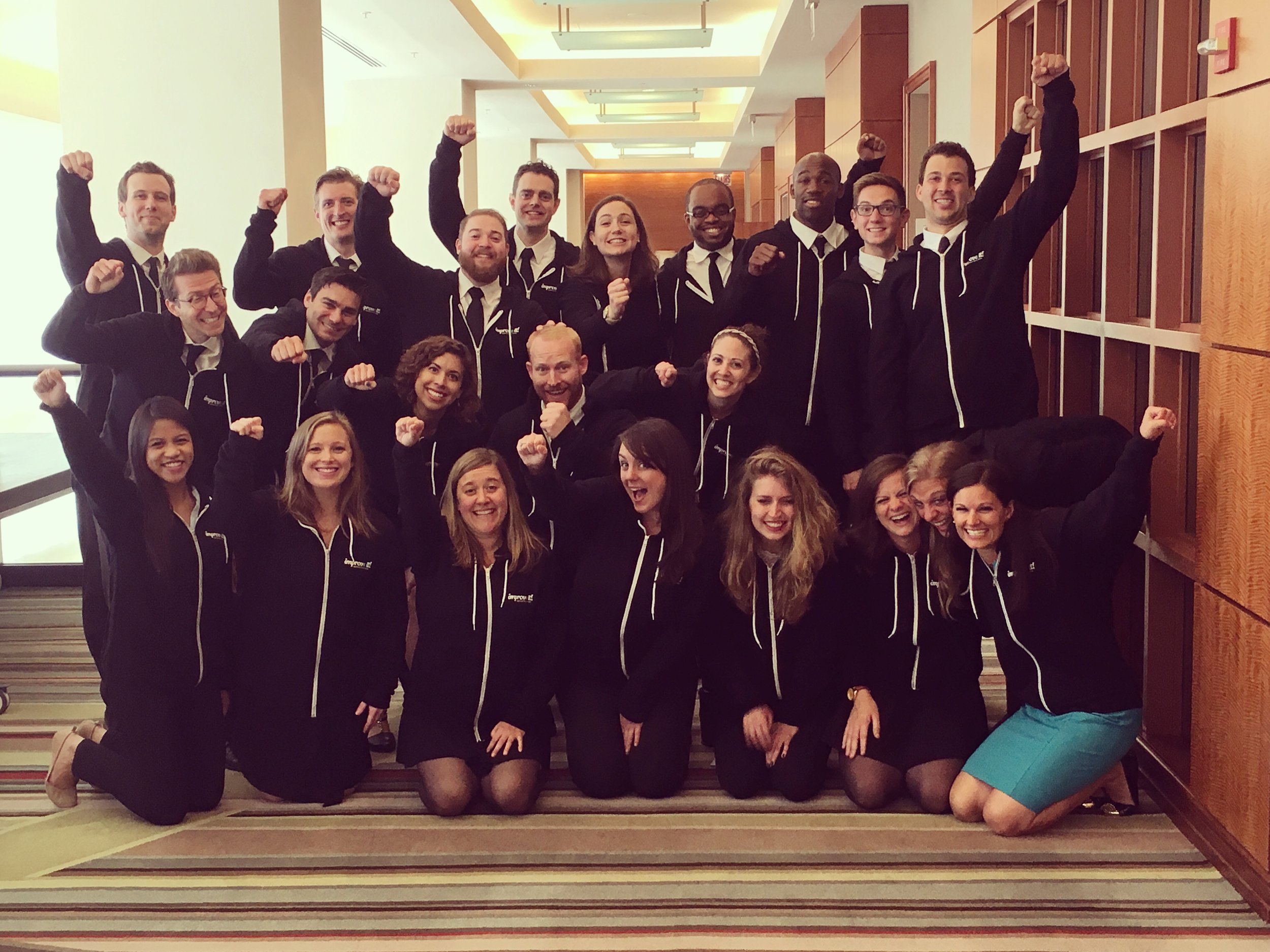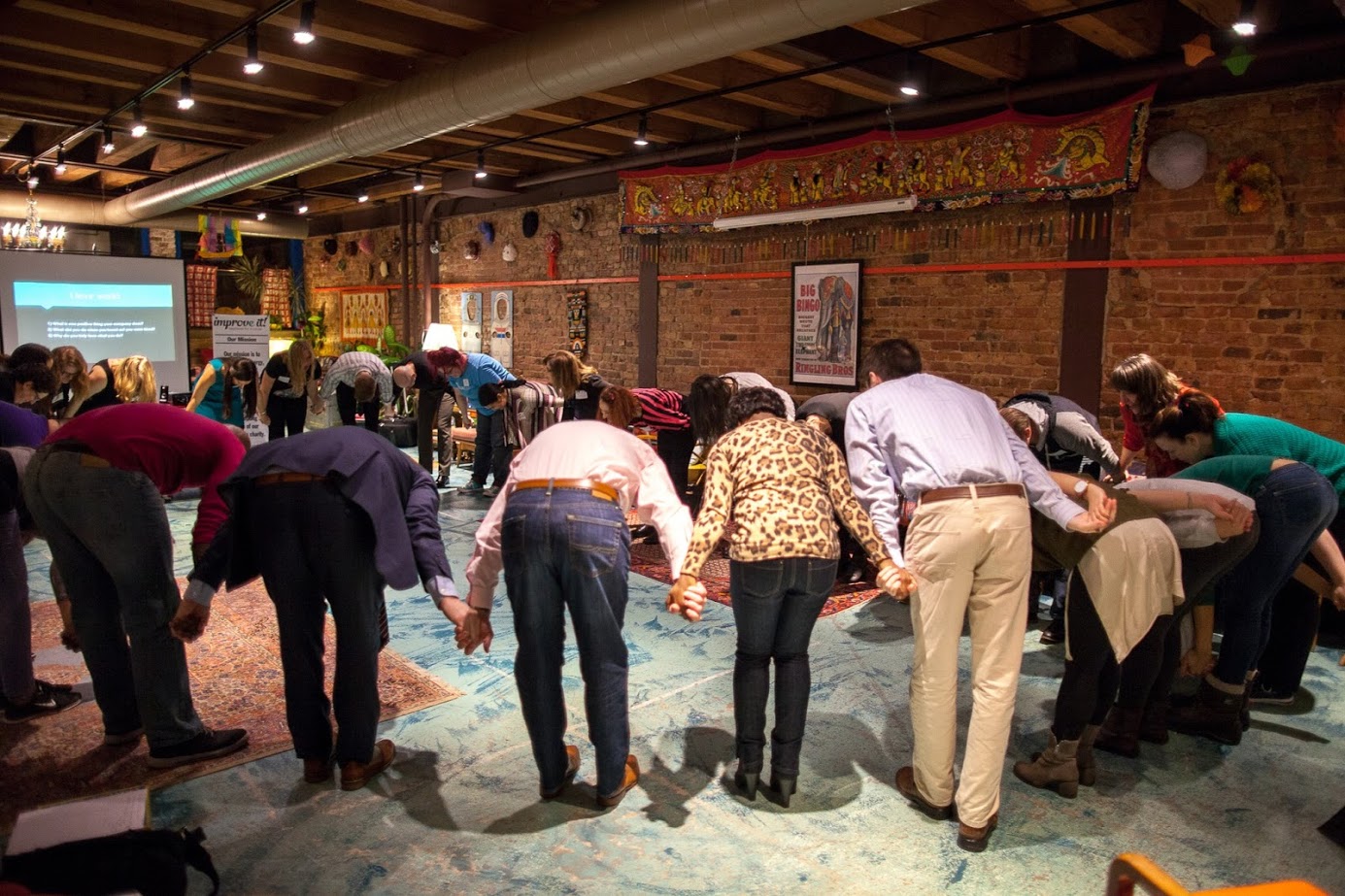 Image Credit:
Sam Lee Photography, Erika Dufour Photography
Getting in touch: VoyageChicago is built on recommendations from the community; it's how we uncover hidden gems, so if you know someone who deserves recognition please let us know here.