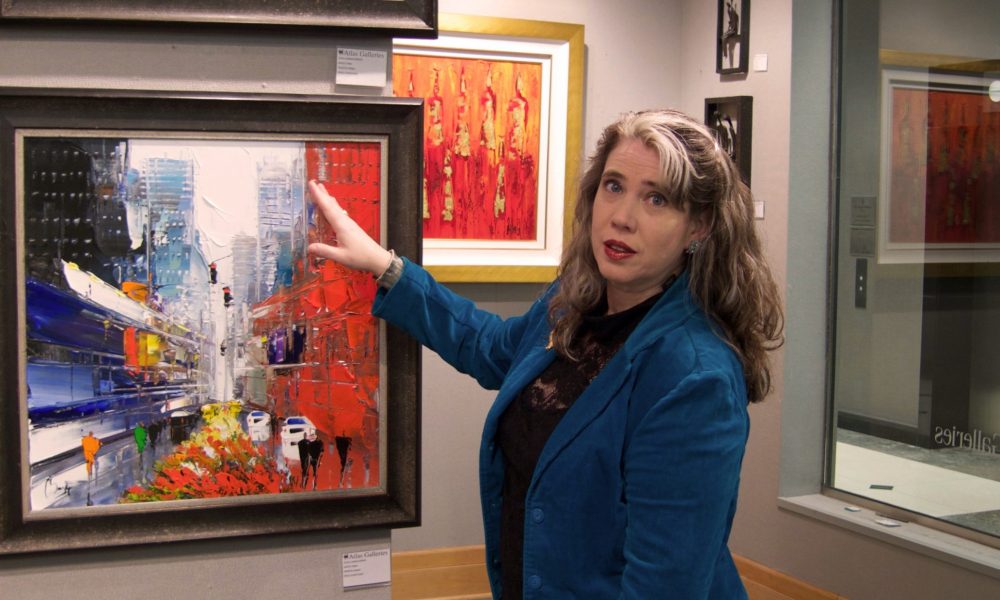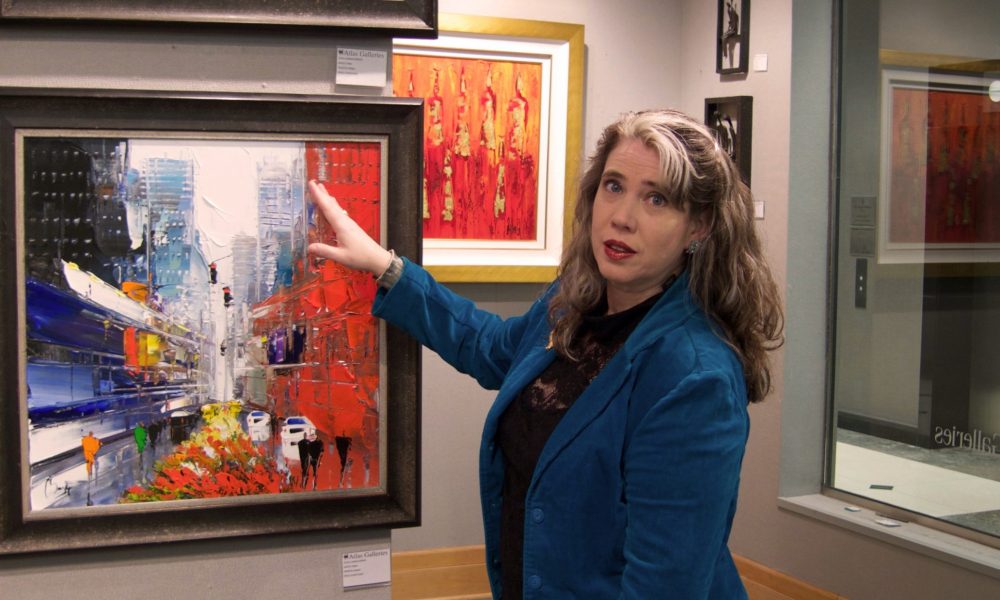 Today we'd like to introduce you to Emily Watson-Rice.
Emily, please share your story with us. How did you get to where you are today?
Atlas Galleries was founded by Harriet & Jerry Petr in 1967. We are celebrating our 50th anniversary this year. Jerry passed away shortly after I started working at Atlas. His eldest daughter Susan took over as President of the company and continued Jerry's vision for the gallery. Susan stepped down in 2008 and turned the company over to her sister Diane. Under Diane's direction we have expanded our family of artists to include artists from nearly every continent. Our eclectic collection includes whimsical paintings of Snoopy, colorful paintings full of texture depicting life in Nigeria, France, & South Korea, and 400 year old etchings by Rembrandt along with other master prints.
Much has changed in the art world over our 50 year history. The markets have been up and down and we've seen great galleries close their doors. Fortunately Atlas Galleries has an amazing staff of art specialists and incredibly talented artists who have kept the gallery going strong even in difficult years. Yet the true foundation of our success is our collectors. Our customer service sets us apart from other galleries and our collectors have rewarded us with their loyalty.
Atlas recruited me while I was the Director of the Marshall Fields Fine Art Gallery. I have now been with Atlas Galleries nearly 15 years. As Curator & Director, I fully believe in Atlas's goal to promote talented artists and assist clients in finding a work of art that really speaks to them. I find it especially rewarding to work with a client over the course of many years. What starts as a new collector buying their first work of art evolves into a multiyear relationship. Over many years, I assist them in putting together an impressive art collection that brings them lots of joy. Sometimes down the road I'll even work with their children, helping them to develop their own unique collection.
I believe it is the personal relationship we build with each of our collectors that has allowed us to be in business for 50 years. Jerry & Harriet founded the gallery on a strong foundation of smart business sense, valuing their employees and finding talented artists. We've worked hard to add to that a community of loyal collectors. Diane is building on that foundation and we hope to have one hell of a party when we celebrate our centennial anniversary.
Has it been a smooth road?
Market changes are a big hurdle for any business but especially a small family owned business. With the collapse of the housing market we saw a change in who was still adding new works of art to their collection. One of the many things I hammer home when I'm training new art consultants is to get to know your buyer. With the change in who was coming through our doors we had to change how we approached them. I guess it's kind of like going on a first date after having been in a long relationship with someone else. You have to relearn what they like and don't like. We had to relearn what the clients needed and how they prefer to do business. Luckily this wasn't a huge challenge. In a small way we do this every single day. Every time a potential collector walks through our door we have to get to know them. While we might have a general collector type that we work with most often, however, each collector is different and we adjust in order to accommodate their specific personality and needs.
The newest challenge we're facing is the internet age. Now we have clients who prefer to do business at 3am or through text. That was a real shift for me. Previously, many of our clientele were very tech savvy but still preferred long phone conversations or spending hours in the gallery. Now I have clients who will text me while in a meetings or in a loud subway, places where they can't talk. With digital imagery improving every day, an image sent via text is often such a good portrayal of the artwork, that the client will feel confident buying it before seeing it in person. We're entering an age where many collectors acquire their art online. In order for Atlas Galleries to continue to be a strong presence in the art world we have to continue to offer an exceptional art buying experience. We have an online store in addition to our two Chicago locations. When a client looks at a painting online and has a question I take the time to answer their question while educating them and sharing as much of my knowledge as possible.
Overcoming any challenge or obstacle is all about listening and learning everything you can about what is causing the obstacle. I feel fortunate that the majority of obstacles I face can be solved by really listening to my clients concerns. Then I find creative ways to get around the obstacle and create that exceptional buying experience. Every time my collector walks past the work of art on their wall, I want them to smile and have fond memories of acquiring it.
So let's switch gears a bit and go into the Atlas Galleries story. Tell us more about the business.
Atlas Galleries sells fine art from world renowned artists as well as up and coming artists. We are known for our collection of museum quality Master Prints by artists such as Rembrandt, Picasso, Renoir etc. Many of our collectors are delighted to discover they can actually own a 400 year old Rembrandt etching. Additionally we have an eclectic collection of contemporary artists. We have powerful and emotive bronze sculptures by Israeli artist Ruth Bloch, whimsical paintings of Snoopy by American artist Tom Everhart, and paintings of life in Nigeria, France and South Korea full of vibrant colors and rich textures. We are the exclusive gallery for internationally known painter Michael Cheney. Cheney is a local artist who paints every day scenes of Chicago with spectacular light and color.
At Atlas Galleries we pride ourselves on providing exceptional service to all our collectors. As soon as you walk into the gallery I work to make you feel welcomed and relaxed. You won't find a stuffy gallery with snooty sales people here. All of our Art Consultants will bend over backwards for our clients. I especially love educating customers about Rembrandt's history, or how a specific material was used in the creation of the painting that caught their eye.
How do you think the industry will change over the next decade?
I certainly don't study economics enough to give you an accurate prediction. However, I do see online sales becoming a much larger part of our overall sales in the next decade. There is so much more trust in the online purchasing system. The possibility of identity theft doesn't seem to concern buyers any more for online purchases than it does for in store purchase. So the trust necessary for a client to purchase online is there. Additionally, images have become so clear and true to color that many collectors can make a decision based on a jpg. They'll buy the painting sight unseen and love it even more in person. This is something I didn't expected to happen for decades. When it took 5 minutes for an image to load on a website, I was pretty certain viewing and buying art online would never work. Yet with the faster internet connections, higher quality monitors, and digital cameras that can take photos of stunning quality, buyers have everything they need to buy art online. This opens up a world of art like we've never seen before. Collectors are no longer limited to viewing art in cities they've personally visited or limited to viewing art during gallery hours. Now a collector can view art from galleries all over the world, at 3am in their underwear if they prefer.
Additionally, the ease with which an artist can build a website (often for free) is giving more artists a presence in the art market than ever before. However, many of these artist don't know how to sell their art once it's posted online. And many other artists want to focus on the creation of the art, not the selling of it. So I'm confident there is still a place for brick and mortar galleries in this new online world.
This creates an interesting opportunity for me and for Atlas Galleries. Through the store on our website we are able to connect with collectors all over the world. And while most of these collectors I will probably never meet in person, I'm working to make them lifelong clients just as I would a client who walked into the gallery. With all the choices online, many collectors are overwhelmed. And with so much of our shopping being conducted online many of my collectors really appreciate having a real person to connect with. So I'm finding that, even with online sales increasing, I'm speaking with clients more than ever. Sometimes they're asking for my expert opinion, sometimes they're asking for more details about a particular work of art. Most of the time it could have been communicated through email, but having a conversation is a personal connection many of us crave.
Pricing:
We have signed and numbered limited edition prints starting as low as $400
Many of our signed and numbered limited edition prints average $1000-$3000
Original paintings average $3500-$15,000
Sculptures average $1500 – $30,000 with some reaching $100,000 or more.
Original museum master prints (etchings, woodcuts, lithographs) average $10,000- $50,000 with some reaching $100,000 or more.
Contact Info:
Getting in touch: VoyageChicago is built on recommendations from the community; it's how we uncover hidden gems, so if you know someone who deserves recognition please let us know here.