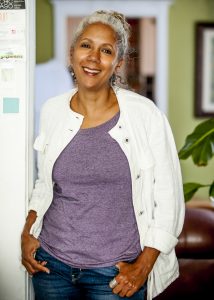 Today we'd like to introduce you to Dorian Sylvain.
Chicago-born artist Dorian Sylvain is a graduate of San Francisco State University and the American Academy of Art, Chicago. Her practice spans the disciplines of studio and mural painting, theatrical scenic design, decorative arts, educational activism and exhibition curation. Much of her public work addresses issues of beautification and ornamentation, inspired by color palettes and patterns found throughout the African Diaspora, particularly found in architecture.
For four decades, Ms. Sylvain has led public art experiences that empower community and expose children to art-making, partnering with such organizations as Hyde Park Art Center, South Side Community Art Center, Museum of Contemporary Art, National Museum of Mexican Art, DuSable Museum, Chicago Park District and the Chicago Public Arts Group. In 2016, she collaborated to create a 10' sculpture "Sankofa for the Earth" funded by the Field Museum and installed on the Burnham Wildlife Corridor along Chicago's lakefront. At Dyett High School for the Arts she painted mural was completed in 2017 with a group of mural students, tilted "Sunflower Road," addressing the Great Migration and influence of "Captain" Walter Dyett's music program on Chicago's South Side.
In 2014 Ms. Sylvain was honored with "Connecting Communities through the Arts Award" From the University of Chicago / South East Chicago Commission.  Also, a recent recipient of the "Individual Artist Grant from the Department of Cultural Affairs and Special Events, she is currently designing an exterior vinyl mural project for Walter Dyett High School for the Arts, scheduled to be installed this fall.
Please tell us about your art.
While passionate about learning, I grew up absorbed in the culture on the South Side of Chicago – the music, poetry, theater and art… at the feet of trail-blazers and institution builders, dreamers and visionaries; Oscar Brown Jr., Phil Cohran, Abena Joan Brown, Margaret Burroughs and many others. This developed in me a strong social consciousness that is integral to my integrity as an artist and my practice as a teacher. African values have taught me that raising our children up with a cultural foundation builds pride, self-esteem and dignity. Through art projects I am able to expose students to many cultural aspects of the African diaspora; regional color palette, symbolic patterns, mythical characters, historical figures, Adinkra symbols, Ndebele painted homes, and Egyptian architecture.
With this teaching philosophy in mind, over the past two school years I have been commissioned to create two public art projects with a group of mural students at Walter Dyett High School for the Arts, on the South Side of Chicago. In 2017 the school was reopened after massive school shutdowns across Chicago. This first mural project "Sunflower Road" was to speak to the history of the Great Migration from rural south to urban life in the north; the role Walter Dyett played as a music teacher at DuSable High School; and a tribute to the hunger strikers that forced the mayor of Chicago to reopen the school. Student's researched imagery, read newspaper articles and visited several murals on the South Side and downtown in preparation for this project. The entire "tunnel" or hallway space was considered part of the composition for the mural design, with the exception of the ceiling. We painted iconic imagery to capture a typical family fleeing the south, surrounded by yellow, brown and lime greens that spoke to the agricultural lifestyle they were leaving. As you move down the mural, protest signs entangled with street signs signifies the urban struggles encountered in the north, followed by images of a student band being led by "Captain" Walter Dyett. In addition across the hall from the mural, we designed an installation piece dedicated to the 12 hunger strikers and the 34 days the strike that took place in 2016, reproducing many of the actual protest signs that are mounted behind two park benches representing the duration of the strike.
This year 2018, the mural group and I are completing an exterior mural, celebrating the five disciplines taught at Dyett; visual arts, drama, music, dance, media. It is a playful, painted mural full of color and fluid movement, a wall that is seen as students, staff and visitors enter the building. The five figures are joyfully engaged in their craft and in contrast to the colorful background, are made of black mosaic tile creating figural silhouettes.
In anticipation of building a further relationship with the mural students at Dyett High School, I applied for and received an Individual Artist Grant offer by the Department of Cultural Affairs and Special Events (DCASE). After years of observing the exterior of Dyett High School and finding the building to be very aesthetically un-appealing; a monochromatic charcoal grey color, metal and steel building made with a grid like format that is very modern and simple by design, I decided it was time to make it a surface for artistic expression. I have long envisioned adding a decorative element to the building, give it what I would call "personality." This small grant from DCASE, in the amount of $2,500, is stipulated to be used only for labor and materials. With this grant I am paying for two student apprentice who are currently working with me on the design process, installation is planned for late August. The grant will help me to realize design on approximately 10% (30'0") of the north facing building which is approximately 300' long and 20' high. This side has the maximum visibility by students, staff, community, commuters and visitors. These exterior designs are inspired by an African aesthetic, giving this building a cultural reference through ornamentation. My skill and history in making intricate hand-cut stencils, lends itself directly to the vinyl material I will be using, as I will be shaping designs to be adhered to the surface of the building… Though the vinyl material will be temporary, this art project will make a bold statement to the community that this space is for creative thinkers.
What do you think is the biggest challenge facing artists today?
I think it remains the same timeless problem….access to resources. Most of the young artist I know can't afford college, as a result their skill set is limited and they do not have many marketable skills. The older artist (like myself) continue to scramble, hopefully, working our way to larger and more profitable projects. Artist often times have to manage material and labor cost up front in hopes of making money at the back end, it is a constant financial juggle!
How or where can people see your work? How can people support your work?
Currently I have two murals at Walter Dyett High School and a sculpture "Sankofa for the Earth" along the Burnham Wildlife Corridor. At the South Side Community Art Center there is a current exhibition of photography, I was the exhibition designer.
Contact Info: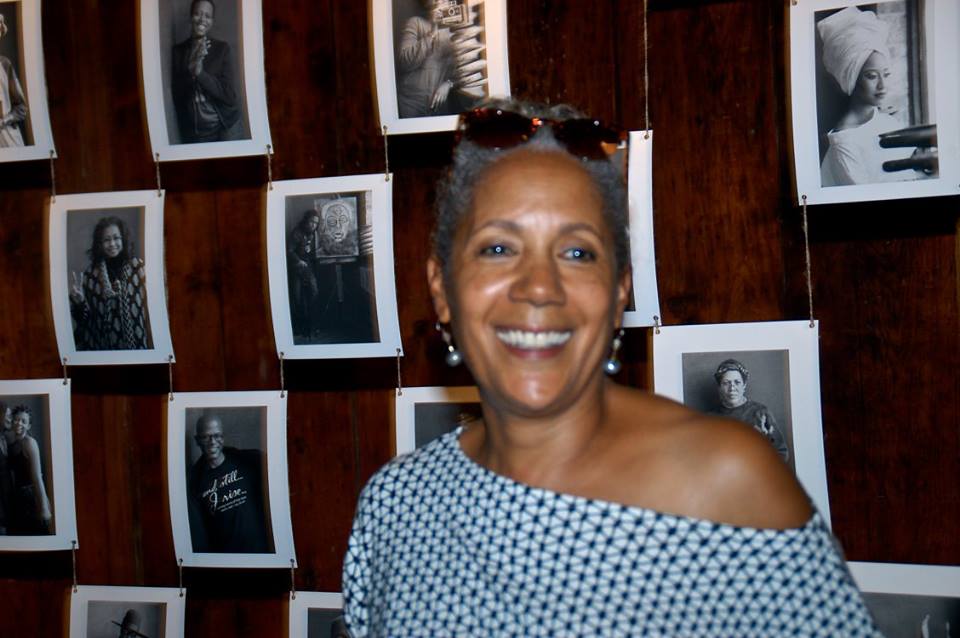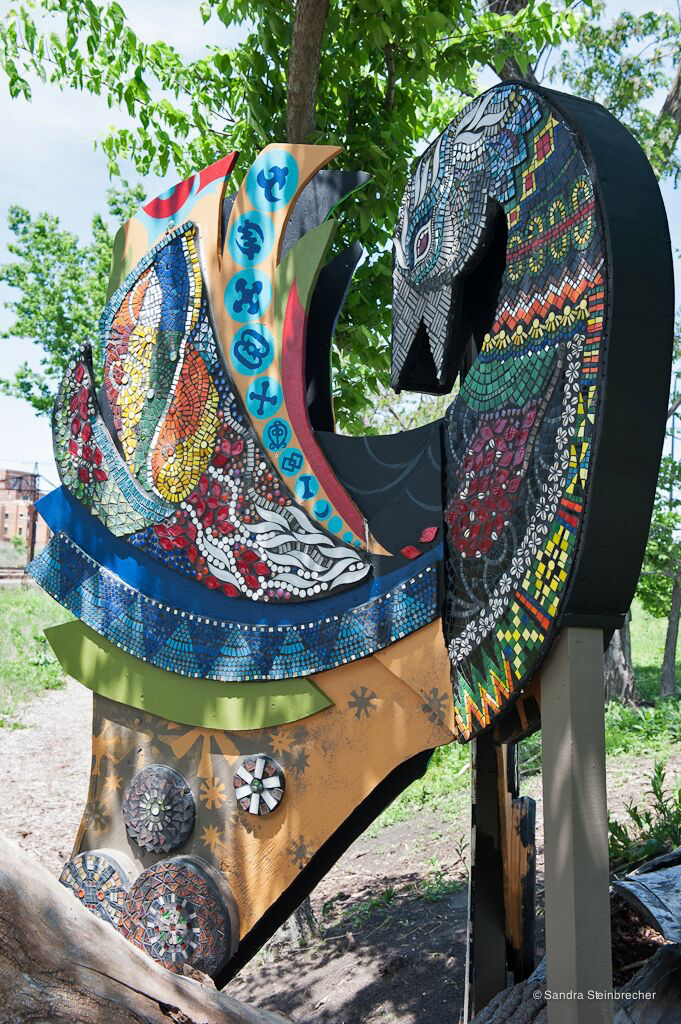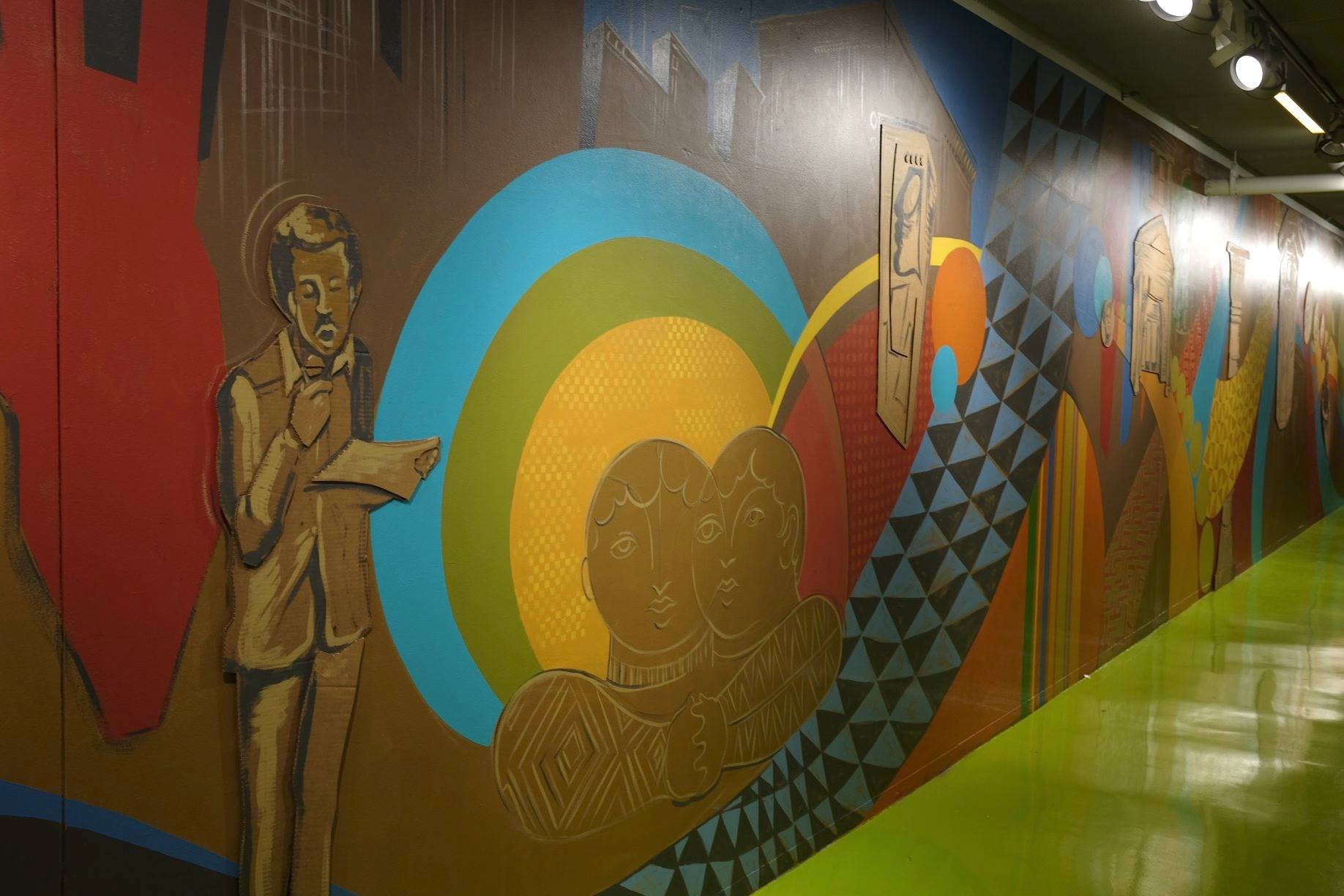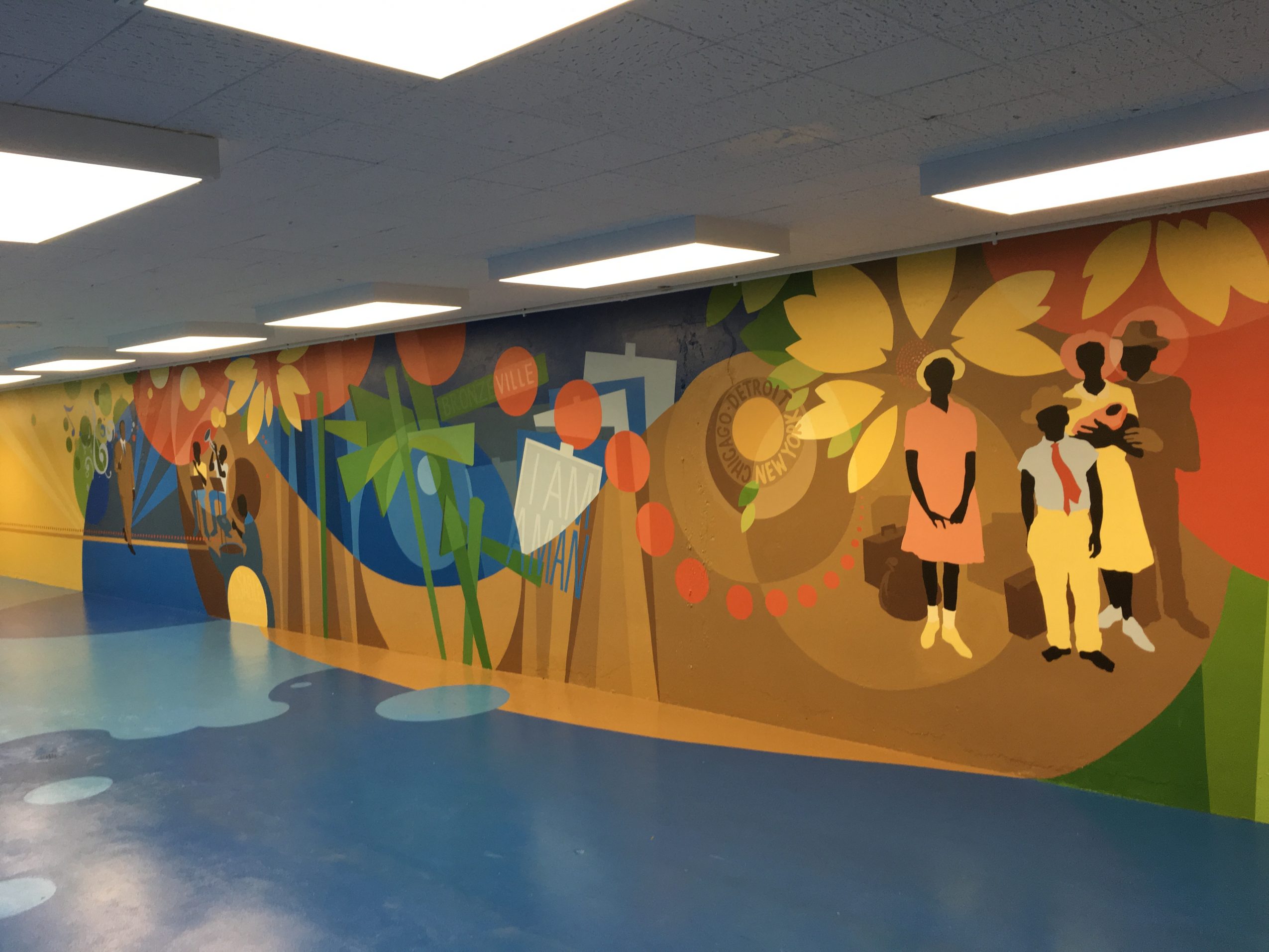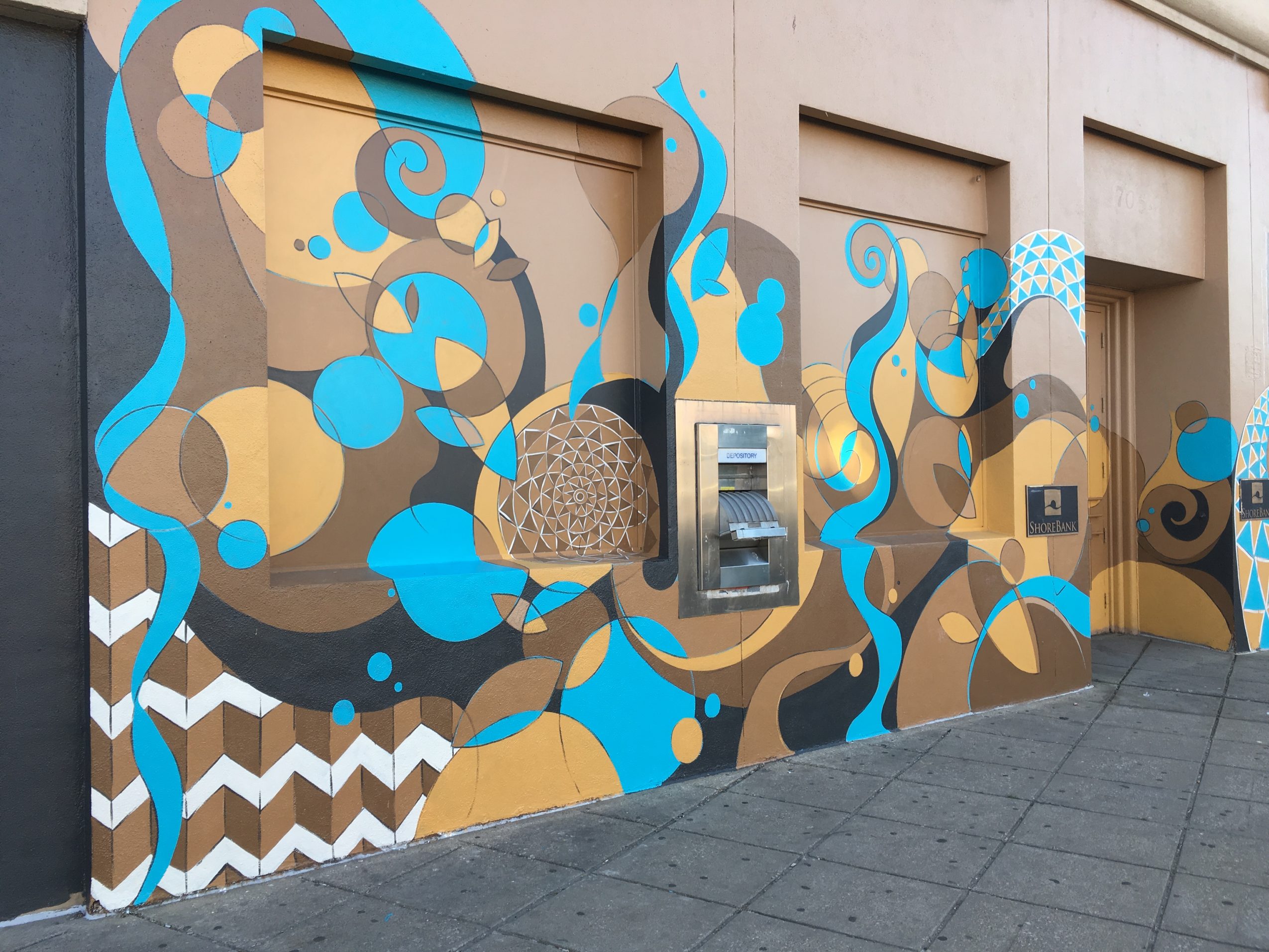 Image Credit:
Tim Seed, photographer
Getting in touch: VoyageChicago is built on recommendations from the community; it's how we uncover hidden gems, so if you know someone who deserves recognition please let us know here.