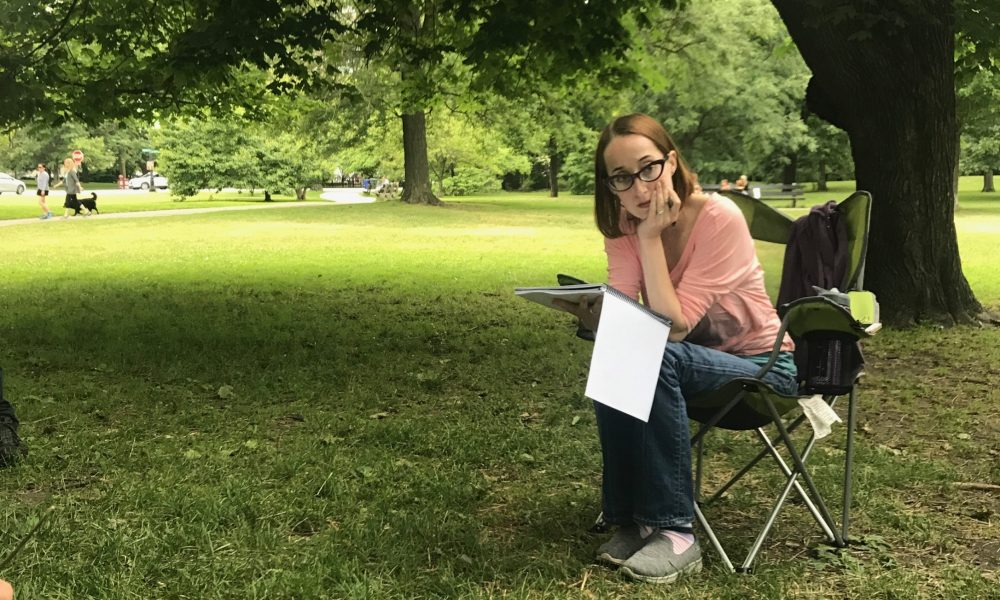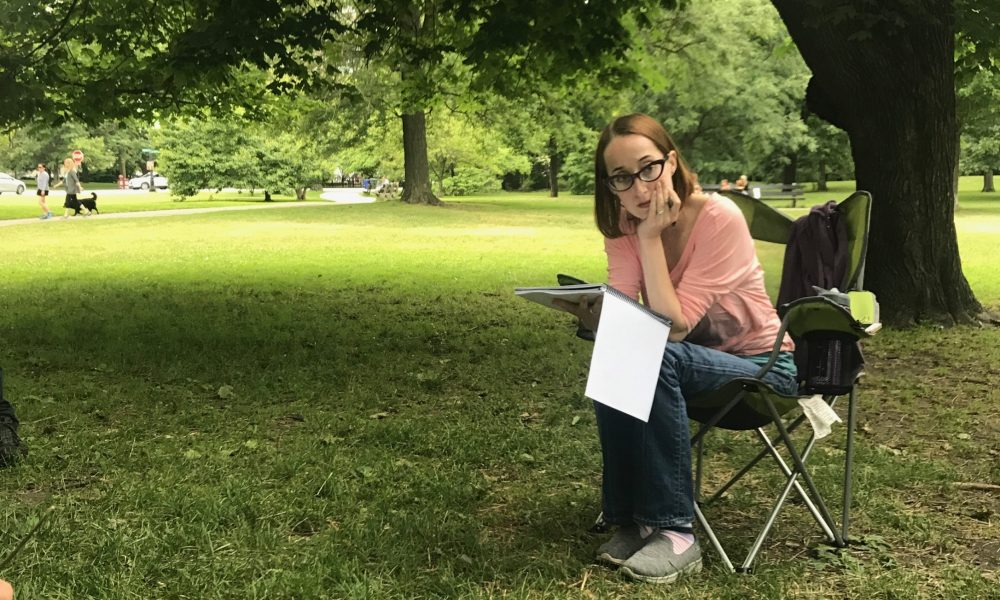 Today we'd like to introduce you to Beth Wolf.
Beth, let's start with your story. We'd love to hear how you got started and how the journey has been so far.
I studied theatre in college at Northwestern, and started out as an actress. But then about 8 years ago I shifted my focus to directing, which has been a much better fit for me. Before founding Midsommer Flight, I was a co-founder and the Artistic Director of Promethean Theatre Ensemble, a fantastic company that is still around and making great theatre in Chicago.
In early 2012, I wanted to do Shakespeare in the park, but it wasn't the right fit for my work with Promethean. So, I thought I'd try striking out on my own to do a show. I chose a company name and made a basic website, but other than that I didn't build any infrastructure — I didn't know yet if I'd want to keep it up after doing that first show, or if I'd feel satisfied and ready to move on after doing it once.
So, that year I directed and produced A MIDSUMMER NIGHT"S DREAM, a small, free production that had just four performances at one park, and reached 270 audience members. We had virtually no resources — costumes were pulled out of people's closets, there was no set. It was really bare bones, but it was a great show! Audiences and critics responded really warmly, and it felt like we had created something special. At that point, it was clear to me that I should keep it up, so I got the company incorporated as a not-for-profit, and we received 501(c)(3) status in 2013. In our second summer, we added a second park and ran for twice as many performances, reaching double the audience. I was still working at both Promethean and Midsommer Flight, but then, in late 2013, I gave birth to my first child and life got even busier! By mid-2014 I knew I couldn't keep up with both companies AND motherhood, so I stepped back from Promethean and focused my energy solely on Midsommer Flight.
Since then, the company has grown tremendously. From 2013-2015, we have added a new park each year, and now we tour to four parks over eight weeks each summer. We consistently reach well over 1,000 audience members with each summer tour, and critics have been very generous with their praise. In addition, we have also added an annual winter show at the Lincoln Park Conservatory, so we currently do a two-show season. All of our shows are free to the public.
Has it been a smooth road?
It has been remarkably smooth! In that first year, it was a challenge to connect with the right people at the Chicago Park District to establish our initial Arts Partnership. It took several months, and I was on the verge of giving up when, by a stroke of luck, I finally got introduced to the right person. Then we were off to the races and it's been pretty smooth ever since. In particular, being an Arts Partner with CPD is fantastic. The Park Supervisors and staff are so generous with their help and support, and we also benefit from CPD promotions like the MyChiParks application that lists all events in Chicago parks.
Of course, other challenges have cropped up with each production, too, but in hindsight they feel more like great war stories than true setbacks. For example, the summer we did MACBETH was a bit of a mess. The show was fantastic, but it felt like we couldn't catch a break! First, our fight captain dropped a prop weapon on his bare foot and ended up in Urgent Care to get seven stitches in his heel. Then, our opening night got rained out and we had to cancel the performance. We had many additional rain cancellations through the run, including one in which we had to stop a performance part way through due to a dangerous flash hail storm. And to top it off, we cancelled another performance when the wife of the actor playing Macbeth went into labor 6 weeks early. I promised him he wouldn't miss the birth of his daughter!
Our biggest ongoing challenge is fundraising. There is so much more I want to do with the company — enhancing existing programming, paying our artists what they are truly worth, getting our own rehearsal space, and expanding to produce new programs — but the only way to do all of that is to increase our funding. As a not-for-profit whose mission centers on presenting shows for free (and therefore having no ticket revenue), cultivating and sustaining new donors and sponsors is a continual quest.
So, as you know, we're impressed with Midsommer Flight – tell our readers more, for example what you're most proud of as a company and what sets you apart from others.
Midsommer Flight is a Chicago theatre company that produces high quality, accessible performances in Chicago communities. Since 2012, we have presented free Shakespeare in Chicago's parks each summer. In 2015, we added a second show to the annual season, producing a holiday show in the Lincoln Park Conservatory in December.
This summer, we are presenting HAMLET through August 27 at various Chicago parks. The show has been incredibly well received, with critics calling it a "must see," "exceptional" and "highly recommended." I'm so proud of the fantastic work of the cast and crew this year! Audiences have reached record numbers so far, too. The production includes a diverse cast of 14 actors and is presented intimately, staged on the ground and without amplification. The production also incorporates original live music, with electric guitar, baritone saxophone, percussion, voice, and other instruments.
In addition to free performances, we build on our philosophy of inclusion and accessibility by holding most summer rehearsals outdoors in our partner parks. This is a unique approach in the Chicago theatre community, offering an unusual amount of access and transparency to the theatrical process. We build strong connections in each neighborhood, not just dropping in for a few performances, but actually spending time over 6-8 weeks to develop a presence in each community. In this way, we reinforce the parks as positive community destinations, providing unexpected cultural encounters, a strong group of role models for children, and a fun, unique summer experience.
These encounters at the park — both at rehearsals and performances — are some of my proudest moments with Midsommer Flight. A group of pre-teen neighborhood boys was wooed from the basketball court to come watch a few scenes of MACBETH. A family stumbled upon a dress rehearsal of HAMLET, and one of their kids refused to leave because she was so engrossed in the show. A 4-year-old boy got a personalized sword demonstration from our fight captain during a ROMEO AND JULIET rehearsal. At the opening performance of MUCH ADO ABOUT NOTHING, a passerby on his bike shouted "give her one for me!" as Benedick kissed Beatrice at the end of the play — and the actor playing Benedick threw a thumbs up in the biker's direction. That same actor, later in the summer, kicked an errant soccer ball back to some kids in the park in the middle of scene when it landed onstage during his monologue. Moments like these are my favorite memories of the company and speak to our impact and connection in the neighborhoods where we work.
I'm also really proud of the company's development of original music. Beginning with Twelfth Night, and continuing with As You Like It and Hamlet, we have honed a creative process to incorporate live music during performances, as well as create professional recordings. We have sold some of the music on CD, and all of it is available digitally on iTunes, Spotify, Amazon, Google Play, and more. Finding such success and fulfillment in creating original music was definitely unexpected at first, since our focus is primarily on Shakespearean theatre. But music has become a major source of joy for everyone in the company, and a unique element in many of our shows that audiences really respond to.
Pricing:
Groundling / $1-99 / Name listed in program, Midsommer Flight button or magnet
Bard / $100-249 / All of the above and invitations to behind-the-scenes events
Duke / $250-499 / All of the above and one Shakespeare-Gram delivered via recording to recipient of your choice
Prince / $500-999 / All of the above and one Shakespeare-Gram delivered live and in person to recipient of your choice
King / $1000+ / All of the above and a cameo/speaking role in a staged reading
Contact Info:

Image Credit:
Tom McGrath
Sam Cheeseman (Hamlet)
Sam Cheeseman, Ian Michael Minh (Hamlet)
Morayo Orija, Jared Dennis, Joe Sergio, Bianca Phipps (Hamlet)
Meredith Ernst (Twelfth Night)
Elizabeth Rentfro, Martel Manning (Twelfth Night)
Alex Mauney (Twelfth Night)
Getting in touch: VoyageChicago is built on recommendations from the community; it's how we uncover hidden gems, so if you know someone who deserves recognition please let us know here.