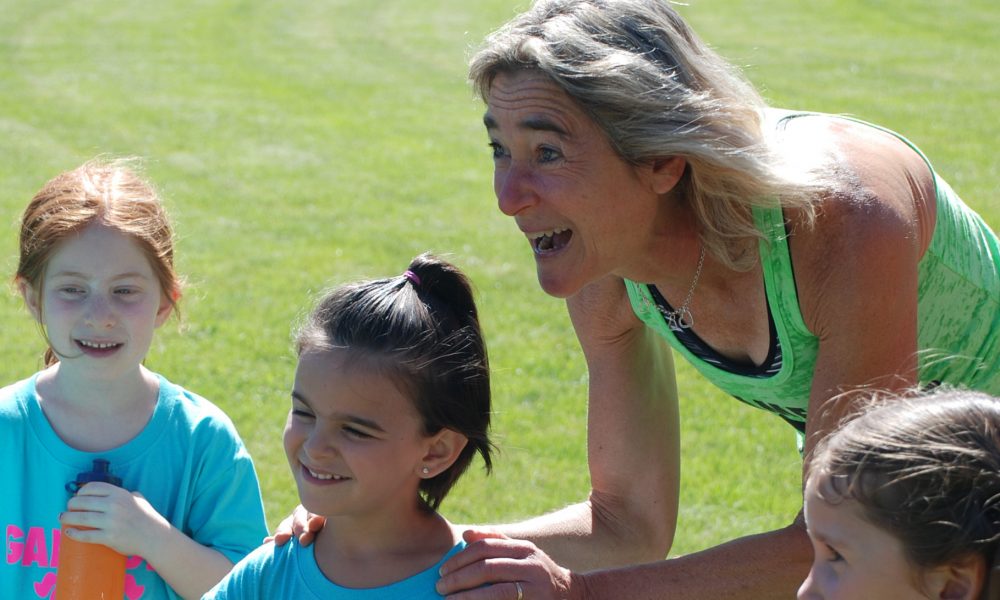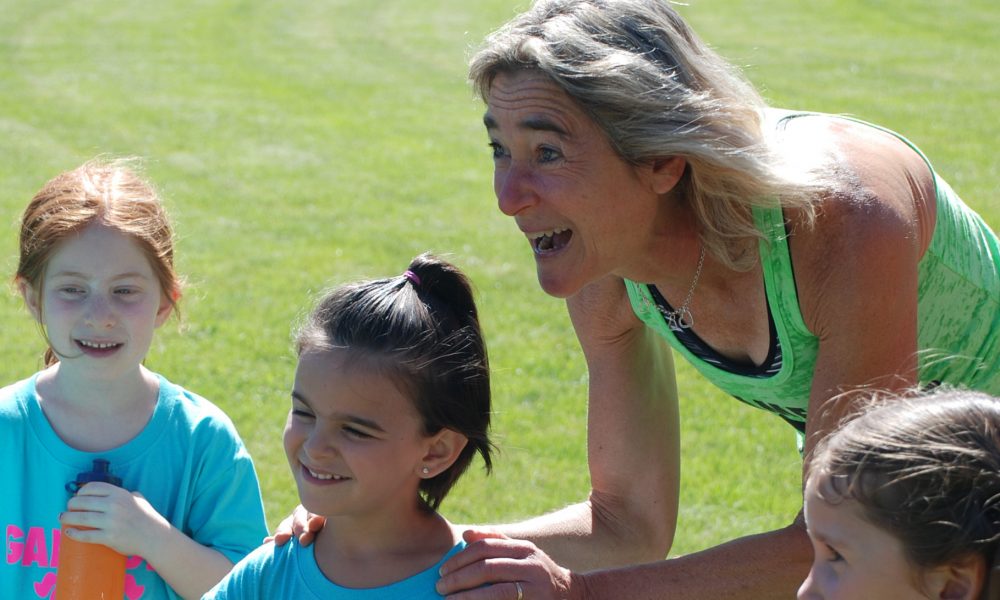 Today we'd like to introduce you to Barb Lazarus.
Barb, can you briefly walk us through your story – how you started and how you got to where you are today.
It all started back in grade school when the older boys on my block put a baseball cap on my head, turned it so it faced backwards, and taught me how to throw a ball. These boys truly nurtured my athletic talent and ignited a passion that lives on in my heart.
Fast forward a few years, I was fortunate to then become a beneficiary of Title IX and played sports in high school from 1974 – 1978 (4 sport athlete until my senior year when the IHSA went to three seasons) and college at the University of Michigan (tennis).
My passion for sports and fitness has never waned and in fact grew stronger as I matured. Whether on the courts and fields or in the workout room, I grew as an athlete. And what sports did for me off the field was priceless; sports taught me life skills and positive values that brought me success in law school and throughout my career as a prosecutor and press secretary/community outreach specialist for the U.S. Attorney's Office here in Chicago. Following the U.S. Attorney's Office, I thrived as an entrepreneur. So, I not only grew as an athlete, I grew as a person – a confident woman, strong in body and mind, and a wife and mother of two precious sons.
For many many years, I harbored the dream of giving back – empowering young girls ages 4 – 14 through sports. In 2007, Game On! Sports 4 Girls was launched with the mission of harboring the power of sports to shape the strong girls that develop into the valued teammates and high achievers of tomorrow. Since that time, I haven't "worked" a day in my life despite long hours devoted to creating and growing sports programming and an environment synonymous with a credible, reputable and trustworthy national brand. (They say that if you make your life's work your passion, you never "work" a day in your life – and it is true.)
Today, as Game On! approaches its 11th summer, we have summer camps and school year programming in Illinois, Colorado and Ohio. We stand poised to continue our national path with the intent to expand our impact as far and wide as strategically possible.
Best part of the story is all the fun my team and I have had every single step of the way. The joy and reward has been beyond description.
Has it been a smooth road?
Our only true struggle to date involves finding quality facilities as we make our push toward national expansion.
Beyond searching for national host facilities, I would not describe our issues as "struggles." Instead, I would characterize them as "challenges," which has a more positive connotation.
Every year we seek to improve and expand our impact. Every year we seek substantial growth. Because I care so deeply that we build meaningful relationships with campers AND their families, these goals can be challenging. In essence, maintaining a quality experience that goes above and beyond consistent with our reputation and brand involves surrounding ourselves with the best possible team to help push the envelope. I have been so fortunate thus far in creating that team, but as we expand, it remains a challenge.
I will explain a couple of my challenges in more detail.
1) Changing solidly engrained attitudes: My team and I have heard time and time again statements like the following from parents: "My daughter is going to play basketball at Game On!??? Oh, she is too short to play basketball." This breaks our Game On! hearts. EVERY GIRL, no matter size, shape, ethnicity, socio-economic status, etc. deserves to find the joy in sports and staying active. It's healthy and empowering. Yet if parents have preconceived notions about what their daughters' can and cannot do or should and should not do when it comes to sports and physical fitness, they are not instilling the "can do" attitude that all girls need throughout life.
2) Finding creative, strategic and effective methods for continuing our momentum in the homes of our participating families. We can teach, instill and impact for as many as 8 weeks, but how do we assure that the lessons learned and skills mastered remain top of mind? That is where we need the cooperation of the parents to enforce and reinforce.
So, as you know, we're impressed with Game On! Sports Camps 4 Girls – tell our readers more, for example what you're most proud of as a company and what sets you apart from others.
Since 2007, Game On! has been devoted to organizing summer camps and school year programs committed to teaching and inspiring girls of all skill levels in a wide variety of sports.
We have worked hard to develop a customized teaching technique and unique understanding of how young girl's best learn and thrive. The results are a program and environment that effectively foster their love for sports and fitness to last a lifetime. This is our passion. This is our mission.
We build the confidence to play. We instill the values that shape character. We offer the knowledge to support a healthy lifestyle. We have a blast!
In essence, the Game On! program is empowering, safe, spirited and fun. It's about exposure to and instruction in so many sports, and bonding with role models who share our passion. With particular attention to imparting skills and values related to sports and life in a warm and caring environment, our campers experience growth as an athlete AND a person.
Year after year, we look forward to the memories and friendships, the smiles, and reward.
The Essence of Game On!: Focusing on a unique GirlStrong and fun environment, Game On! harnesses the power of sports to shape strong girls that develop into the valued teammates and high achievers of tomorrow.
The Game On! Mission:
To inspire or enhance a lifelong appreciation for a healthy lifestyle, including sports & fitness
To empower/build confidence through sports
To promote skill development for all levels through quality instruction and fun
To teach and promote solid life skills & core values through sports
To inspire our campers and their families to support our women's collegiate and professional sports teams through education and experience
Why Trust Game On!
"We provide an all-girl experience born out of passion and understanding" –Owner, Barb Lazarus
Since 2007, we have dedicated ourselves to working specifically with girls grades Pre K – 8th to encourage a lifelong commitment to a healthy lifestyle that includes sports and fitness. Through our unique summer camps and school-year events and programs, we have effectively empowered girls through sports by building their confidence and teaching each one skills and values crucial to their growth as an athlete AND a person. We have worked hard, observing and listening to feedback every step of the way, to become the experts in the areas of communication and teaching methodology. The result is customized, fun programming that includes our signature incentive programs. We are so proud of our impact – exciting girls about staying fit and active on top of imparting core values and life skills that go beyond the playing field. This is our passion and our mission.
About A Summer Game On! Style
Our multi-week summer day camps inspire girls of all athletic abilities with programming that is empowering, safe, spirited and fun. It's about daily exposure to multiple sports and bonding with role models who share our passion. Our days together create memories, friendships, smiles, rosy cheeks and reward.
Summer days at Game On! provide your daughter with exposure to the widest range of sports that might include the following: tennis, volleyball, basketball, softball, lacrosse, soccer, flag football, swimming, ultimate frisbee, dance, karate, yoga, golf, rugby, dodge and monster ball, badminton, field hockey and more. Campers may also participate in camp clinics run by collegiate and professional athletes and high school coaches, field trips to women's sporting events and horseback riding.
What Sets Us Apart? Quite a bit – there is nothing like Game On! Sports Camps 4 Girls around the country. Here are a few specifics:
• An All-Girls experience born out of passion and understanding
• Years devoted to creating developmental sports programming 4 girls
• Expertise in technique when it comes to teaching girls sports fundamentals and beyond
• A warm, caring environment conducive to making an impact
• Our Ponytail Camp Program (grades Pre-K – 1st) that combines sports exposure & development with a creative twist.
• Proven incentive programs recognizing skill progress as well as model character (i.e. effort, leadership, spirit, sportsmanship, courage) – awards are EARNED
• Balance in focus between growth as an integral member of a team vs growth as an individual athlete
• Our signature Healthier4Me program integrates important values and life skills that revolve around themes such as respect for others, believing in yourself, body image, it feels good to give, teamwork, leadership, taking risk, and more
• Flexible week format
• The ability to play multiple sports daily, including exposure to new sports and the opportunity for more specialization for our older campers
• A program that equally caters to the beginner, intermediate and advanced athlete
• Attention to hiring role models who are specially trained and share our passion
• A sports camp that successfully incorporates a traditional camp culture (including carnival day, water wars, tie dye days, talent show, spirit contests…)
• Strong Relationships with local women's professional and collegiate sports teams including family outings to games and in-camp clinics
• Attention to family involvement (Game On! stresses building long-lasting relationships with both our campers and their families.
• Game On! is NOT about the pressure to win. Rather healthy competition and challenge are balanced by the chance to frolic and play just for the fun of it.
Our Game On! Girls experience a sense of pride and accomplishment AND develop a GirlStong attitude!
We are most proud of our impact – I offer you many examples
We are proud of the thrill of teaching girls to throw a ball, kick, run, jump, and skip – skills that translate into confidence on the sports fields and off.
We are proud of the thrill of watching campers make that first basket, successfully catch a fly ball for the first time in softball, score a goal in soccer after having been scared to be aggressive, hit their first forehand over the net, achieve the skill of throwing a frisbee with precision.
We have had parents call to say they are truly amazed and impressed that their campers have come home and asked mom and dad to practice tossing and catching a lacrosse ball in the yard or shoot baskets.
We have seen the smiles and pride when one of our more advanced athletes finally develops the rhythm necessary to dribble between her legs or spike a volleyball after having spent days and days trying.
We have had parents approach us in stores or call on the phone to credit our program for their daughter's selection on to the middle school or high school sports team.
We have received the excited hugs from campers who have finally gotten their serve in tennis or volleyball over the net.
We have experienced the thrill of watching a flag football team learn what it means to work together to score a touchdown and then celebrate with a group hug like you have never seen before – as if they have won the Super Bowl.
We have been so proud to watch one of our more timid campers step up into a leadership role and help a less skilled camper learn to pass a volleyball.
We have had parents call to express their thanks for the difference we make: Whereas last year their daughter ran the opposite way of the ball on the soccer field, this year she was the leading scorer.
We have been credited for instilling the confidence in a camper who is the only young girl to make the cast of a theatre production at Northwestern University.
We have watched our campers grow and learn how the slightest bit of progress can make such a difference when it comes to their enjoyment of a sport.
We have experienced the incredible emotions produced when the entire camp works together running thousands of bleacher steps or performing hundreds upon hundreds of burpees to raise money for our foundation.
We have felt the goose bumps when parents attending our "Game On!'s Got Talent Show" has expressed surprise when their camper creates a poem and presents it in front of the entire camp having never had the courage to perform before.
Of course we are also proud of contributing to the growing fan base for women's professional and collegiate sports. As a consequence of our field trips to and camp visits by women's pro teams like the Chicago Sky, Red Stars and Bandits, we have turned many families into supporters. We have even had families host their campers' birthday parties at games.
I was walking through Walgreens a few years back and a camper's father happened to recognize me as the owner and founder of Game On! Sports Camp 4 Girls. He stopped me to convey his surprise that his daughter had just finished her soccer season as one of the leading scorers on the team. While I was excited to hear of her accomplishments, it was her father's next statement that completed the picture and his purpose. He explained that prior to this season, his daughter had suffered from a severe lack of confidence on any sports field to the extent that she truly shied away from the ball. He then stressed that he attributed her newly found confidence on the field (and in life as he put it) to her previous summer at Game On! Sports Camp 4 Girls. He was gushing with appreciation.
Last summer, Game On! attended a Chicago Sky game, an annual field trip for campers and their families. I was sitting next to one of our Ponytail Division campers, a first grader, clapping our spirit sticks in unison. During play, she leaned over and said, "Barb – I just saw a pick!"
A few summers ago at Game On, a 7th grade travel-level basketball and soccer player was introduced to volleyball. Today it's her passion as she plays outside hitter for her high school team. There is a great chance that she will continue play at the collegiate level.
The biggest reward of all is observing that sense of pride and accomplishment when one of our Game On! Girls tries and tries and tries to perform a skill to no avail and then one day, with the caring help of our passionate coaches/counselors, she gets it – observing and feeling her emotion is worth GOLD.
Let's touch on your thoughts about our city – what do you like the most and least?
What I like Least: Too much traffic
What I like best:
Chicago offers incredible diversity. This diversity permits us to use sports to EMPOWER AND UNIFY.
You put t-shirts, shorts and gym shoes on girls and offer them an environment conducive to sports play, and suddenly the distinct lines of size, race, religion, socio economic status, and ethnicity become blurred. You rally these same girls around the necessity of "girls supporting girls," AND striving to be respected teammates in life (whether their teams involve just women or women and men), and, despite distinct individual differences, the sense of unity can become even stronger.
Game On! summer 2017, we will continue to use sports to teach that our differences are far from anathema to the concept of team. On the contrary, certain differences such as individual strengths and personalities can work to better a team. And THEY WILL with the help of our role models, strategic programming, and the right environments to guide – Believe it!
Contact Info:
Address: Corporate office: 3000 Dundee Road, Suite 210, Northbrook, IL 60062.
Summer camp and school year program locations include Lake Forest, IL; Chicago, IL; Boulder, CO, Shaker Heights, OH; Beachwood, OH; and Hudson, OH
Website: www.gameonsportscamp.com
Phone: 847-229-9959
Email: info@gameonsportscamp.com