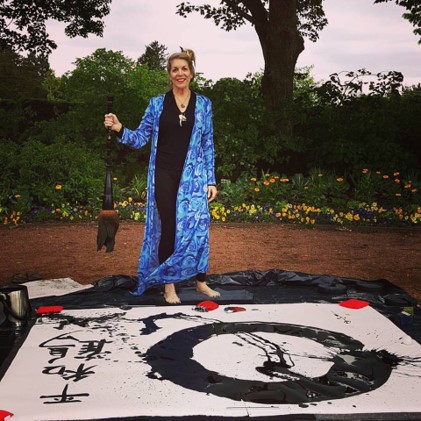 Today we'd like to introduce you to Patricia Larkin Green.
Patricia Larkin, please kick things off for us by telling us about yourself and your journey so far.
It seemed hopeless, mired in debt from tuition and medical bills, I dropped out of college to work off my debt. Through many unusual jobs, I returned to graduate, then teach and have continued to be a student for life.
Every obstacle made me stronger when I overcame it. I chased after new art techniques and teachers consuming all the information I could. Eventually I was able to integrate corporate-world jobs with evening-classes and studio-practice. It was at best a hectic pace. A turning point for me was learning to paint Sumi-e, (East Asian ink wash painting), where the goal is to capture the subject's soul. Sumi-e came to be a way of life, coaxing me to be in the moment with one breath-one stroke; integrating mind, heart and body. It is a lovely way to create. Now is the most joyful I've been; less struggle-more flow.
Grateful for all I've learned from generous artists and teachers that came before me, I now volunteer at The Japanese Culture Center. I continue to study shod (Japanese Calligraphy) and sumi-e with Shozo Sato, an internationally renowned Japanese master of Zen arts. The sumi-e tradition of teaching Asian ink painting from teacher to student moves in a continuum. You learn hand to hand, passing generations of knowledge through subtle movements of the brush into the future. By teaching, my intention is to break down barriers and open up each student's creativity to new levels. I am honored to pass on this tradition.
Can you give our readers some background on your art?
I paint with ink on paper and oil on canvas.
Natural and ephemeral beauty fill me with wonder and inspire me to create. I paint with brevity; direct and immediate. You are invited to finish the image with your hearts and mind. Enter the work and make it your story. Stay a while and contemplate, relax or daydream. I create a space that I hope you will want to return to.
Sumi-e informs my creative process; I begin with a focused meditation, stretching to inhabit the subject matter then impressing my mark into the materials. I plan the canvas and palette ahead of time, freeing myself when I am in the act of creating. When I paint a flower, I am freed from reproduction and inspired to convey its movement and fragrance. My palette knife is one of my favorite tools, because I can blend and carve the oil paint. The texture is sensual and meditative, as is rubbing the ink stick in water on stone to make the ink wash.
My intent is to let each mark of my brush meet the canvas as an extension of my state of mind. When painting with ink, a single stroke can produce astonishing variations in tonality, from Frans Hals' blacks to silvery Wyeth grays. Every brush-touch must be full-charged with meaning, with useless detail eliminated. Painting with permanent ink on sensitive paper reminds me every day to slow down and be in the moment. As in life, if you make a mistake, you must go on, you cannot cover it up.
Any advice for aspiring or new artists?
No one is able to know more about what you create than yourself. While you can learn much from books and others, take time to know yourself, your materials and to experiment. Artists can be most vulnerable when they are taking risks, so find a good support system. Seek out the artists behind the work that inspire you.
On integrating my art spirit with my corporate persona:
Carve out time to make art, and then do it. I set goals New Year's Day, evaluate every few months and review at Year End. Working in Corporate America forced me to develop time management skills and it was not unusual to plan my day in 15-minute increments. When I worked full time, I blocked out "dates' to create in my studio, averaging 20 hours/wk. For example, I woke early to do any research or online networking activity, painted in the evenings, on weekends and during vacations. When I create, I get completely lost in time, forgetting to eat or drink so I would set an alarm to remind me when to break for dinner. (I'd set alarms for me to end my work day too.) Since I would travel almost weekly for my job I sketched compositions and conducted research while in the plane or hotel so that when I hit the canvas it would pour out of me flowing quickly from my brush. Much of this I expressed during my "Unmade Bed Series" -you can check it out on my website!
The most valuable gift I can give to anyone (including myself) is my time and to be fully present.
What's the best way for someone to check out your work and provide support?
Exhibitions and Big Brush Performances:
The Japanese Culture Center, Chicago Japanese Matsuri June 23rd, Morton Arboretum Destination Asia Festival August 3rd, Oregon Society of Artists Friday, October 26th, 6 – 10pm, Anshan City Cultural Center- "ICCPS (International Chinese Calligraphic Art and Ink Painting Society)", Anshan City, China October 2018
Classes, Workshops, Art Talks:
I teach sum-e (Asian ink painting) at The Japanese Culture Center(https://japaneseculturecenter.com/sumi-e-painting/) on Sundays from 10-12. All proceeds from my work (including sales from artwork, Sumi-e workshops, Big Brush performances, curatorial projects and speaking engagements) benefit The Japanese Arts Foundation (The JAF is a 501(c)(3) nonprofit organization dedicated to the promotion of Japanese culture and arts in Chicago. Our mission is to expand opportunity, education, and the sustainability of Japanese arts in Chicago through outreach to diverse communities like Chicago Public Schools, the Chicago Public Library, museums, and other philanthropic organizations.) Click here to make a donation https://www.paypal.me/JapanArtsFoundation. I also teach Sumi-e Classes and Workshops at the Morton Arboretum.
Contact Info: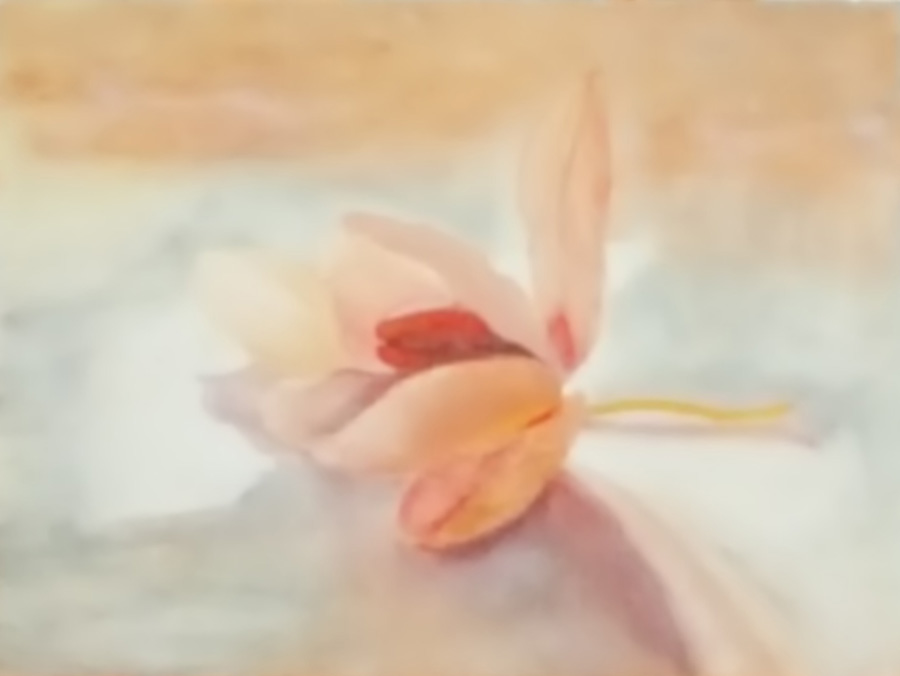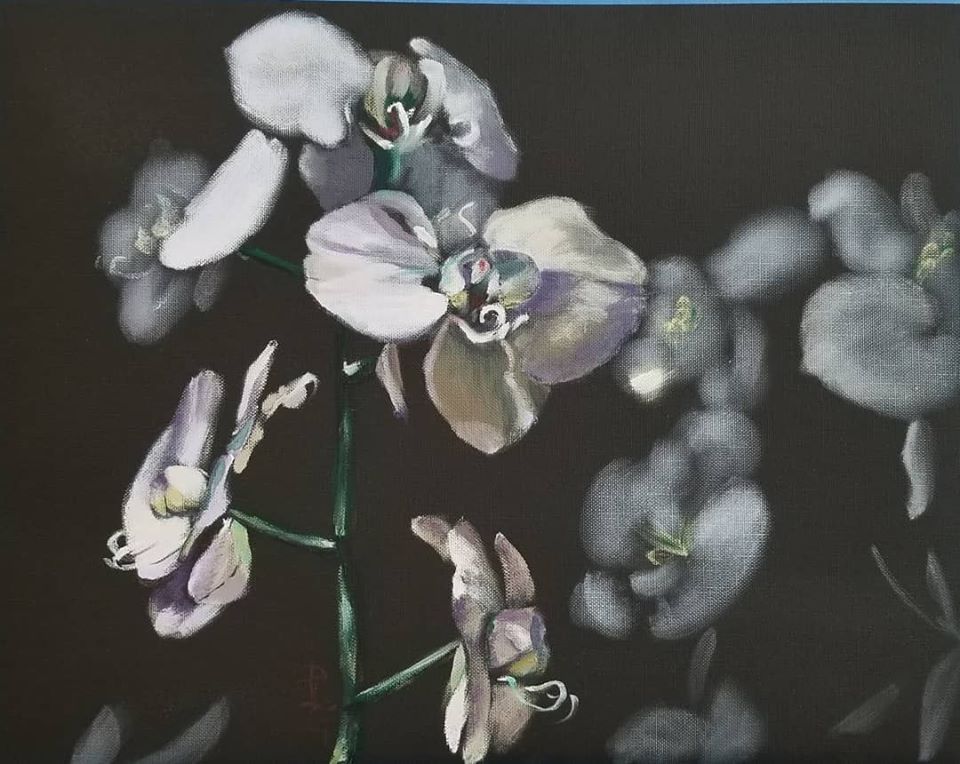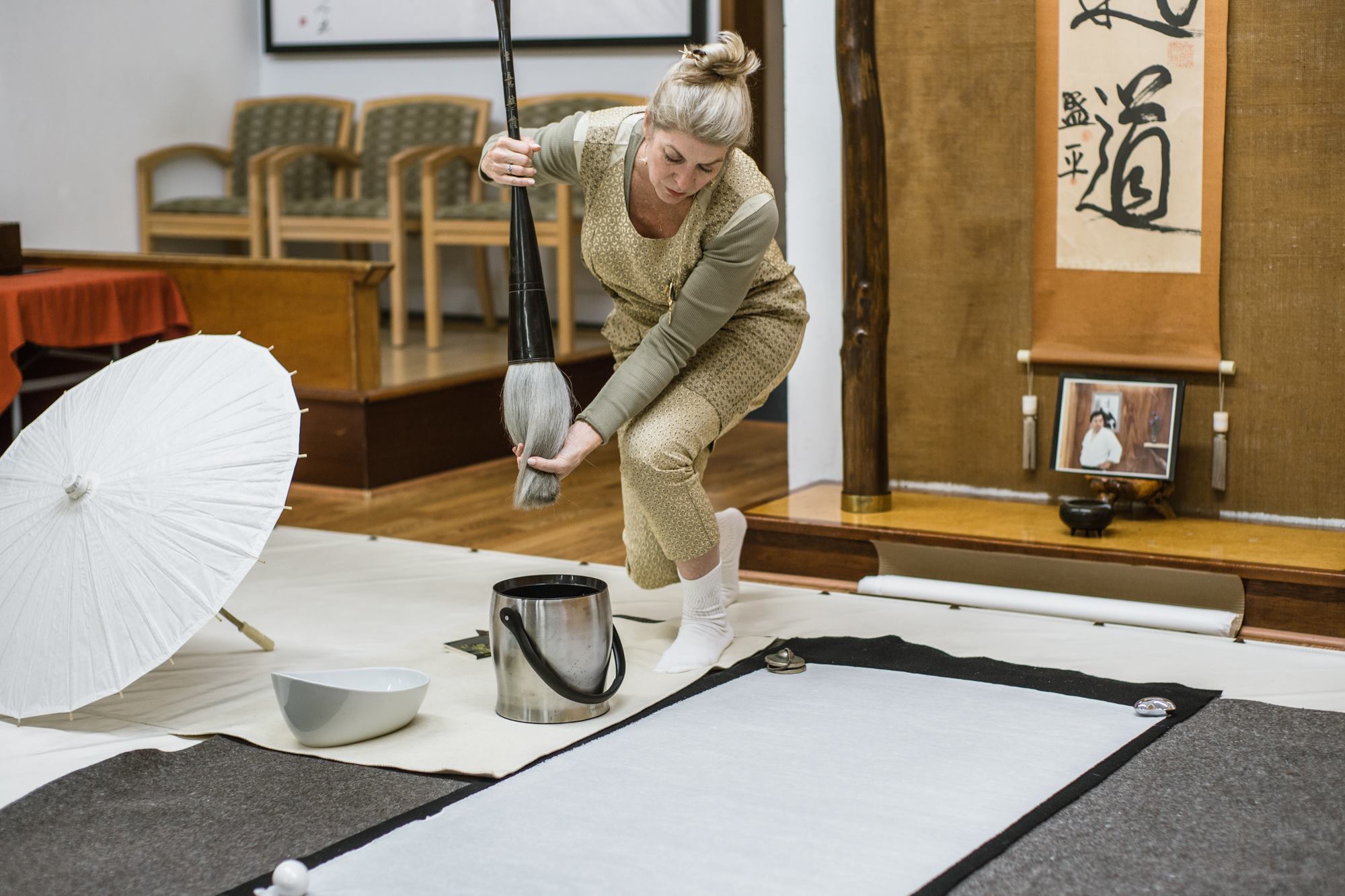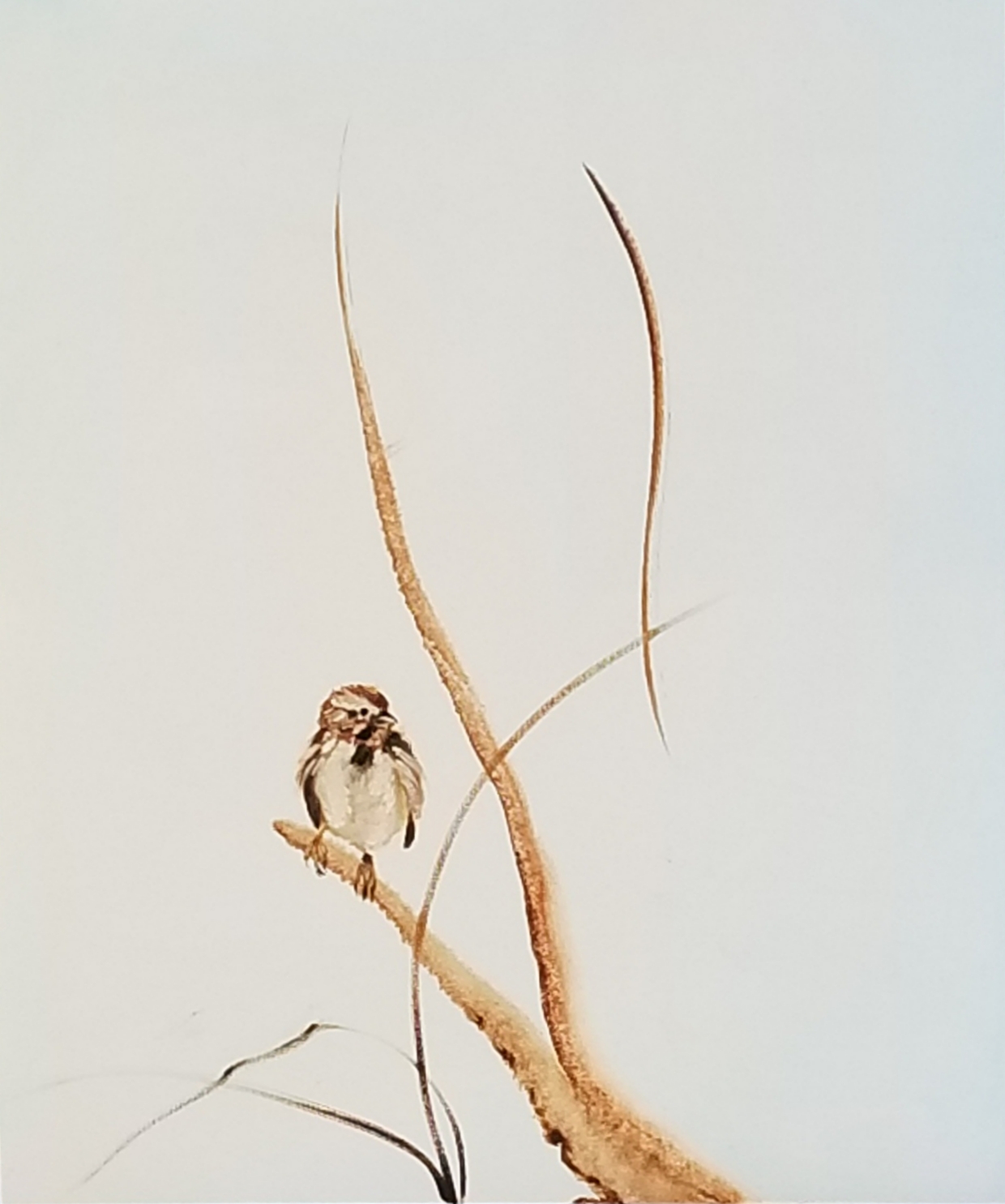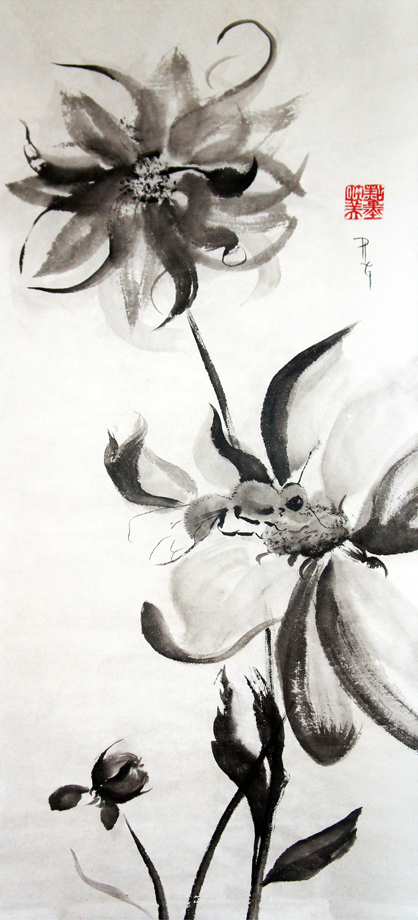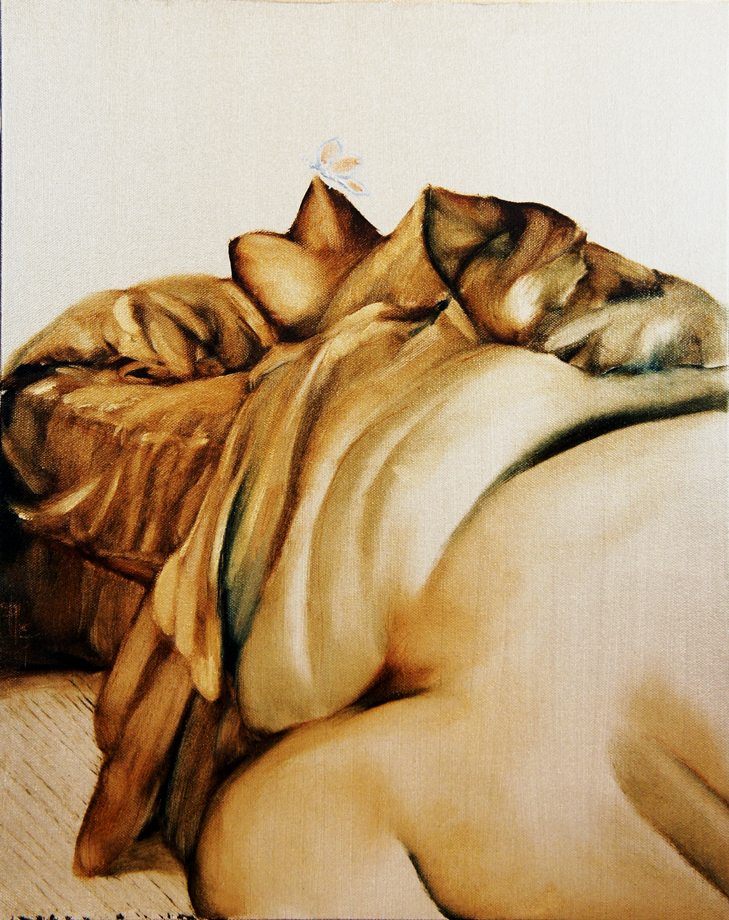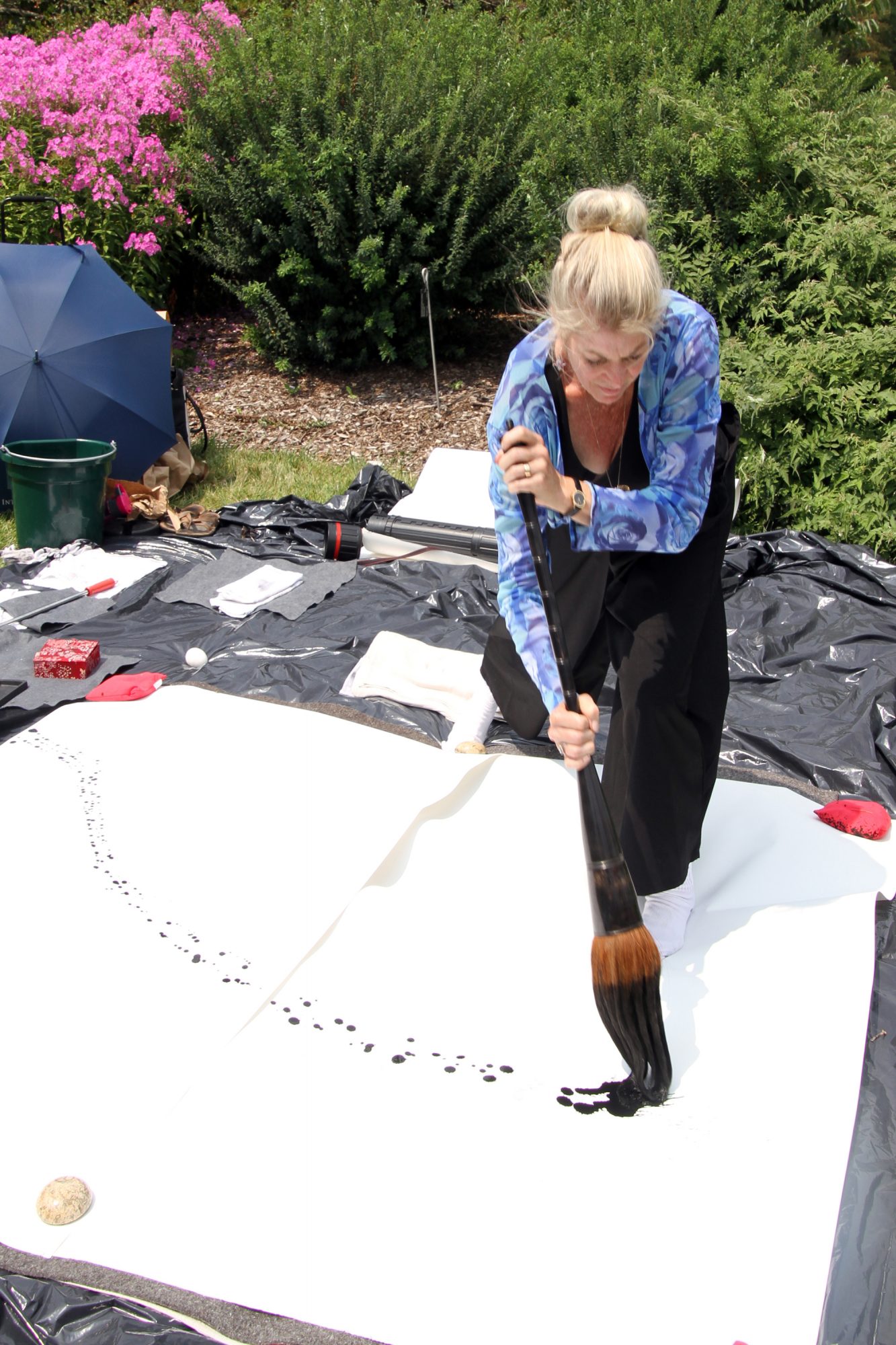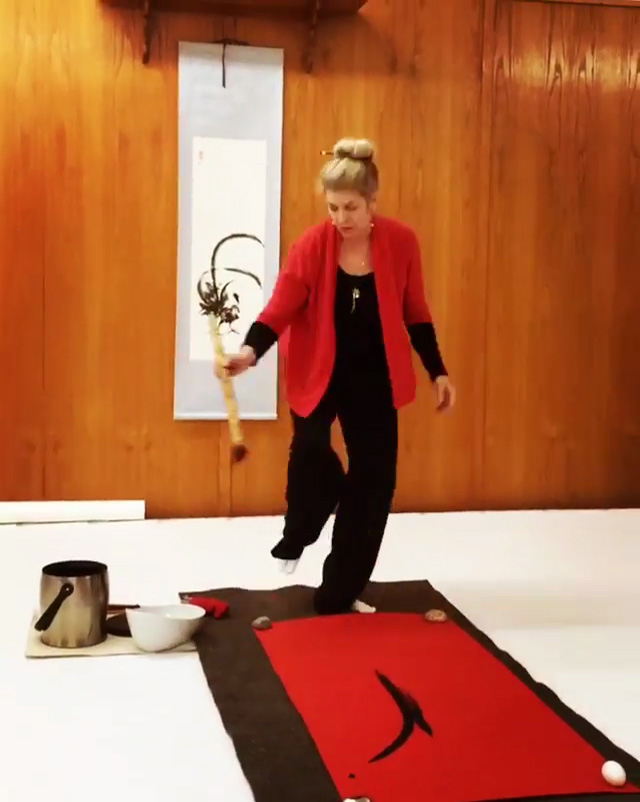 Image Credit:
Paintings: I Dreamt I was a Butterfly, Dancing Japanese Crane, Detail of Dancing Japanese Crane, Dahlias and Bee, Sparrow on Dead Tree Branch, Fragile Beauty, Asian Orchids by Patricia Larkin Green
Artist with Big Brush in action:
Patricia Larkin Green at Morton Arboretum by Jyoti Srivastava
Patricia Larkin Green at Hiroshima-Nagasaki Atomic Bomb Exhibition at Japanese Culture Center
Patricia larkin Green Live Big Brush Performance for Year of the Rooster at Japanese Culture Center, photo by Saira Chambers
Getting in touch: VoyageChicago is built on recommendations from the community; it's how we uncover hidden gems, so if you know someone who deserves recognition please let us know here.