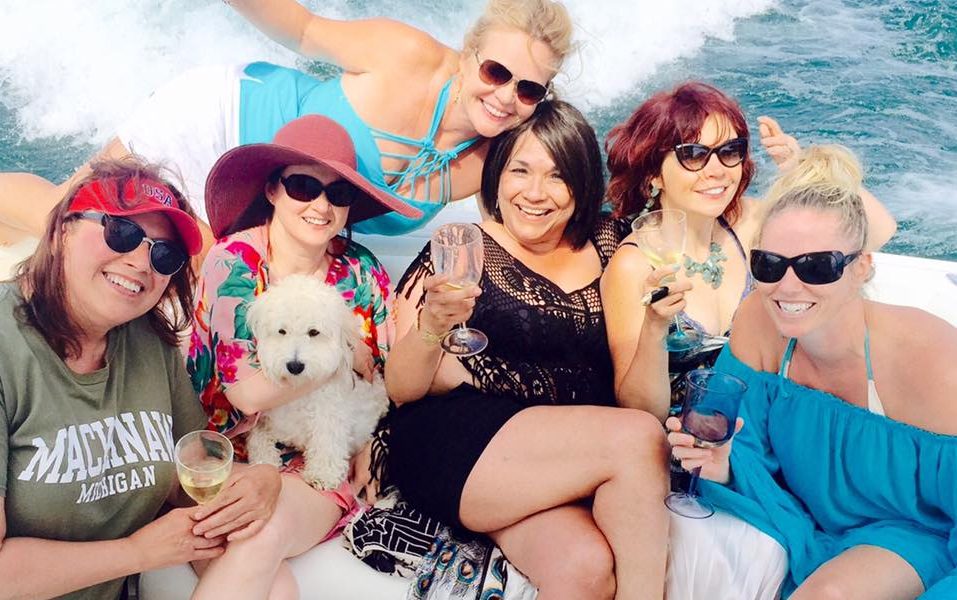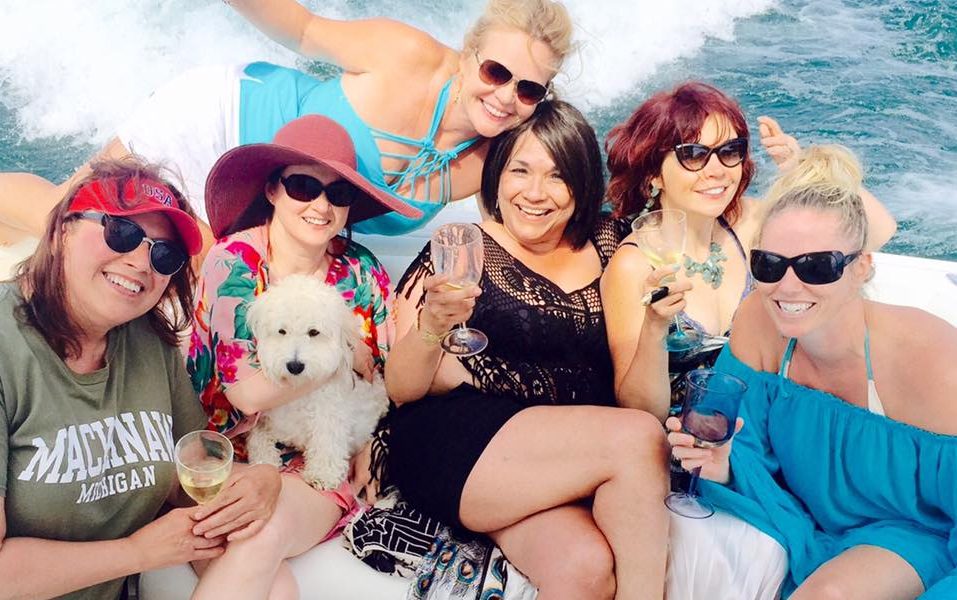 Elina Fedotova second from the right
Today we'd like to introduce you to Elina Fedotova.
Elina grew up in Moscow, Russia, raised by a family of chemists who always had a completely holistic lifestyle. She moved to America with her husband and newborn son in 1991, it was her first trip to America. While working on her English, she started to formulate products for a plastic surgeons office in Mississippi. Elina soon realized how difficult it was to find natural and organic ingredients. Some would make fun of Elina for wanting to create products with an "old fashion" approach.
By 1998, Elina developed her first skin care collection, composed of five products that were corrective, natural and even edible. She moved to Michigan in 1998 with a true desire to implement her vision and philosophy 100%. She opened Elina Herbal Skin Care Clinic in Kalamazoo, MI in 1998.
In 2007, Elina started the Association of Holistic Skin Care Practitioners to provide holistic skin care education to professionals. Today, She owns spas in Kalamazoo, MI and Chicago, IL. Her products are now sold in spas and doctors' offices across the country. Elina Organics has been named "Chicago's Best Facial" by Chicago Magazine and featured many times on TV and in publications such as Good Morning America, Allure, Access Hollywood, Chicago Travel Guide and Shape Magazine. In April, she will be featured in Day Spa Magazine as a top Industry Leader for Holistic Skin Care.
Elina is a manufacturer, distributor, educator, skin care company owner, cosmetic chemist, and a true Skin Guru. We are so excited to see what she has planned next!
Overall, has it been relatively smooth? If not, what were some of the struggles along the way?
Being the formulator of a completely natural product has its challenges. Conventional skin care products are filled with chemicals that can extend their shelf life. Since my products are completely natural, they do have to be used within 1 year of being made. All of my products are made in small batches by hand. They are not stored in mass quantities in a warehouse. I would consider this a blessing and a curse. Working with natural ingredients can also be very challenging because of the seasonal differences, even in aromas in essential oils. Customers are looking for a pure, natural formula, but they are so used to fluffy, consistent aromas that come from synthetic ingredients. Essential oils and botanical extracts are similar to wine, because every year they could be different. This creates extra hoops for me to jump through while I am making natural products without any chemical additives. This is the reason why you will find a lot of companies that claim to have a natural product but are really full of chemicals.
I think every business owner would say that finding the right people is also a challenge. And once you do find the right people, it's important to place them in an area where they can bloom. After 19 years of being in business I am getting closer and closer to complete balance.
Elina Organics – what should we know? What do you guys do best? What sets you apart from the competition?
Elina Organics does it all in the world of holistic skin care. Elina formulates and manufactures an organic, professional skin care line which is distributed across the country in spas and doctors' offices.
Elina owns two spas in which holistic, corrective skin care services are offered as well as holistic clinical procedures. Instead of offering Botox like conventional medi-spas, Elina Organics offers injectable procedures using the client's own plasma, PRP (Platelet Rich Plasma), and fat.
Elina Organics offers educational seminars across the country to skin care professionals who want to practice with a holistic approach.
Elina is also the President of the Association of Holistic Skin Care Practitioners.
Elina is most proud of the fact that she has clients that have used her products and services loyally over the last two decades. This length of time has proved their effectiveness. Many clients have said their skin looks more youthful than it did 18 years ago when they first came to Elina Organics.
For the last eight years, Elina has been featured on TV to educate people on how to use plants, fruits, and herbs for home beauty treatments to avoid unnecessary chemicals that are in conventional products. She has been on FOX 32 in Chicago, NBC 5, ABC 7, WGN and other television programs in Chicago.
What is "success" or "successful" for you?
I feel grateful to witness improvements on my client's skin along with their self-esteem and feelings about life generally. I am grateful for them to share the days of their life with me and to trust me to take care of their children, and even some grandchildren. I am also very grateful for very talented and kind professionals I have working with me. I know I can trust them and rely on them. I am very grateful for my wonderful family who have supported me through all of this business journey. So I am getting pretty close to achieving complete harmony in all aspects of my life. And that is how I define success.
Pricing:
The prices of Elina Organics products can range from $12 to $79.
Contact Info: