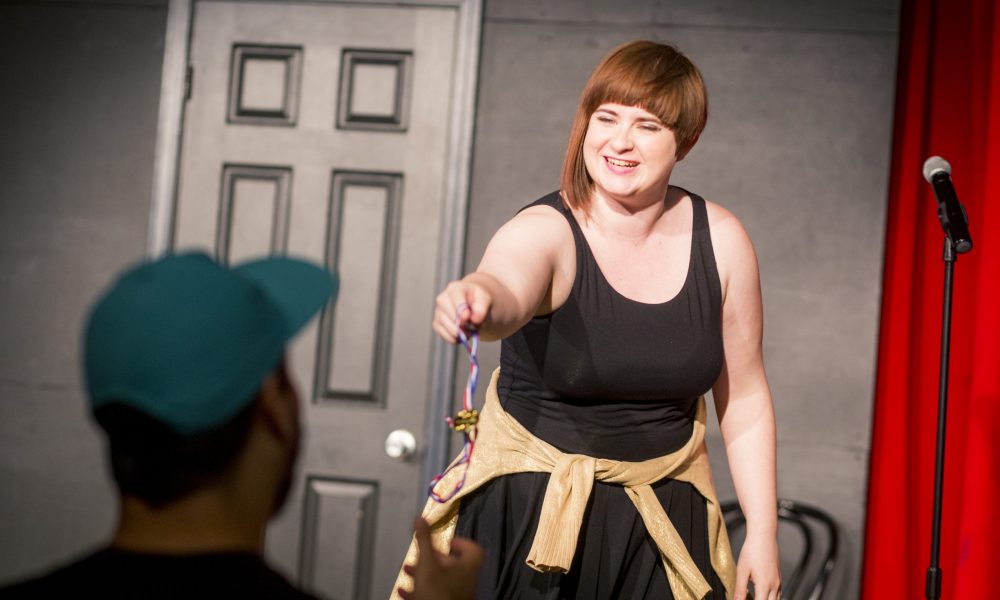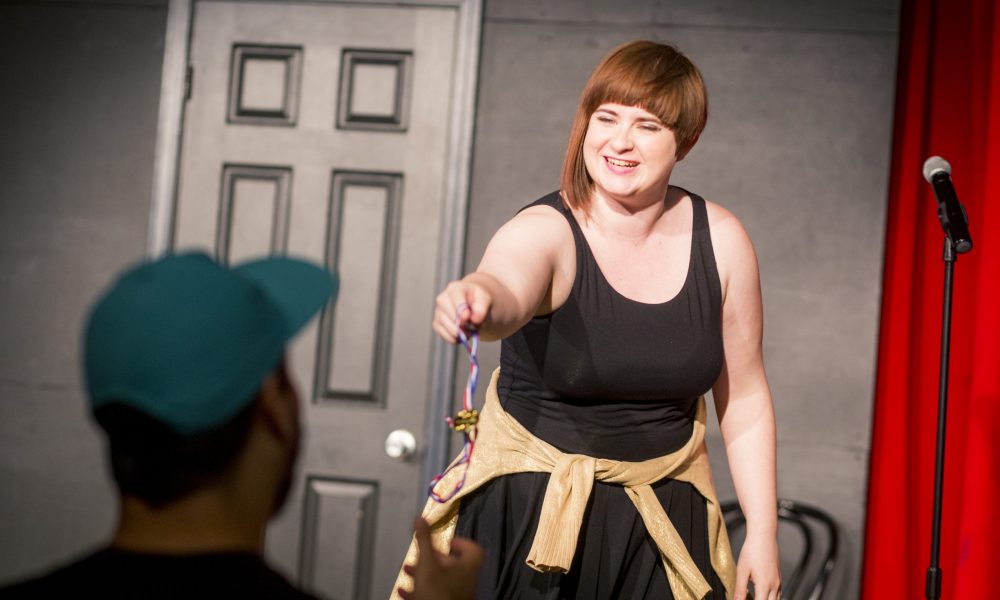 Today we'd like to introduce you to Whitney Wasson.
Whitney, can you briefly walk us through your story – how you started and how you got to where you are today.
I'm a stand-up comedian who lives in Chicago, by way of Arkansas. I was born in Fort Smith, went to school for English/theater at the local university, dropped out as a senior and then did a variety of things before going back to school at the UA-Fayetteville. I had focused on playwriting in that second round of undergrad and but had wound up performing in a few roles. My (second) senior year, I absolutely bombed the season audition. As soon as I got on stage, I thought "why am I doing this again? I hate it" and then proceeded to mangle a Sarah Ruhl monologue.
As for getting started in comedy, just like with acting, I'd built up this idea that only certain people could perform – you had to look and act a certain way. And that way was "straight, beardy, schlubby dude" OR "smooth-talking, handsome, witty, also-male talk show host" to be more specific. Even though I had female comedy heroes (Gilda Radner, Madeline Kahn, Wanda Sykes) and queer idols (Eddie Izzard, of course) and too-out-there-to-be-defined-by-gender-or-sexuality-heroes (David Bowie, Tiny Tim, Tim Minchin, Emo Phillips), I didn't think I was capable of being a comedian. I thought joke writing and performing was some God-given gift. As it turns out, it's more about crafting something that you think is funny into something that other people can get into.
So, sometime after I utterly ruined that audition, I wandered into the now-defunct UARK Bowl for a comedy open mic. It was just a bunch of dudes making each other laugh. When I discovered that stand-up was performed exclusively by people who identified as loner weirdo underdogs, I realized I had been focusing on the wrong kind of performance. Standup is playwriting plus acting, so I instantly loved it. For some reason, being judged by audience members for being myself, versus trying to be someone else's character made me feel so much less self-conscious. I absolutely threw myself into performing and – maybe because I was drunk – was shameless about it. For all the difficulties I've had recently, I still get the purest thrill when I can genuinely make someone I don't know laugh. Like big, deep, belly laugh – or the surprise laugh of recognition at something warped I've said on stage.
Once I got rolling, I pretty quickly established myself as someone who was serious about performing and got booked on shows, hosted my own, started traveling for festivals and then wound up here. I've performed in a bunch of cities, dozens of comedy festivals and now, in Chicago, several big clubs and theaters, too.
Has it been a smooth road?
Like everybody who has done stand-up for five years or more, I consider quitting all the time! It's just an insane thing to try to attempt – asking for stage time to make strangers laugh. And wanting to be paid for it! Even in the best of circumstances, sometimes everyone is doing great material and the audience is tired or hungry or somebody drops a plate in the kitchen and you just wanna curl up and die. Or shows you think are going to be amazing have terrible attendance because it's raining, or shows that seem too weird to be good are unforgettable – for example, one of the best shows I've done in a long time is at a combination liquor store/bar/donut shop in Joliet.
And the late hours and low (or no) pay sucks, obviously. I've had a way more brutal schedule here than I'm used to – it's really tough to work a full-time job, do side projects for extra cash, stay out late for shows and then be bright-eyed and bushy-tailed at work the next morning. In Arkansas, the cost of living was so much cheaper so it was easier to dig around for money and travel cheaply. Moving here and becoming a Chicago Comedian sounds like it has legitimized what I'm trying to do, but honestly, I felt like a "real comedian" more back home, since I was pretty much only writing and performing.
Something else that's troubling about comedy is that, because of the late nights, the cult of personality aspect of the entertainment industry and the fact that tons of people are competing for limited opportunities, a toxic subculture can develop. More specifically, people who are verbal, emotionally or physically abusive can skate by in comedy scenes. I love that the #MeToo movement is attempting to turn the rocks over in a lot of ways, but that "known secret" aspect of predators in Hollywood exists in comedy. I had to leave a project I started from the ground up because I didn't want to be complicit in that unfathomable "but they were nice to me!" line of reasoning. To anyone who is considering taking an opportunity from someone who excuses predatory behavior – skip it. Many more opportunities will arise for you, I promise.
Outside of the sucky pay, late nights and soul-less gatekeepers, I'm very open about being someone who is in recovery from substance abuse. I had a drinking problem since I was a teenager that was exacerbated by, you know, hanging out in bars and getting paid in drinks. Something about moving here and not having to drive anymore just sent me over the edge and since I'm a very all or nothing person, I had to quit for good. I've been sober for about two years now, so I'm still trying to get my sea legs when it comes shifting my persona on stage and handling being around drunk people all night. The upside to being sober is that I've been able to meet so many incredible performers because of sobriety. There are more sober comedians than you'd think there would be. (We're all masochists probably.)
So let's switch gears a bit and go into your new show concept. Tell us more about the show.
Right now, I'm producing a new show called You Won! Comedy Show. The seed of the idea came from my hilarious mom, who is always joking about how there should be a day where you can wear all the medals you won as a kid. Most people have won something at some point in their life, and yet everybody seems to have just put that award, trophy or medal in a drawer somewhere, which is such a bummer! So, my mom's idea was – let's flaunt that stuff! I decided to take that idea and turn it into an awards show about the idea of awards and successfully pitched it.
The past tense in the show name is pointed and hopefully implies what I want to get at – that there's a through a line of failure even when you talk about success. I'm very fortunate to have gotten to know some of the funniest people in the city, so it's been easy to approach wonderful performers with the theme and then give them the freedom to do what they want with it. I've only had a few shows, but so far people have talked about everything from Irish dance competitions to battling brain cancer, to "winning" a break-up. It's also exciting to be booking a variety show, which is a departure from me – I'd previously only produced stand-up shows. So, it's really fantastic to get to book a lot of stellar improvisers, solo sketch performers, and musicians.
I'm really proud of being able to showcase performers that you might not have seen in this aspect before. For example, it's one thing to be a stand-up and be self-deprecating about yourself; it's another to talk about a time when you really failed hard and in some instances, it was completely your fault. It's also been nice to see performers shift gears a bit and try the storytelling format. At this next show, one of my absolute favorite comedians is telling a personal story about academic failing that he hasn't told before. It's my hope that people will use the stage time to really address things they haven't talked about on stage.
As with my previous shows, I also aim to showcase marginalized voices – more female, trans, non-binary, genderqueer performers, more queer people of color. Of course, I will sometimes throw in the occasional straight white guy, because diversity in comedy is important, y'know?
How do you think the industry will change over the next decade?
I think it's hard to talk about the shifting tides in comedy without mentioning Hannah Gadsby's "Nanette." I have never seen a special cause such a big debate about comedy, especially because it's gotten performers talking about it, too. I love that a stand-up comedian intentionally dove into ROUGH, sometimes unfunny territory to very deliberately starting a conversation about how queer performers present themselves. Even now, months after it came out, I see people debating it. The most boring response is from straight, cisgender male comedians – surprise, surprise – that say "it isn't comedy – next subject!" because they're SO MAD someone is talking about something other than them. How many titans of stand-up (think Lenny Bruce, George Carlin) allowed for some silence and stillness between their joke-jokes as they crescendoed to their thesis statements?
As for the local level, I moved to Chicago for more opportunities to perform, but honestly, being able to see so many shows that are diverse and weird and wonderful gives me hope for comedy as – dare I say it – an art form. Shows like Late Late Breakfast (a game show/pure joy) and We Still Like You (a confessional show) encourage comedians to try new and uncomfortable stuff. The incredible, long-running, secret pop-up show, Shithole, has become my go-to for seeing new acts. And then there's Helltrap Nightmare, which kind of defies description. All of those shows inadvertently push a feminist agenda purely by booking acts that aren't straight, cisgender white people in addition to performers that blur the edges of conventional stand-up comedy, music, and performance.
I hope that, especially in this current, ugly political moment, performers get more radical, more vicious. I hope they talk more about sexual abuse, mental illness, dark stuff that isn't the standard fare for comedy club shows. It's both a terrifying and wonderful time to be alive.
Contact Info: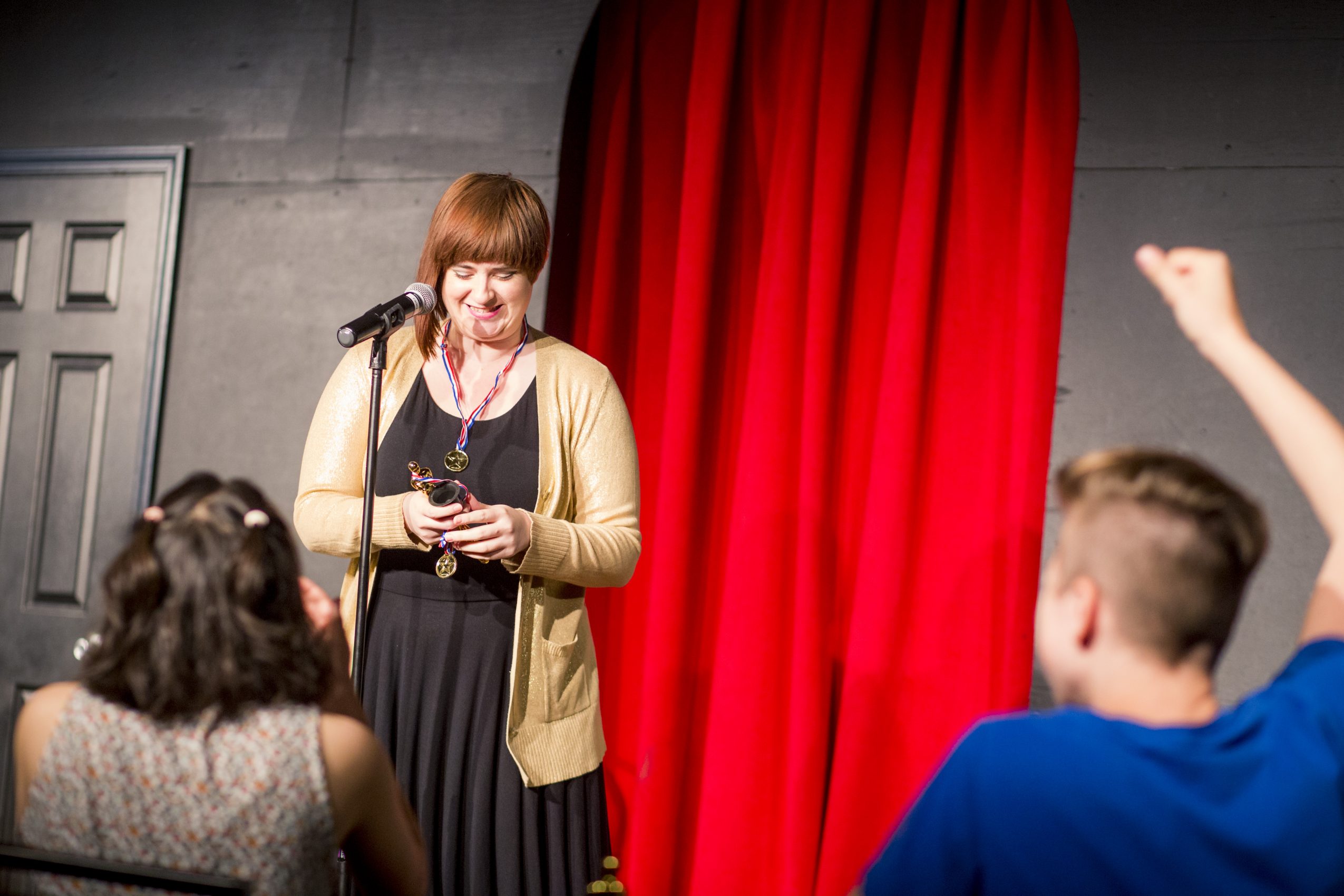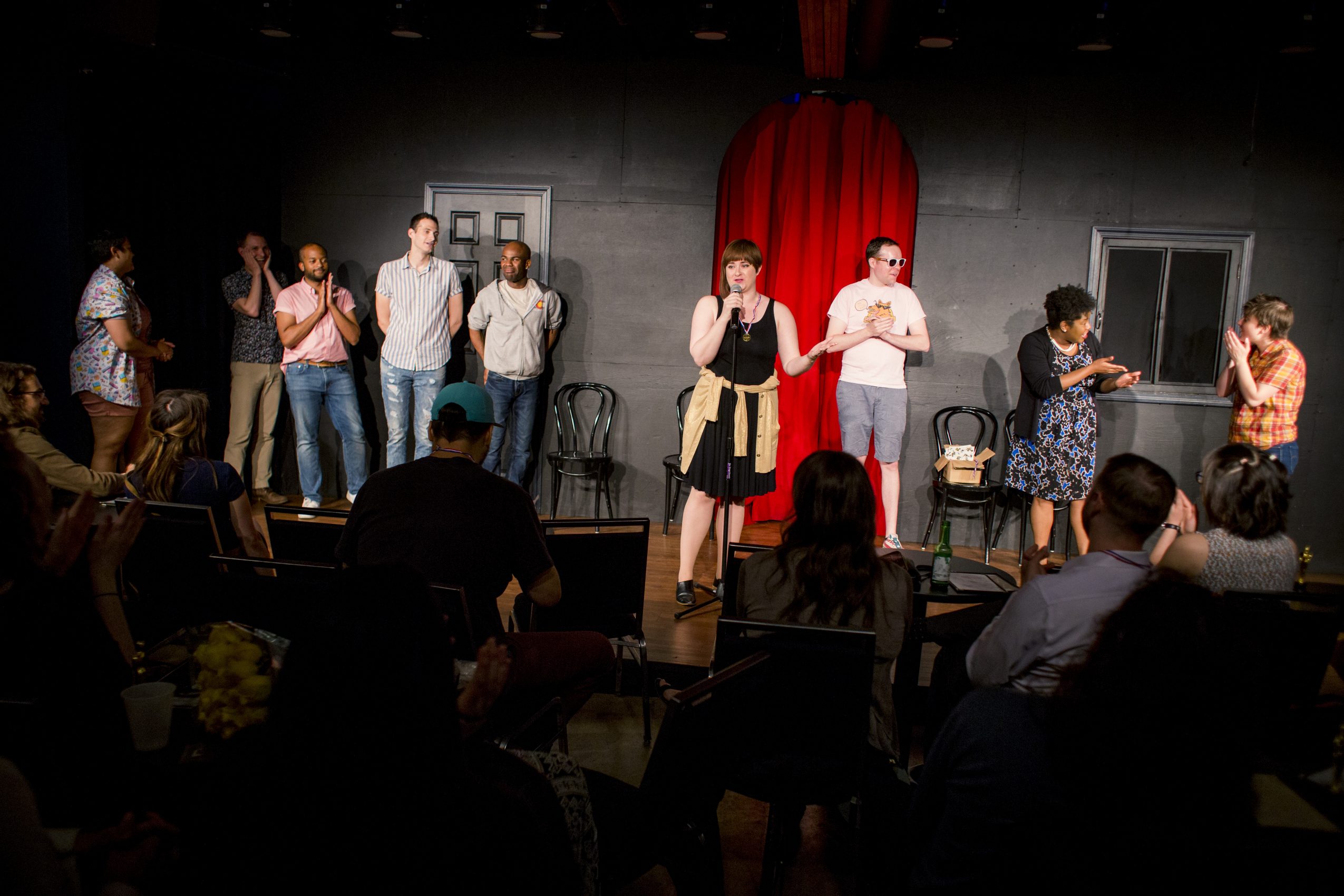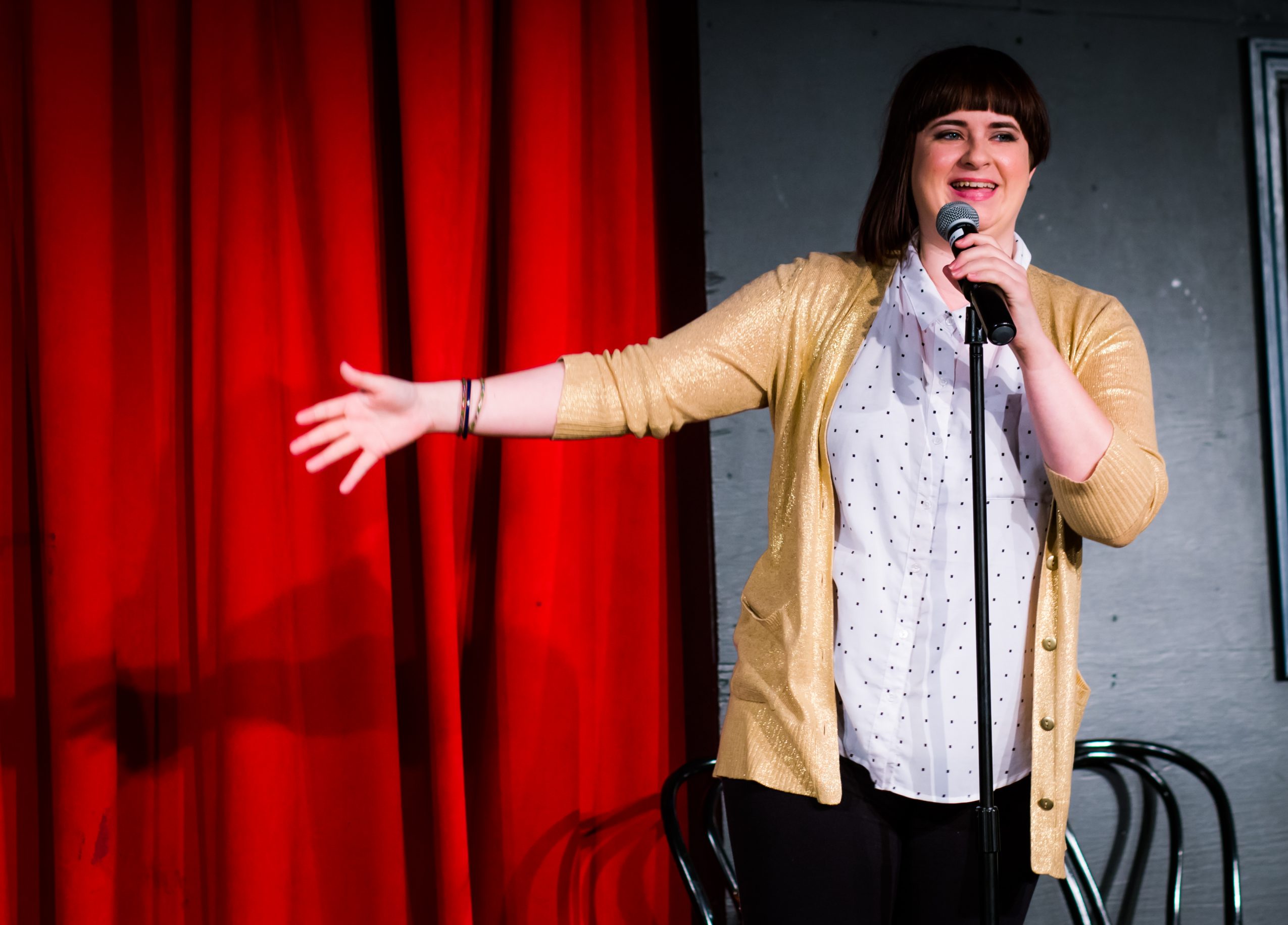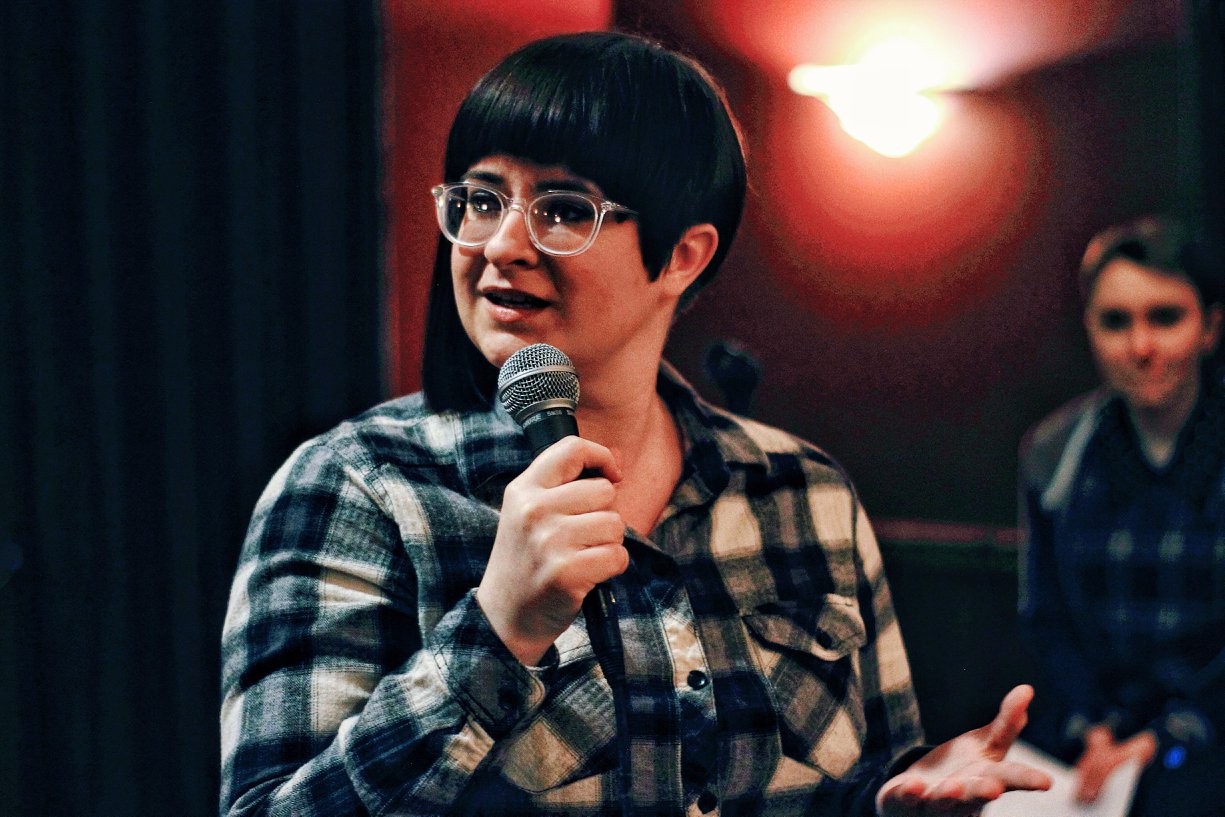 Image Credit:
Forestt Strong LaFave Photography, Safe Space Chicago, Sarah Elizabeth Lawson Photography
Getting in touch: VoyageChicago is built on recommendations from the community; it's how we uncover hidden gems, so if you know someone who deserves recognition please let us know here.