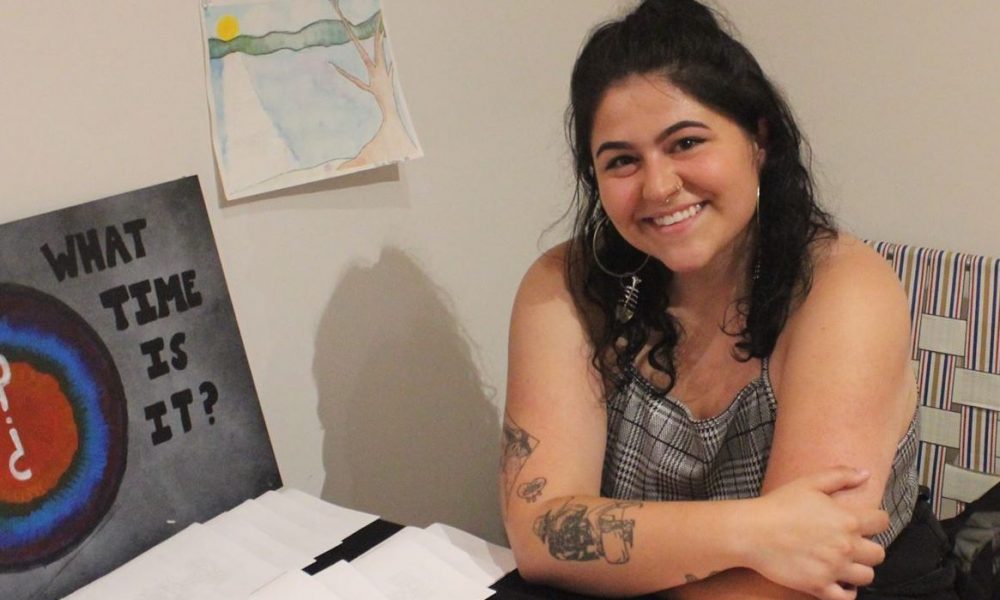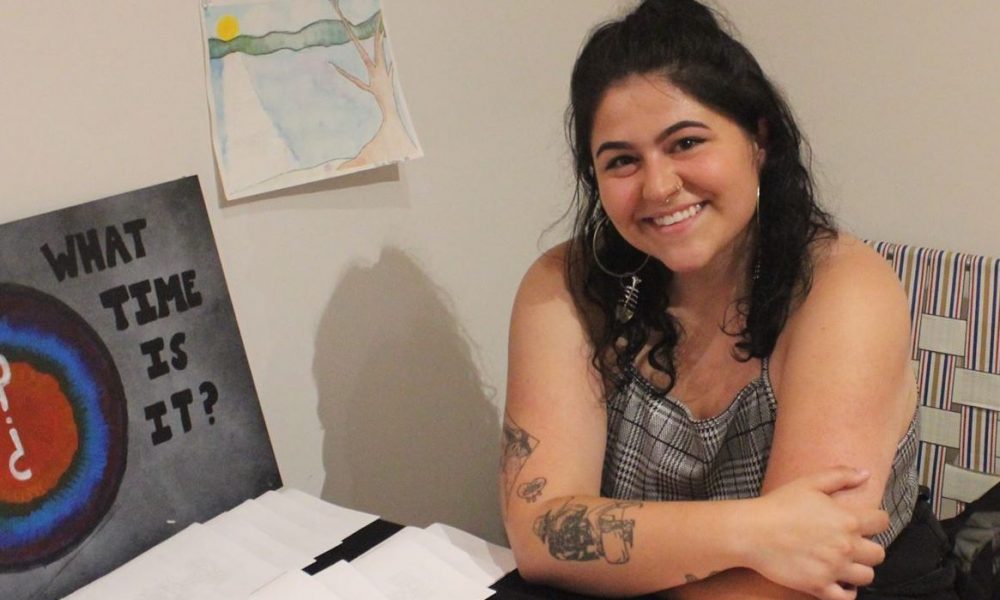 Today we'd like to introduce you to Nicole Anderson.
So, before we jump into specific questions about the business, why don't you give us some details about you and your story.
I started yungmiga in July 2015 out of pure frustration, but it really came to be what it is today because of all of the experiences I've had. My life was in a state of limbo during 2015. I was in sophomore year of college and had recently transferred from UIC to Wright College. I was making the tough decision of changing majors; I loved foreign language but didn't want to major in it anymore. I wanted to be a writer.
I was young, naive and ready to launch my career as a journalist. However, after seeing "must have bachelor's degree or higher" and "must have 2+ years of experience" as requirements on job application after job application, I was upset and felt down about it all. I remember thinking at the time: "How am I going to get writing experience if no one will take a chance on me?"
I sent pitches to magazine and newspaper editors and submitted my creative writing to dozens of contests. I was told "no" so many times that I decided enough was enough. In July 2015, I no longer was going to sit around and hope that I would land an internship or wait until after college to gain writing experience. I was determined to get the experience with or without help.
With absolutely no idea of what I was doing, I took the plunge and created my own website. I spent more than six hours sitting down with my laptop and using HTML-5 widgets to build my website. My first design of yungmiga was subpar, at best, but I was so proud of it.
After creating yungmiga, I needed to write content. I had so many ideas floating around in my brain, but I didn't know where to start. I eventually decided I would post my creative work and write about Chicago. I figured since I was born and raised here, I'll write about what this city of mine has to offer.
The first several articles I published weren't great; I had no formal journalism training and didn't know AP style. Those articles are actually still on my website as a reminder to myself that everyone needs to start somewhere. I'm a firm believer that as long as you're actively trying to become better and learn more about what you're passionate about, you can only get better.
A few months later, I enrolled in my first journalism class at Wright College and fell in love with writing all over again. I joined Wright College's school newspaper, The Wright Times, and immersed myself into the student media world. With the help of the newspaper advisers, Aaron Cohen and Suzanne Sanders, I was on my way to becoming a better writer and a better version of myself.
During this time, I was also a part of Wright College's literary arts magazine, The Wright Side. It was with the magazine I learned more patience, better editing and how to manage a group of my peers. The magazine's adviser, Vincent Bruckert, was a huge support system for me in the times I felt overwhelmed.
Throughout 2015 to 2016, I was still focusing on places and events happening in Chicago for yungmiga. But I wasn't satisfied; I was overwhelmed and couldn't keep up with everything happening in Chicago. I wanted to cover more events and interview more people, but I was only one person and I wanted my website to remain that way.
In early 2016, I became the editor-in-chief of The Wright Times newspaper and began to neglect yungmiga to focus on my studies and the newspaper. I still posted occasionally, but I had to prioritize my other work. Through the newspaper and the magazine, I was able to learn how to build a better website, create documents on InDesign, write stronger articles and become a better writer.
The help and advice I received from my mentors helped me feel confident again about putting my work out there. I began to try freelancing again and submitting my creative work. It paid off. My essay, "It Took Time to Love My Hourglass Figure," was published in Chicken Soup for the Soul: Confident and Curvy; my short story, "A Bottle of Gin," won and was read at the 2016 Daredevil Writing Conference; and a political opinion article of mine was published on Rebellious magazine. I was over the moon.
I graduated with my associate's degree in 2016 and took one year off from school. My plan was to move to New York City and attend school over there, but life doesn't always go as planned. I stayed in Chicago.
During the year off from school, I spent more time on my website. I focused on becoming better at using HTML-5 widgets to make yungmiga more organized and aesthetically pleasing. After giving yungmiga a makeover, I made the change from a broad spectrum of topics to a narrower topic: LGBTQ+ people and events in Chicago.
Since the change, I had the opportunity to interview both established and up-and-coming drag queens, artists and musicians within the LGBTQ+ community in Chicago. I've been fortunate to attend and write about events and plays, review books, etc. It's been a very fun and fulfilling experience.
As for what I'm doing currently, I have been sadly neglecting yungmiga at the moment because I have a lot of projects I'm juggling at once. For starters, I recently enrolled at Northeastern Illinois University as a full-time student. I'm in the home-stretch of receiving my bachelor's degree in communications, media, and theatre with a focus on journalism and creative writing from Northeastern Illinois University, so I'm trying to focus on maintaining and hopefully boosting my 3.8 GPA. It's been busy and hectic, but worth it. I'll be graduating in May 2019.
I released the first part of a three-part queer mystery booklet, "Dead in New York City," in August and it's been well-received so far. I was excited about it all and I plan on releasing the second part very, very soon.
When I'm not at one of my four jobs or working on homework, I'm working for the Independent, Northeastern's student-run newspaper. I'm the news editor and co-managing editor and I enjoy every single second of it.
Great, so let's dig a little deeper into the story – has it been an easy path overall and if not, what were the challenges you've had to overcome?
It's been a smooth road, so far. I am very lucky, though. I have the privilege of being able to attend college; not all people get this opportunity. I've also been fortunate enough to receive solid advice from professional journalists along the way.
My advice for other women, particularly young women who are also in college, would be to look for a mentor. Find someone in the field you want to go into and talk to them. Pick their brain and ask them questions, as many as you can think of. As cheesy as this sounds, I would also suggest to always send thank you cards to those who help you. It shows that you truly care and appreciated their help
Please tell us more about your work, what you are currently focused on and most proud of.
I consider myself the creator, owner and sole writer for yungmiga. I also create content for social media to promote the website, announce articles, events coming up and people that others should be aware of. I focus on LGBTQ+ people and events in Chicago because it's a topic that is important to me and close to my heart.
There are only a few LGBTQ+ media organizations in Chicago that I'm aware of and I felt there needed to be more Chicago-based LGBTQ+ representation on a ground level. The other LGBTQ+ media organizations are phenomenal, I read their content often, but they don't if ever, cover the same events and people that I cover. That's the beauty of living in a city, though. There are thousands of thousands of people, all with stories, waiting to be told.
As a person, I'm more than likely known for always carrying around a ridiculously large coffee cup. As a brand, I would like to think that I'm known for honest, thoughtful content. I won't post something until I'm satisfied with it and feel that it is strong enough.
I'm most proud of how well-received my content has been. I have people who do not identify as LGBTQ+ reach out to me and tell me they enjoyed a certain article or learned something new they didn't know before. I've also heard back from some of the people that I've highlighted on my website, people who I thought would never think twice to look at my content; it means a lot.
We're interested to hear your thoughts on female leadership – in particular, what do you feel are the biggest barriers or obstacles?
Since I'm not working at a "professional" news organization, I'm unable to speak on the barriers in the industry.
Contact Info: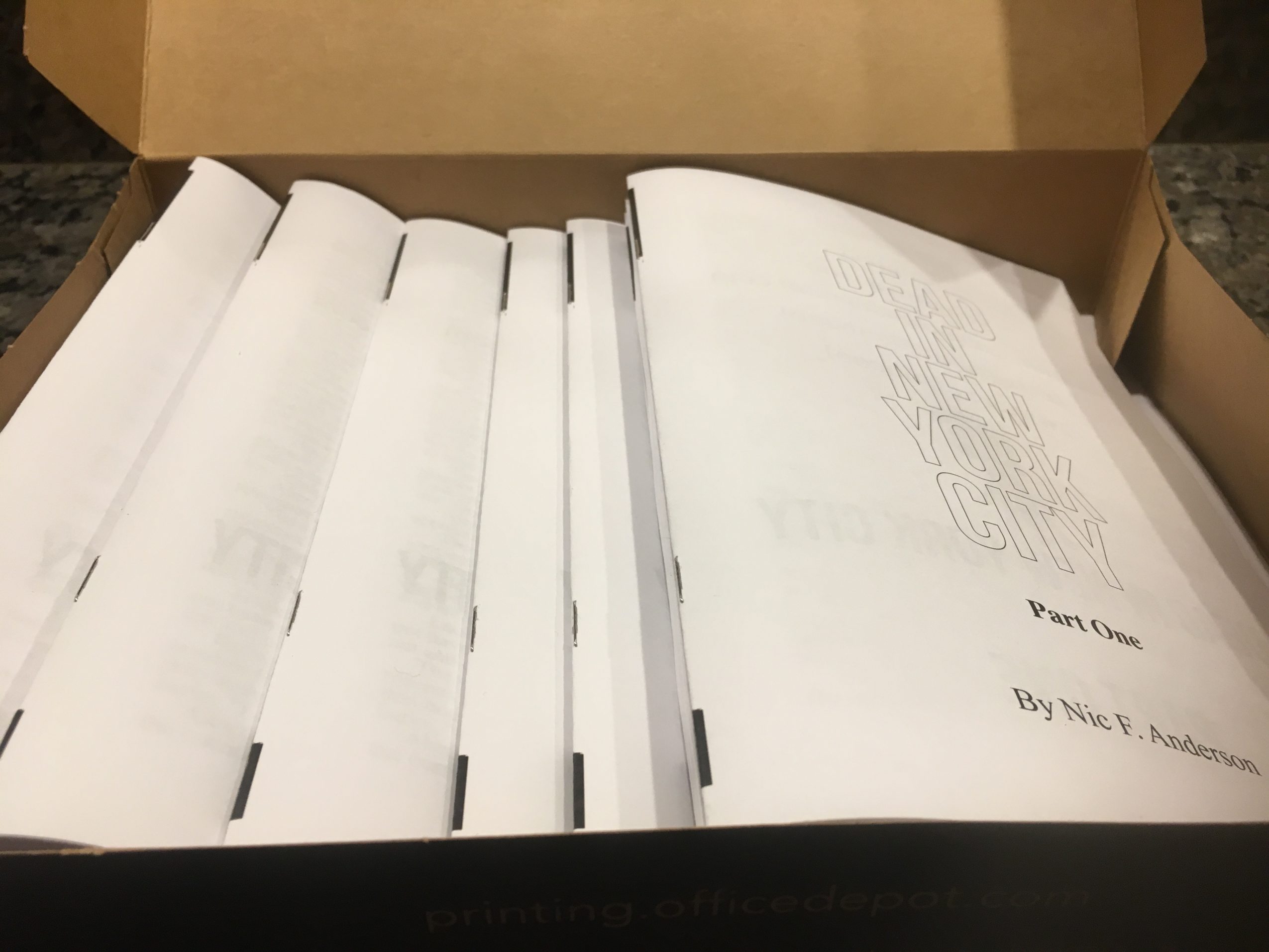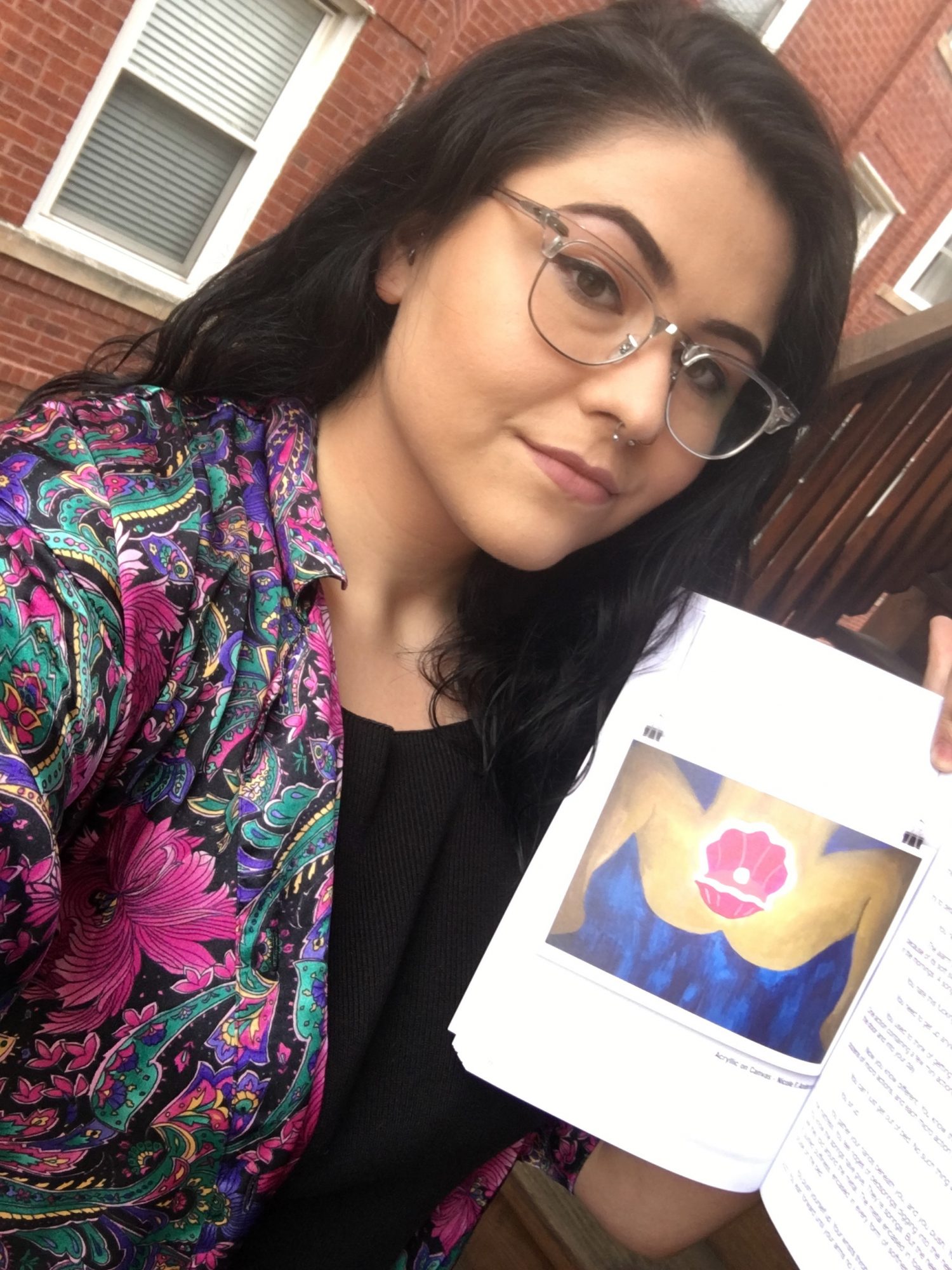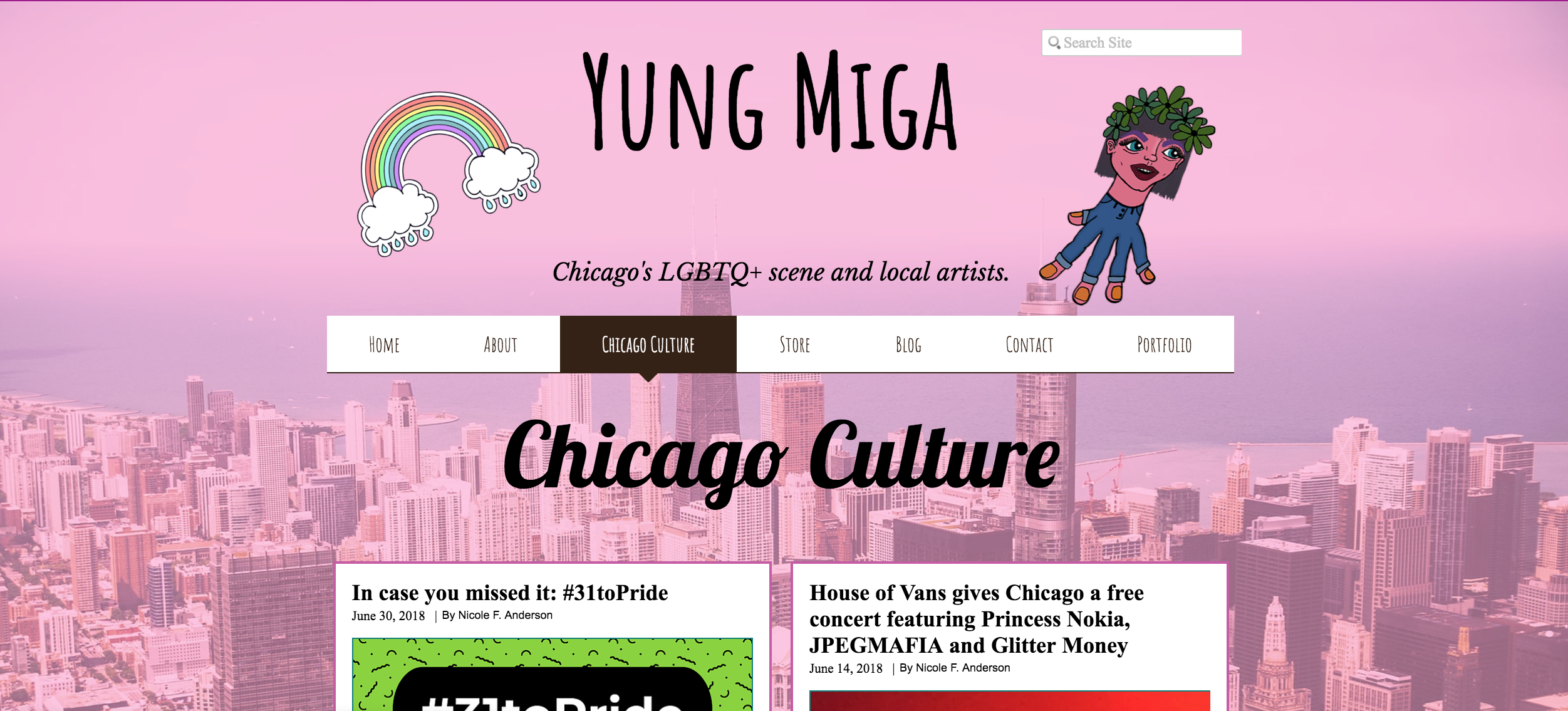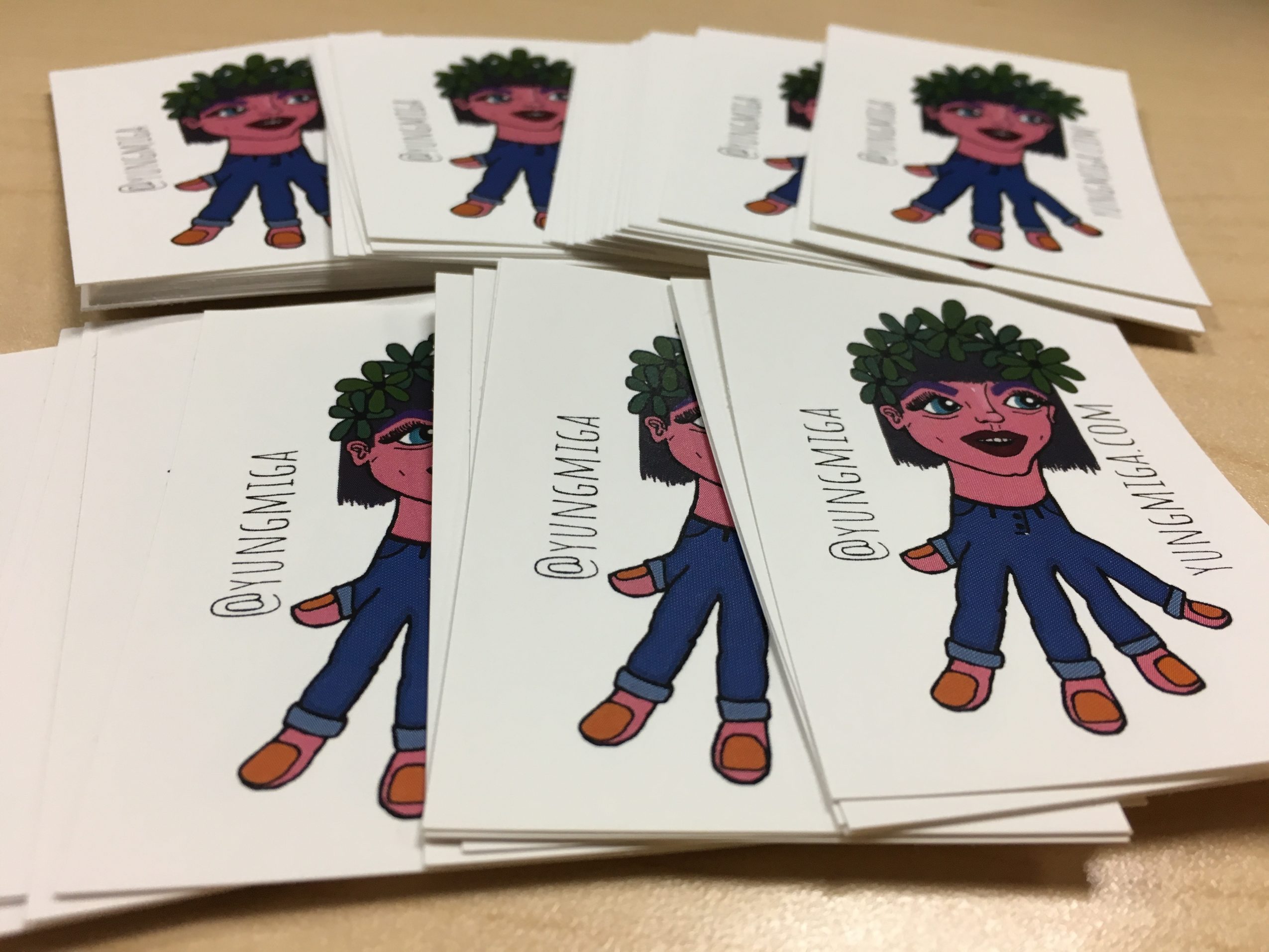 Image Credit:
Photo of Nicole F. Anderson sitting at the table with her booklet and Pigmento Zine. Photo by Cecilia G. Hernandez
Getting in touch: VoyageChicago is built on recommendations from the community; it's how we uncover hidden gems, so if you know someone who deserves recognition please let us know here.