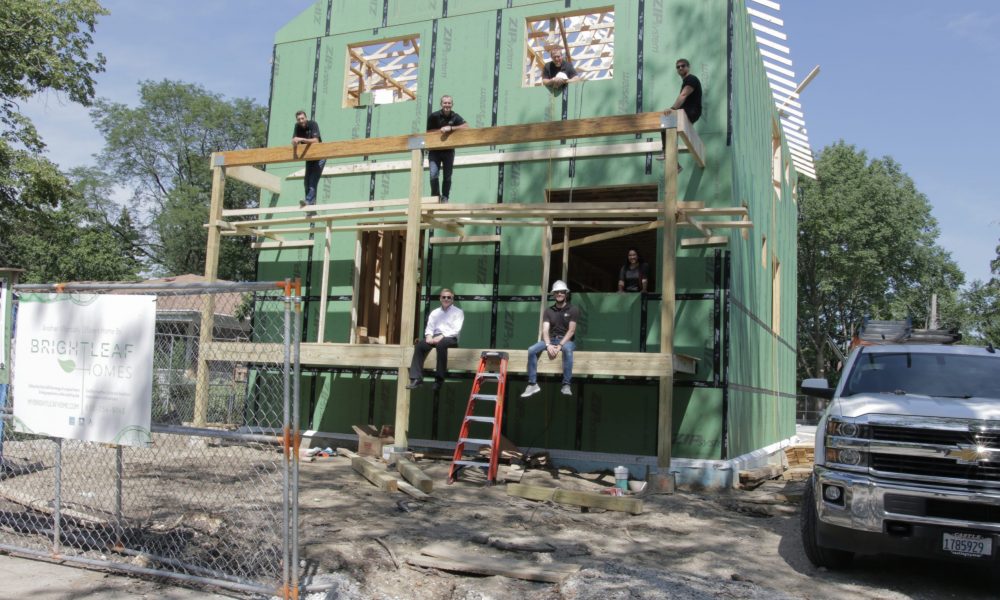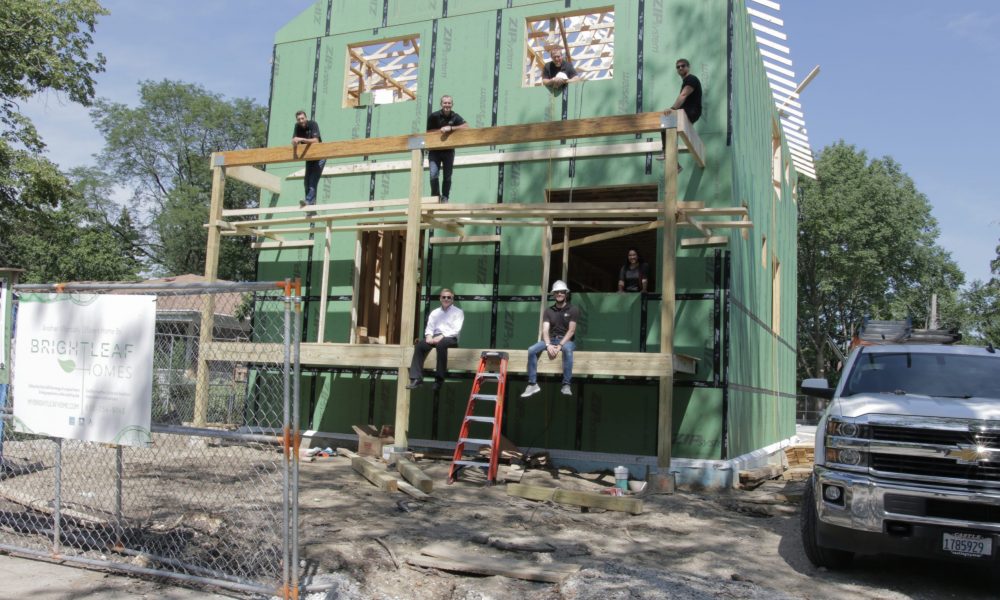 Today we'd like to introduce you to Rick Thompson.
My partner, Scott Sanders, started his professional career working for a large production home builder. While he did learn some important fundamentals about construction such as budgeting and estimating, scheduling, and general jobsite logistics, he quickly became disenchanted by the poor manner in which homes were being built and the lack of consideration for the families that would be living in them as well as the general disregard for the environment. As a self-proclaimed tree hugger and detail fanatic, he knew he had to make a change.
After picking up the knowledge he needed and socking away enough money to build a home his way, he started up BrightLeaf Homes in 2008 with the mission to build a better house in a better way and give the families that wanted a new home an experience unlike anything else.
Over the next couple years, Scott built and sold his first few BrightLeaf Homes. While they were successes, building a home a year was hardly the impact he hoped he could make on the housing market. He soon met Rick and Alex Thompson, two other young entrepreneurs who were real estate investors who owned and operated their own renovation company. The Thompson brothers started their own construction firm a decade ago using knowledge gained from working with a professional builder and taught themselves the rest of what they needed to know to be successful builders and business owners. When Rick received his BPI certification, it opened a whole new world of energy-consciousness. They experimented with various energy-efficient retrofit techniques and soon became dissatisfied with the limitations they had to work within if they wanted to bring true efficiency, high performance, and building science to existing homes.
Scott, Rick, and Alex soon realized that the three of them had the same focus, vision, values, and goals and began collaborating on different construction project together. All three guys wanted more than an ability to build; they wanted to know how to do it best, the science and data behind it, and how to appeal to families looking for a different way to live.
Their friendship was sealed when they decided to team up to do an episode of DIY's 'Kitchen Crashers' in which they had only 4 days to completely renovate a kitchen together. Scott, Rick, and Alex came to the realization that they could really be a force if the three of them combined their ambition, talents, and drive.
Scott was tired of running a business without the support of a partner or team. Rick and Alex were tired of compromising their values by solely working on renovating homes with limiting parameters. Their shared desires as both entrepreneurs and builders led to them joining forces into what is the management team of BrightLeaf Homes today.
The company was formed with the 3 managing partners who each had a specified role:
-Alex : the project manager who ensures the projects were executed smoothly by staying on track, on budget, and built to the high quality standards BrightLeaf Homes are known for.
-Rick: sales and acquisitions who acquires all the properties the new homes would be built on, sells them, and also finds all the clients that BrightLeaf will build for.
-Scott: finances and R+D who is in charge of keeping an eye on the numbers and also serving as the research and development department arm of the company, researching, analyzing, and implementing the best techniques, materials, and technologies to utilize in all BrightLeaf homes to not only make them perform at a high level, but also make them cost effective for the buyers.
Initially, we mainly focused on a few spec homes at a time which we would finance, build, and bring to the market. Soon, awareness grew about who we were and the word got out that this was a new type of home on the market and a new way to actually enjoy the process of building a home.
Instead of building homes and hoping buyers would come to us, things shifted as clients would come to us and ask that we build their home for them. From humble beginnings of only 3 partners managing BrightLeaf, we are now looking to build 20 projects this year (a mix of single family homes and multifamily buildings) and have a total number of 8 professionals on our staff all under the age of 33.
Has it been a smooth road?
Not exactly, Our struggles along the way are:
-Competing against gut rehabs that label their homes as new construction and undercutting real estate markets by lower the prices of homes while misrepresenting them.
-Lack of awareness or misconceptions from the general public about green homes.
-Competing against other homes listed for sale that call themselves "green homes" when they are not and do not carry any green certifications.
-Battling the concept of green washing where so many products are labeled green. This leads to confusion as what it is really green and what isn't and further more desensitizing consumers to the word altogether.
-Uneducated appraisers not properly valuing green homes. This happened early on where  appraisers would under value a spec home we had under contract with buyers and would ultimately lead to the deal falling apart.
-Establishing credibility with buyers when all the members of the company were under 30 years old. With most owners of home building companies being over the age of 40, it was at times difficult for buyers to put their trust in builders who were so young.
-Lack of access to capital for a young home building company: Again, being so young and operating such a young company access to bank loans in the early days was virtually impossible.
In the early days, we all pooled together our savings and turned friends and family into investors to finance our first few projects.
-Push back from municipalities on superior, green building techniques that are not 'traditional': although some of our high performance building techniques such as our staggered stud wall formation are universally understood as a superior way to build, some municipalities that are resistant to change took issue with a superior way to build just because it was new to them.
So let's switch gears a bit and go into the BrightLeaf Homes story. Tell us more about the business.
We specialize in constructing green, high performance buildings that are energy efficient and sustainably built. These are single family homes, townhomes, and multifamily dwellings.
-The homes we build carry the EnergyStar Certification, the Department of Energy's Zero Energy Ready Certification, and the EPA's AirPlus Certification.
We are known for building some of the most energy efficient homes that are cost competitive to other houses on the market.
Our homes are inspected, verified, and certified to be:
-Better for the planet: designed and constructed to reduce waste during the build process, reduce the carbon footprint and energy usage of its occupants, utilizes sustainable materials that last longer and have less of an impact on the environment.
-Healthy to live in: low to zero VOC materials and finishes that won't off gas harmful chemicals, radon mitigation system standard, proper ventilation and built to resist moisture intrusion and prevent any type of mold growth.
-More energy efficient: Costs 65% less than a typical home to operate more comfortable than any other homes: even temperature throughout the entire home, no hot or cold rooms. No need for multiple HVAC units or space heaters.
-Durable: our homes are constructed from a whole system-building science approach and are built to last longer and require less maintenance. All homes come with a 10 year envelope.
Our Experience: shattering the negative connotations and stereotypes other traditional builders have put in place.
-One stop shop, integrated solution center: We have a streamlined process to offer clients an easy solution to customizing the home of their dreams and allowing them to live in their preferred location. Our team at BrightLeaf offers a one stop shop stress free experience that includes:
-Land Location Service: aside from land we already own, we will locate and assist in acquiring a property for our clients to build on in the exact are they would like to live.
-Integrated Design Process: We have 4 different models for clients to choose from ranging from 1600-3200 square feet. Clients then have the flexibility to customize these homes as little or as much as they would like including altering the floorplans as well as choosing different façade options (ranging from traditional to ultra-modern)and finish selections.
-Construction Financing: we partner with professional construction lenders and assist in walking our clients through receiving construction financing and then do all the heavy lifting during the process so clients don't have to worry about this.
-Cost Clarity/Never Going Over Budget: when take on a project we begin with the budget first instead of the traditional method of paying for drawings first and then trying to figure out how much the home will cost. We take a client's budget and work with them to determine the type of home they need and the features that are most important to them so we can design the home that they can afford that will work best for their family.
-Clear Communication: Not only are all the partners of the company always available to our clients but we have a dedicated account manager to each client that ensures all of their needs, questions, or concerns are taken care of. We also have a cloud-based client interface where each client can select all of their finishes, approve any decisions, check project calendars, and keep an eye on what is happening on their jobsite daily through a daily updated job log complete with pictures. Clients are also encouraged to visit the jobsite regularly for personal tours with our project managers.
-Proper Scheduling: Before any project is started, a construction schedule is created and sent out to all of our trade partners so they know when and where they need to be months in advance. Trade partners also have access to our online portal so that they are kept up to date with live updates of any schedule changes. We also have long lasting relationships with our trade partners and can rely on them to show up on our jobsites when they are supposed to. Our average build time for a home is 100 days from excavation to completion and we have never missed a move in date for a client.
-Warranty Service: On top of our 10 year envelope warranty, we provide a 30 day, 6 month, and 1 year checkup for all of our homes where we schedule times to come back out to a home to go through a quality checklist and ensure our homes are functioning as the system they were designed and answer any questions our homeowners have.
-Close Relationships With All Of Our Buyers: our customer focused business model and stress free build experience has turned out clients into ravings fans. Our new home orientation where we walk our homeowners through each facet of their new home and show them how to operate their home properly includes a beer and pizza party with the BrightLeaf partners to celebrate the move in to their new home. We stay in regular contact with all of our homeowners and even throw an annual BBQ for all of them so we can all get together have a good time and all the current and soon to be owners can have a chance to meet each other and hang out with the team at BrightLeaf.
What are we most proud of
-Being able to make a significant impact as a homebuilder as we look to build 20 green, high performance homes this year.
.
*Approximately half of the homes that generate their power through solar panels.
*Dramatically decreasing each families carbon footprint while providing them a superior living experience.
-Being able to provide a green, healthy, and sensible housing option to people that the elite or necessarily in the highest income bracket.
-We have won a Housing innovation Award 2 years in a row from the Department of Energy recognizes our unique ability to construct such energy efficient, high performance homes at a moderate cost.
What sets us apart:
-From green builders: affordability. Some green homes have all the latest green, ecofriendly technology that is impressive but often times not affordable for most families and may not necessarily provide a real ROI. We keep it simple with the way we build homes and leverage superior design, building techniques, and rigorous quality control to build some of the most energy efficient homes on the market that are cost competitive.
-From regular home builders: comfort, health, energy savings, eco friendliness, durability, peace of mind, client focused build process that most home builder don't offer. 10 year envelope warranty.
-Consultant approach rather than a 'we've been doing it this way forever approach' where we really listen to our clients' needs and work with them towards the best approach to help them achieve their goals.
How do you think the industry will change over the next decade?
We understand the housing market is cyclical and have already begun getting into the construction of multifamily buildings as well as mixed-used commercial structures. I also believe the demand for more energy efficient housing will become increasingly stronger as the cost of energy continues to climb. With the scarcity of land, I think smaller homes and attached housing will become more popular as housing will feature tighter footprints and builders will have to utilize space more efficiently to accommodate a growing population with fewer desirable areas to develop.
Pricing:
Our new green, high performance homes start between $325,000 – $525000
Contact Info:
Getting in touch: VoyageChicago is built on recommendations from the community; it's how we uncover hidden gems, so if you know someone who deserves recognition please let us know here.