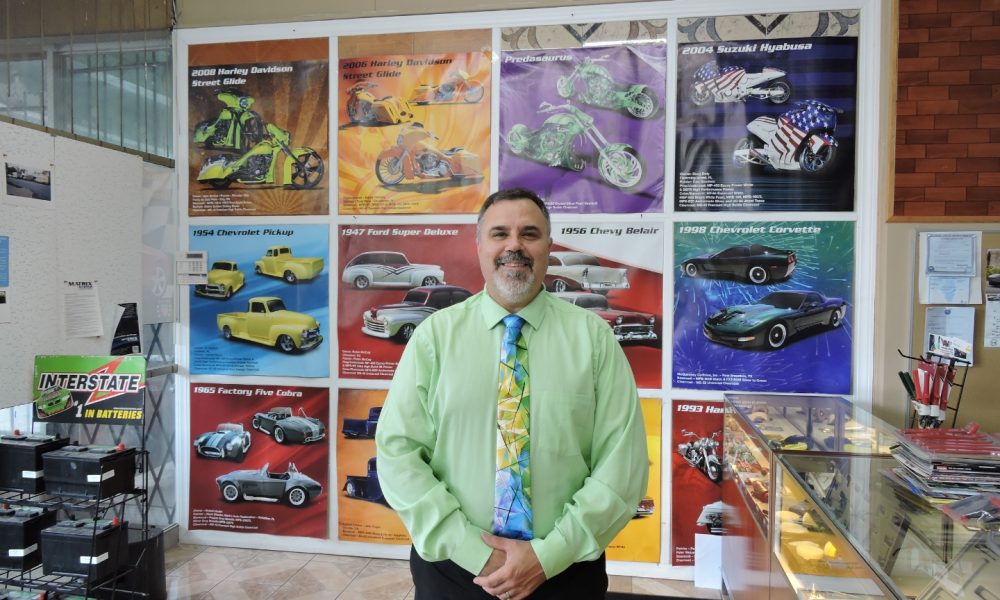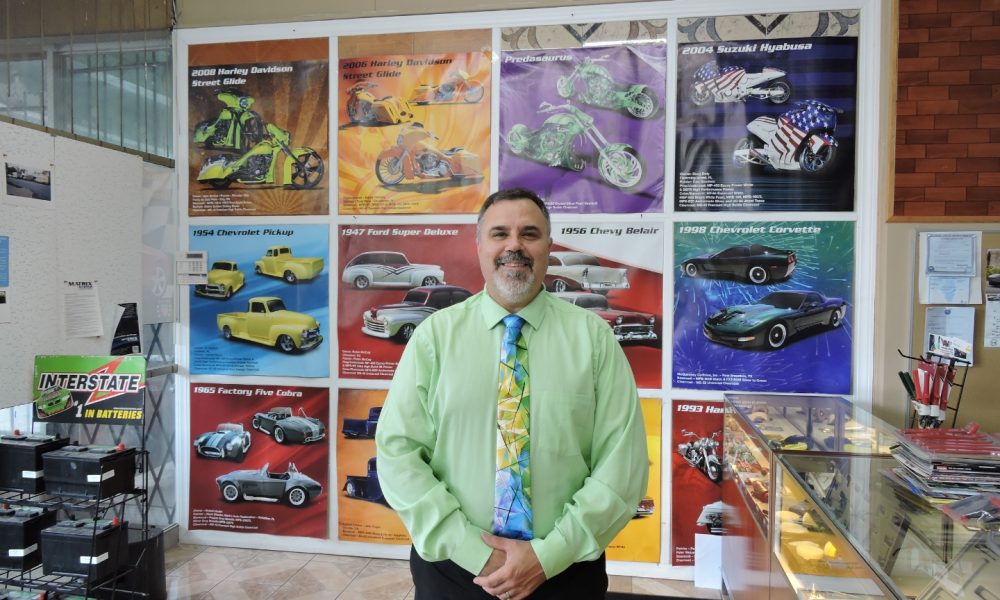 Today we'd like to introduce you to Kurt Casas.
Thanks for sharing your story with us Kurt. So, let's start at the beginning and we can move on from there.
I started my career in the automotive refinishing industry in 1986 when I was very young. I was 17 years old and still going to Tinley Park High School. At the time, I also attended Sauk Area Career Center in Harvey. I eventexually received a certificate in electronics and digital information.
It was the summer of 1986 when I attended a festival in Tinley Park. While at the festival, I met a girl named Laurie who changed my life. Her father was in need of a part time driver. His name was Conrad. Conrad hired me at $75 a week to drive him around the city of Chicago so that he could sell automotive refinishing products to body shops. Conrad was self-employed, and it was just the two of us. The name of his company was C&C Sales. At first, I would just sit in the truck and read the newspaper while Conrad went into the body shops and took orders. He would come back to the truck and we would pull the order together, and bring the supplies into the shop. I would go in the back of the truck and arrange product and keep everything nice and tidy. I drove a box truck, very similar to a bread truck. It was a white 1978 GMC step van. It held all the products we sold. We sold sandpaper, masking tape, and lacquer primer, lacquer thinner, bondo, buffing compound, and about 20 other items. After a few weeks of this, I became very bored. I started going into the shops with Conrad, learning his sales techniques, his street smarts, and about the products we were selling. The customer had questions and we had answers. It was a fun job. I learned a lot.
I drove the truck with Conrad for 2 years and then graduated from High School. I started college right away. I attended Thornton Community College in Thornton IL for two and a half years while I worked for Conrad. I was getting an education in college towards electronics and computer repair. I grew up in a generation where nothing was thrown away. If you had a radio or television that was not working any more, you simply took it into the repair shop and got it fixed. I was at an age when the apple and IBM personal computer (PC) were just hitting the market.
Experts projected a great demand of computer repair technicians would be needed in the near future. I graduated with my associates in computer repair. However, by the time I graduated, the market had shifted.
Because of foreign trade agreements, it became cheaper to purchase a new electronic device imported from Japan, than to repair your broken device. Televisions and computers became more disposable as foreign electronics became more affordable.
I watch the transition happen while I earned four years of education in the electronics field. The more the electronic products became affordable, the more I realized my career path was coming to an end.
I also had four years of on the job training with Conrad, selling automotive refinishing supplies out of the back of a truck. I was thankful for my job and decided to get serious and make it my career.
In 1993, I purchased the business from Conrad for $20,000. We still worked together, but I dealt with all the responsibilities. I purchased a computer and tracked our sales. I grew our product line from 30 items to 300 items and still growing. Conrad became ill, and he would stay home more and more. I became more independent and worked longer hours. I was growing the business. In 1996 Conrad passed away from liver failure.
He was gone, and I was on my own. I continued to grow the business working longer and longer hours, still driving a truck but working 60 hours a week. Soon, I was experiencing tremendous back pain day after day. Pain killers helped for three or four years but it wasn't enough. I visited my doctor to see what he could do to help me. He told me that I suffered from disc degeneration and I must quit my job in order to relieve the back pain.
I went home confused and disappointed. A few weeks later after being unable to walk long distances without sitting down, I realized how right my doctor was. I took a significant pay decrease and hired my first employee. I taught him how to do everything I was doing. He did good, I felt better. The business did better with the both of us working at it. Years went by, I hired my second employee, and He did well. I felt better, the business did better. Years went by, I hired my third employee. He did well. I felt better, the business did better. I was servicing and managing my three employees in their three box trucks from my home. Business was good and growing.
In 2013 we opened a store in the center of our customer base here in Chicago. We have a great staff of dedicated, hardworking, talented professionals that work very hard for you, our customer. We have combined, over 80 years of automotive refinishing and refinishing product knowledge. If you don't know what you're looking for, or just need advice on how to do something, just ask us, where here to help.
Has it been a smooth road?
Hard work and long hours day after day. It hasn't always been this easy. I don't have enough toes and fingers to count all the difficult times I went through. Trucks breaking down, employees not showing up for work, employee theft, customer theft, burglary, traffic accidents, each issue with a serious challenge. Facing new challenges each time, the first time is what creates that obstacle, which makes it difficult to overcome. I would encounter the same problems from time to time.
Each time, I learned how to overcome it and the challenges became easier. You learn from mistakes and take precautions to prevent the same obstacles from reoccurring. I remember reading somewhere that success is based upon the accumulation of advantages. Therefore, when something bad happens, I try to fix the problem as quickly as possible so as not to face any disadvantages, I tend to be proactive now, taking steps to always insure that everything will always go as smooth as possible.
So let's switch gears a bit and go into the KC Body Shop Supply story. Tell us more about the business.
We specialize in color match here. We have thousands of variant color chips in stock.
Color books to look through, and even a camera that will match anything we take a picture of. We have color documentation books that go back to the fifty's and sixty's. We are proud of our color matching abilities. It's what we do. The largest industry we service is the collision repair industry.
Ninety percent of our customers have a body shop in Chicago. They need someone to supply them with the paint and repair materials needed to fix todays cars. That's where we come in. Our teams of experts have a wide array of product knowledge in the automotive repair industry. They suggest and deliver products that do the job while saving our customer money. We have a reputation in our area for selling high quality products at a lower price than what our competitors may have to offer. We have 5 salesmen/ drivers that will drop everything to run over to a shop in need of supplies quickly. We provide same day service to all of our customers.
Some customers might get serviced 3 times a day or more depending on their needs.
We're here to help all our customers. Most of our walk-in customers come in to purchase paint to repaint a fender or bumper that was damaged. Some customers come in to purchase paint for their whole car.
They may have been working on their car for the last three years and today is the day they are going to paint it. It is an exciting time for all of us. They like to look through the colors and choose a specific color that they have been thinking about for a long time. They usually choose a standard OEM color that might fit their budget. Our most exciting customers come in to purchase exotic colors that you see on the fancy show cars. There is a real art to those types of paint jobs.
They like to look through our Kandy and FX color line to choose a vibrant color. Their paint jobs have multi layers of color, using a candy die that makes the paint more transparent.
They choose a large aluminum or gold metallic as the base foundation. Then they paint a candy die on top of it so that you can still see the metallic underneath. They always purchase the highest quality products we have available. They take great pride in their paint jobs and art work.
We offer a calendar contest every year to our customers through our Matrix System paint line. The first place winner receives $1000 in free Matrix paint materials, and gets highlighted in the calendar.
How do you think the industry will change over the next decade?
It's hard to predict where our industry is headed in the near future. Traditionally, the volume of accidents is what led our projections. Cars have become much safer to drive.
Not only are they safer, but they are being built to help reduce the chance of an accident from happening in the first place. We have front wheel drive, anti-lock brakes, traction control, all-wheel drive, electronic stability control, forward collision warning systems, driver attention detection, blind spot warning system, lane keeping assist, sensors in the front, sensors in the rear, and the list goes on. Our industry is currently facing a fast-paced reduction in accidents. We know our industry is contracting. There are so many variables that exist today that make it difficult to predict. We have major paint companies purchasing each other in an attempt to gain market shares. We have paint companies that are making deals with body shops. We have franchises in the body shop industry that are making deals with insurance companies. We have insurance companies that want to own their own body shops. And then we have ride sharing companies that can provide transportation at a very low rate, any time you want. When we figure all that out, now we have to take into consideration of the autonomous cars that will be here soon.
Each one of the challenges will take a small portion of our sales along with it. Companies that can change or adapt to the changes in our industry, are the ones that will come out ahead. This is why we opened our store where we did, when we did. The body shop industry is getting smaller. This is why we want to cater to the do it yourself body man. Watch a YouTube video; invest a few hundred dollars in tools and equipment. You too can fix and paint your car like a professional.
Pricing:
We sell half pints of paint starting at $23.95
We sell mixed paint in aerosol cans starting at $24.95
We sell paint guns starting at $39.95
Contact Info:

Image Credit:
Mario Cornejo
Orson Chavez
Felipe Vargas
Paul Jones
Jennifer Casas
Getting in touch: VoyageChicago is built on recommendations from the community; it's how we uncover hidden gems, so if you know someone who deserves recognition please let us know here.