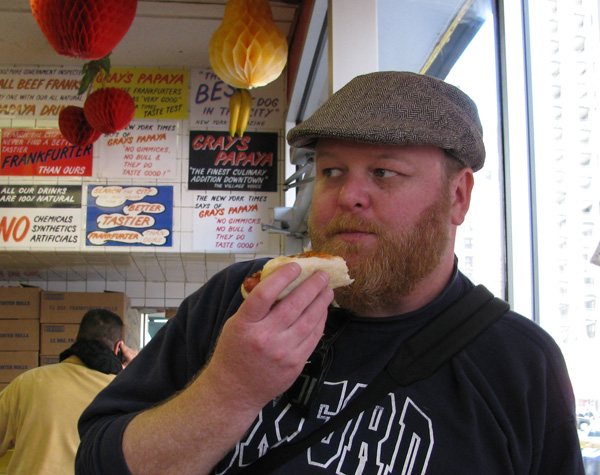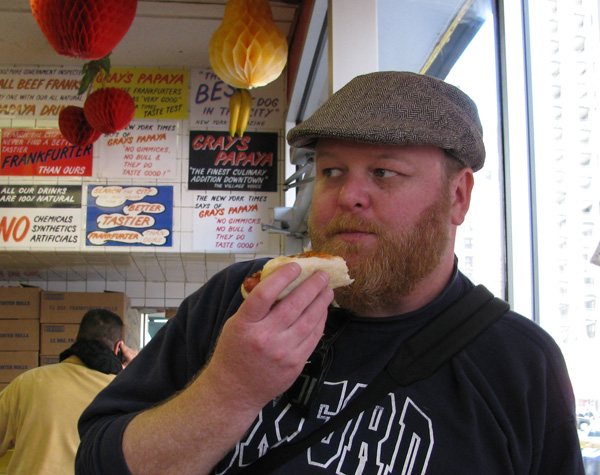 Today we'd like to introduce you to Iain Stewart.
Every artist has a unique story. Can you briefly walk us through yours?
An excerpt from the diary of an architectural illustrator prior to 2009.
It's 6:30 am and I've been up for three hours. The newest illustration is nearing completion, but I can't see it. My eyes have given up long ago and the brush in my hand is moving on its own. Over the book on tape, I hear the dogs starting to move around and that means that the only one who can tell me if I'm going to crash and burn or pull off another one is getting ready for her day. As she makes her way through the house, I ambush my wife in the kitchen by the coffee maker which is still warming the dregs of the last pot I made at five.
I must look absolutely crazy. I've been in the same pajama pants for three days now and my hair or what is left of it is sticking out at odd angles. The last of a three image job sits awaiting her verdict and as Noelle calmly navigates past the dogs awaiting their breakfast, and the husband awaiting her counsel, to the studio, I trail behind her shot through with nervous energy.
"Oh yeah, babe that looks great!"
Something in me relaxes and I start to feel the combined stress of working around the clock, microwave meals, and 300 cigarettes begin to fade. I look at the offending painting and realize that it does look good. My tired eyes can take it in and overall it's working for me. I sit down with my wife on the back porch and begin to talk about how I've got to make a change and how I feel like I need a break or something, but there are more jobs lined up. I've got today to get my rest in and I'm back at it tomorrow with a multi-use project for an architect out of Charlottesville. Five images due in just under two weeks.
Rinse repeat.
Then, the bottom fell out of the economy and I found myself with all the time in the world.
Be careful what you wish for or at the very least be prepared.
To be honest, my workload is definitely cyclical. I have been an architectural illustrator in watercolor for the last 20 years. I am used to not having a lot of work on in January, but as February rolled around and the phone still sat silently I began to worry. I had managed to keep myself busy by beginning to work on some images for a father and son show slotted for the end of the year. I was enjoying myself and beginning to build up a few images that would work for the show, but I certainly wasn't generating any income. The solution I came up with was fairly simple and probably ill-advised unless you are very good at living without a safety net. I would let the work come if it did, but while I had the downtime I had been so desperate for when I was overworked, I would use it to better my painting.
The last nine years have been the best, most creative and disciplined time of my life. I've painted almost every day and when I haven't it's been on my mind. I believe that's the key. My work is constantly in my thoughts. That, of course, is an incredibly selfish way to live, but in my case at least, the one person who should be angry about that is the most supportive and that's how wonderful life can be at times.
The joy I've found in simple observation is perhaps the most surprising aspect of this entire experience. My subjects tend to be mundane and ordinary settings. The sort of thing that a local would walk past every day and not notice. That play between the hidden in plain sight, the natural and man-made, in the rural and urban landscape are what intrigue me. I enjoy finding those hidden places that many overlook.
Architectural illustration is a precise and formulaic form of creativity and architects are extremely specific about how an image should represent their vision. It doesn't allow for exploration during the painting process nor does it allow for mistakes. As an illustrator, you must supply an image that accurately portrays the design while placing it in a setting that is both inviting and representational of an actual site. While it can be undeniably fulfilling as a means of artistic expression; it is always coupled with the restrictions that creating for a client involves. Many decisions are not mine to make and as I work through the layout of rendering it is more of the choreography of different ideas than a single artistic vision.
As I began to paint for myself in earnest that January in 2009 I found that one of the most difficult things I had to overcome was a complete freedom involved. This may sound ridiculous, but remember I am trained to work as a team member suddenly I found myself playing one on one. My early paintings in 2009 are mostly architectural pieces and are highly technical and detailed, but as I began to understand that I was free to paint anything I started to open up. The realization that I was allowed to make mistakes and actually ruin paintings was incredibly freeing. Not that I set out to do either, but the knowledge that no image should become too precious or self-important while it is being worked on allows me to express myself in a more honest way. If I set out to paint a masterpiece I will almost invariably fail in that attempt. However, if I approach a painting with no preconceived notions about its merit I usually end up with something that speaks to me.
Now, more than nine years later, I travel and teach across the United States and Europe. I have been fortunate to find some success in how my work has been recognized and evolved. I have a job that I have cobbled together from fragments of everything I have witnessed and been a part of my entire life. For that, I am immensely grateful.
I am the son of Muir Stewart and Fiona Macleod and between them, I have been raised the child of a painter, teacher, actress, architect, illustrator, social worker, late in life career changers, and self-confessed dreamers. My brother Matt and I were brought from Scotland to Ghana to North Carolina and finally Alabama. I have watched my father paint my entire life and if there's anything I know about him is that when he is painting at his best all of our lives are better.
Please tell us about your art.
As I stated before. I am most intrigued by the mundane subjects we see every day. The idea that through sketching on site and photography I can completely transform my initial vision of place be it in rural Alabama or Istanbul. My hope is that the energy I feel when painting is transferred to the viewer and they can become part of the process in their own way. The most enjoyable aspect of my work is done in the field with my sketchbook. I am able to stop my day and truly immerse myself in the setting I have chosen to depict. I can look back at sketches done 15 years ago and remember the day, place, weather, the smells of someone cooking or a couple arguing on vacation. I may look like I am just sitting at a bench or on a rock drawing but I am observing on a level that is unique to this discipline. I want my audience to feel the joy I take in the process and give them a little piece of what I experience when I work.
What do you think about conditions for artists today? Has life become easier or harder for artists in recent years? What can cities like ours do to encourage and help art and artists thrive?
As someone relatively new to the larger world of fine art and without a traditional education (I am trained as an architect) it would be hard for me to say. My experience is that the internet has made seeing recent works from today's top contemporary artists much easier. The caveat is that a painting on a screen has much less impact than actually viewing one in person. I see as many shows as I can. I am also a juror which allows me to see many exhibitions.
In general, I think there is a push throughout the country to embrace the arts that are gaining momentum. As I said, I travel extensively and you would be surprised at how places like Little Rock, AR or Sheridan, WY have a strong support system in place. Larger cities tend to be much easier to get lost in. There is also the shifting dynamic of the traditional gallery system. The explosion of social media and the access granted by that to your audience is having a profound effect on how people experience the arts. There are more accessible venues online with little or no overhead that people can just save a piece they see of yours. It's finding real collectors that remains a challenge. I often joke about traditional architectural illustration in watercolors being akin to being a master blacksmith. There will always be people that want something created by hand that is unique. That is the key. Support artists. They work incredibly hard for very little and in general seeing the world through another's eye is something very special.
How or where can people see your work? How can people support your work?
I have a strong online presence. You can see my work at www.stewartwatercolors.com, Iain Stewart Watercolors on Facebook, I'm on Instagram, Twitter, and all the others I know of. I sell online and through traditional galleries. I am regularly included in international exhibitions and traveling shows. The best way to stay up to date with what I'm up to is to sign up for my blog on my website.
Contact Info: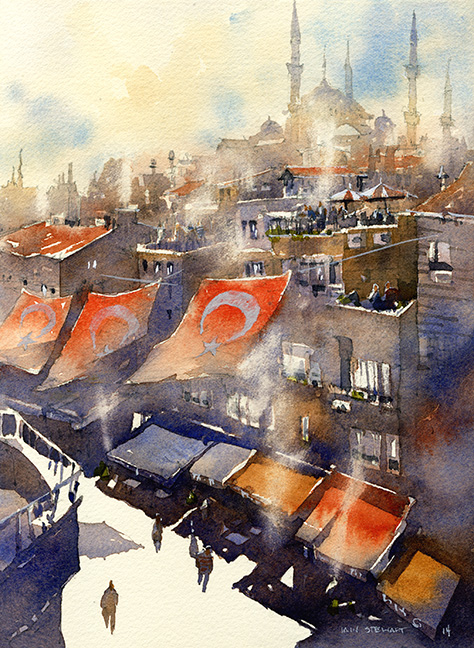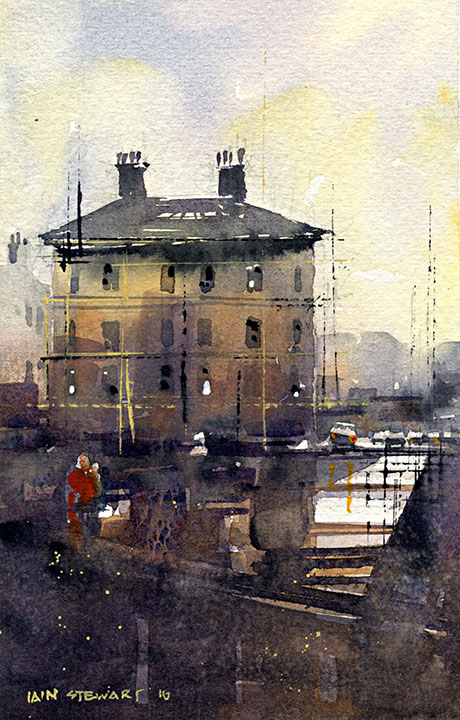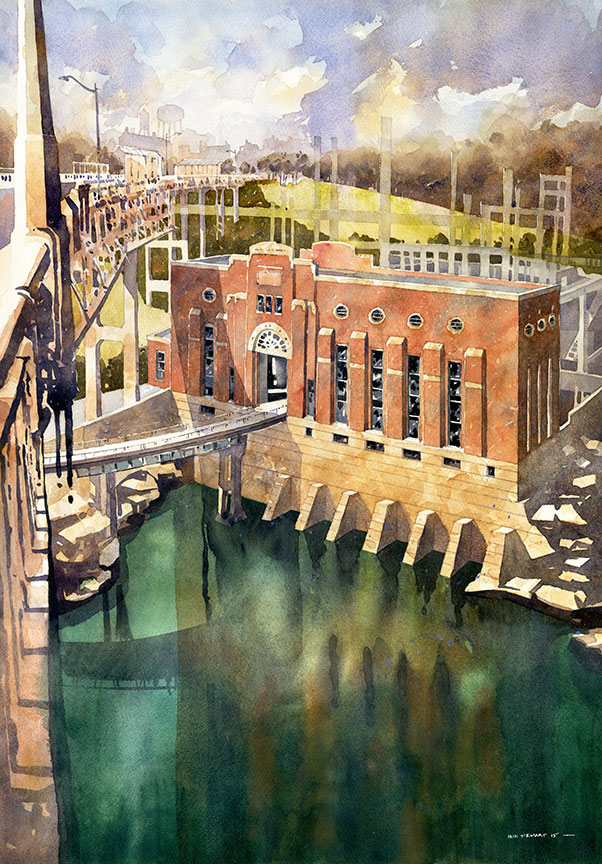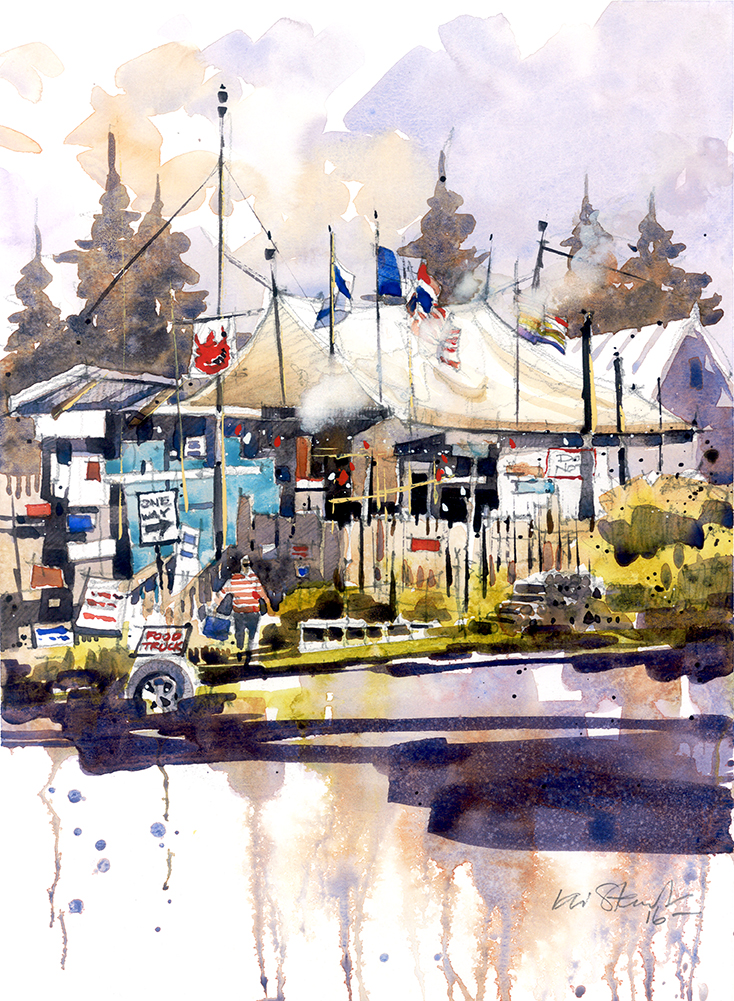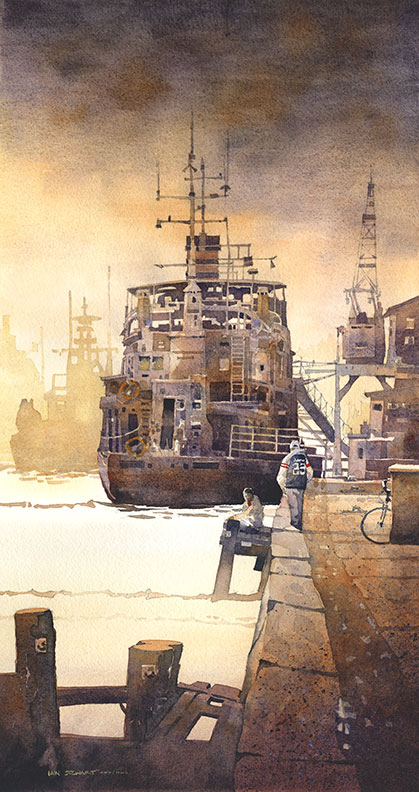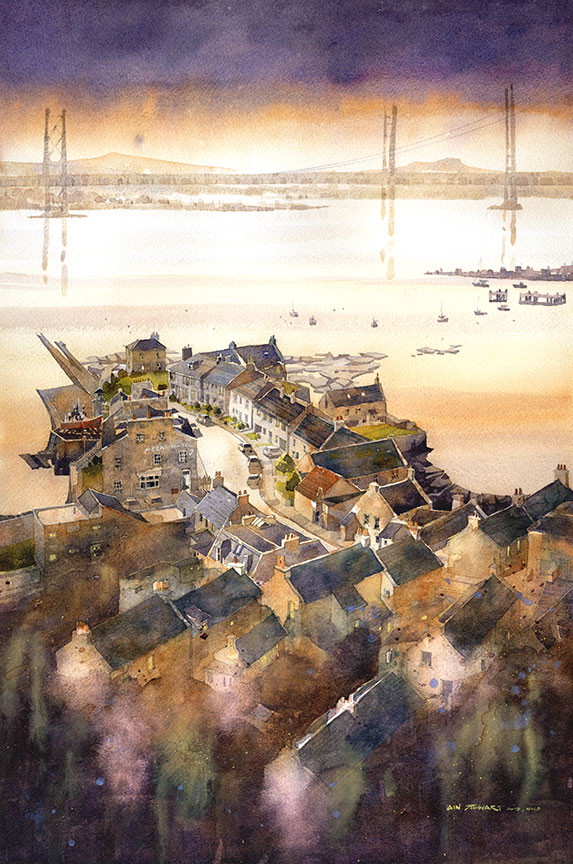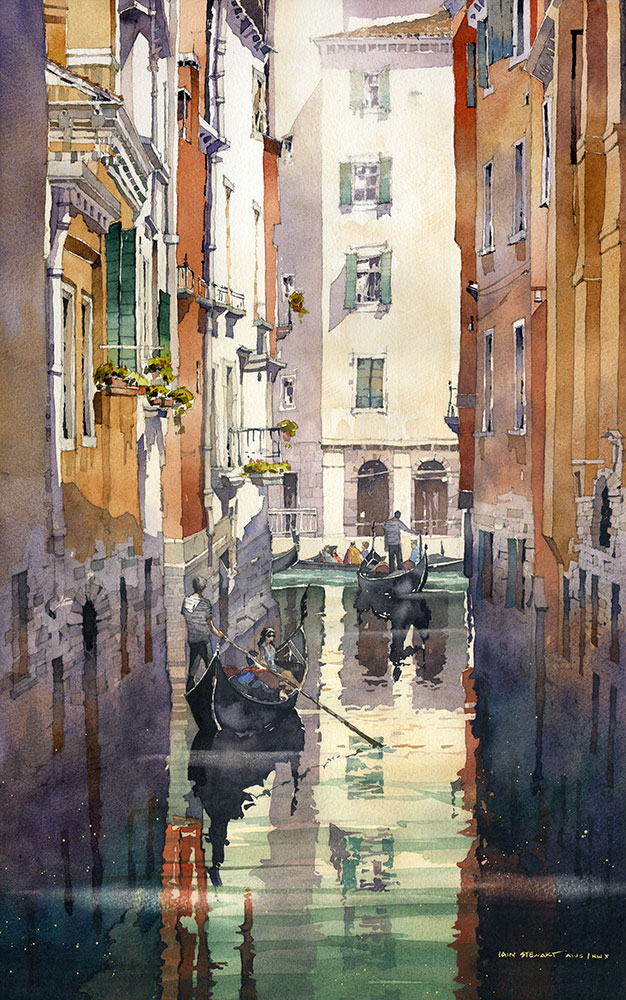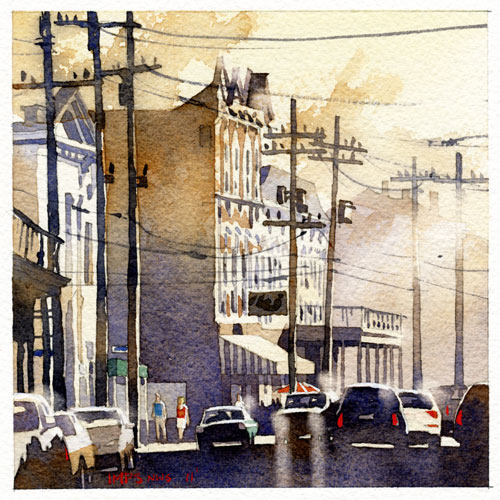 Image Credit:
Iain Stewart aws / nws
Getting in touch: VoyageChicago is built on recommendations from the community; it's how we uncover hidden gems, so if you know someone who deserves recognition please let us know here.