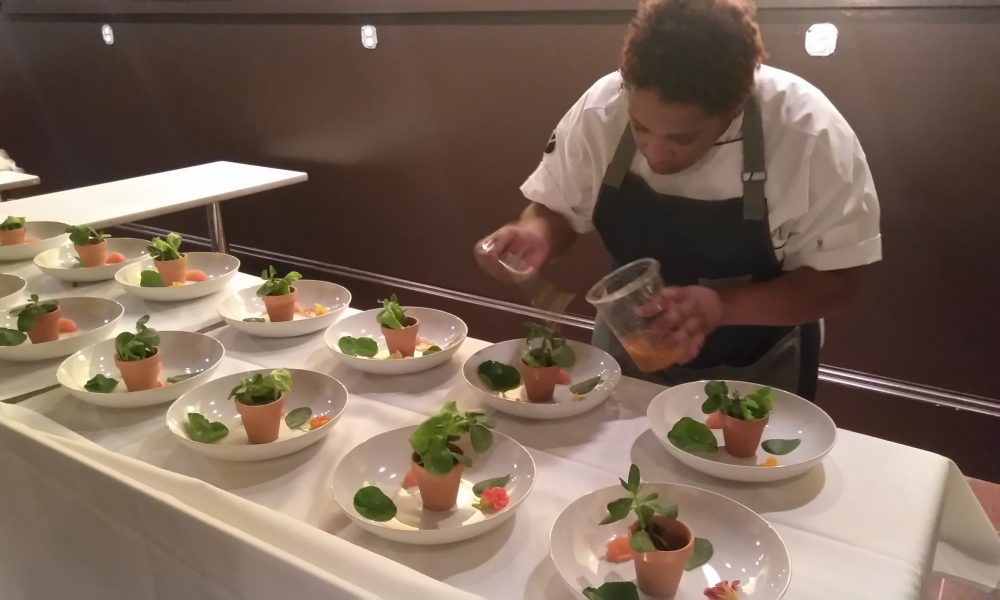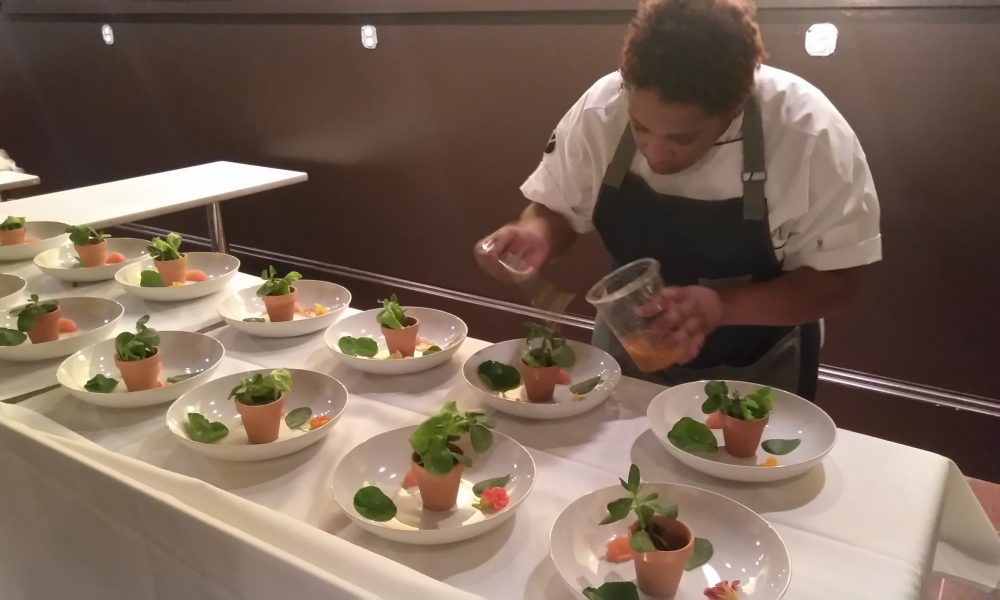 Today we'd like to introduce you to Chef Q Ibraheem.
Chef Q, let's start with your story. We'd love to hear how you got started and how the journey has been so far.
I moved to Chicago a few years back during the recession. The last 2 restaurants I worked at before the move had shuttered due to the economy and I'd lost the references. Had planned on working in a great restaurant in the city. Had no idea how complex it is for a female chef to score a job in a good kitchen that's not franchise in predominantly male operated industry. Oh try this without a reference. I had at least 7 years in the hospitality field, my 1st restaurant job was at 18. Previous to my arrival I'd received a hand written note from Charlie Trotter saying come to Chicago and work, it never happened. For 2 years I applied at countless restaurants from Blackbird, Quince to every restaurant Rosebud owned downtown…nothing. Crushed, I resorted to waiting tables, a job I'd loved and executed graciously many times before. Still making contact with chefs for a stage or stunt in their kitchen…still nothing. From Charlie Trotter saying come to Chicago and work, it never happened. For 2 years I applied at countless restaurants from Blackbird, Quince to every restaurant Rosebud owned downtown…nothing. Crushed, I resorted to waiting tables, a job I'd loved and executed graciously many times before. Still making contact with chefs for a stage or stunt in their kitchen…still nothing. Finally, while dining at a restaurant in Wicker Park I had a meal at a restaurant that was unsatisfactory and spoke with the owner about it. The owner's response was that he'd been in Japan for 3 months and his chef had left and they were going thru frequent staff turnovers. Door opens, I become the new executive chef after working there for a week. It was great full house with a line Thursday – Sunday and live bands. On my last day of my 8th month at the job didn't receive a paycheck, there were promises that it'd be in hand within 3 days. In 3 days I showed up to a chained door with an eviction notice. The owner's cellphone was off and he wouldn't respond to my emails. Again…I had no reference for the 1st kitchen job I'd had in Chicago. I needed to stop the world and just get off. I had no support system and I was completely at a loss of belief. I actually had applied for The Silver Fork Program a culinary program that offered job placement two years in a row without success. I applied for the Silver Fork Program one last time. BOOM>>>>ACCEPTED!! 3 times is a charm I guess. This program was what I needed, finally had someone that could speak on my work ethic and offer a character reference. They had my back like the Verizon man! Within 3 weeks of training they'd already recommended me for jobs and staging, therefore I was working during the program. I was aiming for the best restaurants and positions because my new support system had given me the confidence needed to feel like. Why not? I had the opportunity to apprentice with some TV chefs and from there 2 positions became available. One was a grunt position and one was an Executive position. I chose the grunt position because I'd followed the chef since she was an unknown chef simply doing private dinners out of homes and I knew she had the blueprint. Plus in my career I'd never worked with a female chef. The position was at Michelin starred Elizabeth. Chef Iliana was quiet and kind. I moved quickly to another restaurant and took an Executive sous chef position. From there I became Executive chef at Curt's cafe and then their Corporate Executive chef. During that time the executive director at Curt's offered my services to a non-profit that wanted to implement culinary training as workforce development into their programming. It was a partnership with Oakton Community College. I developed the curriculum, Oakton accepted it and it was a go. I became a culinary art instructor. Now I develop curriculums and work with organizations training young adults and adults in culinary art. My primary focus is healthy food. I work in urban gardens and partner with organizations that teach youth how to cultivate vegetable gardens. My father had a farm when I was growing up and a halal poultry shop. So the food my family ate was grown outside the house and we butched our own meat. It's amazing working with youth in the garden because parents always say "My kid won't eat that" but after a child plants, grows, and harvests cabbage, they can't wait to learn how to cook the cabbage. They can't wait to ask for seconds, they always ask for seconds. Hey completely take ownership once they learn how to cook something from start to finish. I started an underground dining supper club that focuses on locally sourced foods, I only spend my money with farmers that invest in community. The farmer / chef relationship is the door to healthy living or not. My team for @Teertsemasesottehg is composed of young people I've trained. Young people that need a break, a chance, a reference. Most have been imprisoned or homeless or teen moms. They show up on time to continue crafting their skills. It's all a learning process, so every lesson I learn- I share with them. Sometimes we cook in a million dollar home for CEO's. Sometimes we volunteer at soup kitchens and feed those without homes. No matter what we deliver an upscale experience to anyone that dines with us! It's about building a sustainable community by growing food, feeding the people and employing the people in our community. Teertsemasesottehg – does Pop-ups, catering, chef and garden demos. But it's a Secret Location Underground dining. Guests purchase a ticket and only know the general location of the dinner. On the day of the event a separate email is sent revealing the address, parking or public transportation information. We usually pair wine with a local artisan wine shop so guest can go and the wine shop will already have the menu and can help guests with their selection. This is how we focus on building community. I serve as Board Vice President of the Evanston Food Exchange. Our mission is to eliminate food insecurity
Overall, has it been relatively smooth? If not, what were some of the struggles along the way?
Not a smooth ride. My failures have been my road map. Being a woman in a field dominated by men is crazy. Being a black woman is difficult. All people have biases. Social, cultural, class, sex. I was often subjected to what I call "The 10 o'clock news beliefs," this is where many have formed an opinion without ever actually having any interaction. I've been payed lower than what a salary for a male would be on a national average. I've been asked to do 2 jobs for the pay of one. Actually 2 jobs with two different titles. I've been excluded form executive meetings when I was leading an executive team. The worst was being called a Nigger in front of my whole staff by an older white general manager and contacted HR, who flew to Chicago to do an investigation. After 2 days I was called into the office and two older white males who were both Regional VP + Regional President. The VP said "Haven't you ever made a mistake?" I could only respond "Yes, I have…investing my time & talent in this corporation." I walked but wasn't financially prepared to leave, it hurt deeply. I'm a black woman with an Arabic name, clearly in this country one might say the odds are against me. It would be easier to market myself by denying my culture but actually I've enjoyed embracing both!
Alright – so let's talk business. Tell us about Teertsemasesottehg – what should we know?
Catering, culinary instruction, couples classes, demos, garden demos, underground dining, workforce development, mentorship, I specialize in building community. I most proud of my employees, their backgrounds and how professional they are. My work ethic is insane, I'm working for myself there are no days off and I don't want any. My professional standards are unparalleled. I only care that our guests are overwhelmed with the experience
Any shoutouts? Who else deserves credit in this story – who has played a meaningful role?
My family has been my biggest fans. My mother and 2 brothers wouldn't let me quit. They have supported me at every turn. Every failure, every job loss, I've never know how to ask for help, but it was my small family said "he bravest thing a person can do it ask for help when they need it" I'd call Chef Edison my mentor. He always reaches out, listens to my questions, he travels the world but always responds when I have a question or get stuck. He doesn't care about my fears. He's like suck it up. Do it…trust your balls…that's the funniest, I'm like what balls chef? He says I'm stronger than most men. I think most women have to be.
Contact Info:
Image Credit:
Mackenzie Greene
Jorge Acosta
Dominique Chaney
Getting in touch: VoyageChicago is built on recommendations from the community; it's how we uncover hidden gems, so if you know someone who deserves recognition please let us know here.