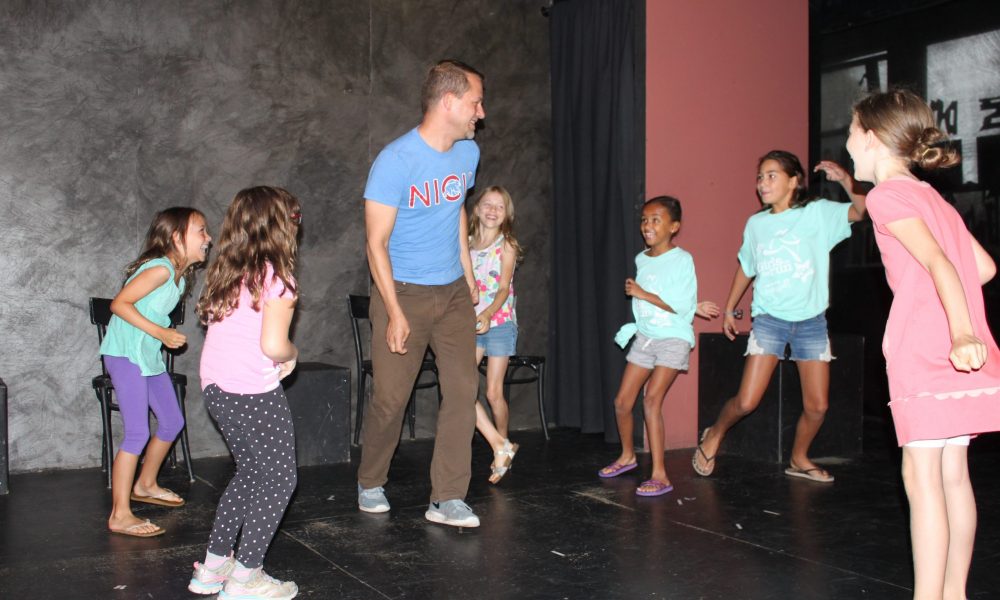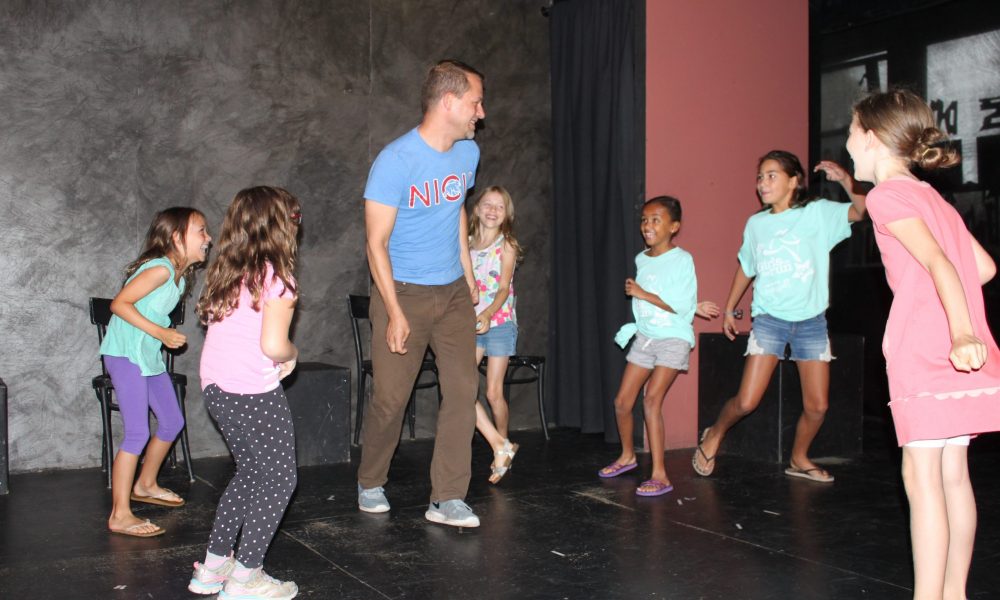 Today we'd like to introduce you to Andrew Ritter.
So, before we jump into specific questions about the business, why don't you give us some details about you and your story.
I first fell in love with theater at age 6 when I played the Doormouse in a stage version of Alice In Wonderland with "Group 4", a children's theater company where I grew up in Lake Forest, IL. I continued doing shows with Group 4 and at school for my entire childhood (and even performed in a few plays with a boy who was 5 years older than me named Vince Vaughn!)
My first job was working with kids at age 14 as a CIT for a local summer camp. Little did I know that I would continue to work with and perform for kids in some capacity for the rest of my life.
Attended Middlebury College in gorgeous Middlebury, VT and majored in theater and psychology.
The intersection of these 2 disciplines gave me essential tools for understanding human behavior and how theater can be a catalyst for positive human transformation. I also got my first taste of performing improv comedy when I became a member of the colleges very popular improv troupe: 'The Otter Nonsense Players'.
After college, I spent a year teaching ESL at the University of Loei in Thailand and created a touring company called 'The Amazing English Camp'. We traveled around to schools conducting weekend or week long immersive English camps where theater and improvisation played a large role in the camp experience.
I returned from Thailand and moved to Chicago and was worked as a 1 on 1 aid/inclusion specialist for children with special needs with The North Suburban Special Education District during the day while taking improv classes at Second City and iO and was auditioning for as many plays, musicals, improv and sketch shows as I possibly could. I was eventually hired to tour with American Eagle Productions and Novel Ideas, two incredible children's touring theater companies that travel all over Illinois and the Midwest performing for kids of all ages in schools, libraries and churches. A few years later I was hired to be the Managing Director of a theater based diversity training and consulting firm called 'Dramatic Diversity' where I gained incredible insights into some of the unique and impactful ways theater can be utilized for social and behavioral change
In 2007, I was hired by The Second City to teach improv and musical improv and was eventually hired to perform with The Second City Theatricals in Detroit (alongside future SNL star Vanessa Bayer!) I performed in and directed a variety of improv and sketch shows including being a writer/performer with the super irreverent and popular ensemble known as 'The *Best Church Of God' and the all-male musical improv comedy ensemble 'Mansical'
I was first introduced to the work of Brazilian director and teacher Augusto Boal at a Director's Lab workshop and immediately immersed myself in his teachings and began attending his yearly 'Theater Of The Oppressed' conferences. Boal played a huge role in inspiring me to create what would eventually become The Greatest Story Never Told.
In 2012, I was directing a family friendly musical improv show at The iO Theater and began experimenting with improvised story exercises in classes I was teaching and noticed with some basic guidance and framework, humans of any age and experience level can create truly amazing and even hilarious stories together. I also had two young daughters and I began asking myself. "What would be the coolest show for my daughters to experience?" Inspired by Boal's belief that "everyone is an actor" and his breaking down of the 4th wall (the imaginary wall that separates audience from performers) I believed that a show where kids from the audience could BE THE SHOW and volunteer to get up on stage and become whatever character in the world they wanted could actually work as long as there were seasoned professionals adept at both improvising and working with children to help guide the show along and not allow it to become a chaotic mess.
Additionally, I had a deep desire to add the literary component and keepsake by somehow turning each original show into an actual physical book. With the help of a computer design friend and a bookmaker I figured out how we could actually make the making of the book work! After a test run of the show in the summer of 2013 at 'Figment Chicago' I started the production company YaYa Productions and we launched the first professional run of The Greatest Story Never Told in a space at Theater Wit in January of 2014. Here we are now 4 years later having just finished our first Greatest Story Summer Camp and are gearing up for our 5th professional run opening in Chicago this coming December.
Overall, has it been relatively smooth? If not, what were some of the struggles along the way?
It has been an amazing journey but like most great stories, we have not achieved our successes without some obstacles along the way…!
As we approached the opening for our 2nd run at The iO Theater, we learned that the title of our show "The Greatest Story Never Told" also happens to be the title of a documentary about the holocaust that many people find offensive. The theater asked us if we would change the name… but at that time we already had all our title and logos listed in publications and printed and hanging on posters all over the city. I eventually decided to keep the title and hope people would make the assumption that we have nothing whatsoever to do with that film. So far there has been only one complaint filed about our show title that I am aware of.
The first time we hosted a school group at our show was an enormous learning experience. Up until that point we had only dealt with our typical audience that consisted of kids who were there with their parents and who, for the most part, did not know the other kids or performers on stage.
So there was always a level of decorum and sharing that came quite naturally. Into the theater walked two enormous classes of 6th graders, maybe 60-70 students, who all knew each other and who's excitement and willingness to perform prompted them to trash the stage with our costume pieces during the show and create a 'Lord of the Flies' type atmosphere without much concern for things like sharing, improv, peace or politeness. We quickly learned that there are ground rules and procedural steps that we must take both before and during any school and birthday party shows to ensure that they all can experience the best aspects of what The Greatest Story offers.
Another challenge was, of course, financial. After having been a part of countless improv and sketch shows in Chicago where the talent are not paid a dime, it was absolutely essential to me that all of my performers were paid for each show. In addition to the performers, I was paying a writer, artist, musician for each show and with all the various additional costs (space rental, marketing, book making materials, etc..) the amount I was able to pay the writer and artists was terribly low given how talented they were and how much time they had to spend creating their work. Initially, I was promising the audience that the books would be completed within 2 weeks and sometimes my artist, writer or digital book designer were taking 2-4 weeks just to get their part of the underpaid work completed. Some of the people who purchased books became frustrated by the delays in delivery. The solution that was eventually implemented was multi-faceted: Lower the total number of professional improvisers in each show, hire more artists to spread the work load and tell the audience that the book making process can take anywhere from 3-6 weeks. The process is much smoother now!
Please tell us about The Greatest Story Never Told.
We are an interactive improv show for families where the children (and sometimes grownups!) from the audience are given the opportunity to volunteer and perform alongside professional improvisers to create an original story on the spot. A narrator walks on stage at the start of the show only to discover his book has no text inside and there are no actors backstage to perform the story for him… the solution is for the audience to come on stage and help us make up: THE GREATEST STORY NEVER TOLD!
The audience continues to provide plot suggestions and new volunteer performers through the entire fifty minutes. The goal is to give every child that wants to perform a chance at some point in the show. The performance is viewed by a professional artist and writer who create text and illustrations which we transform into a digital and physical book.
We also have about 40 minutes of pre-show activities on stage where families may play board games, do coloring/crafts and/or engage in dress-up-make-believe-silliness. FREE COFFEE is provided by local Chicago roaster BrewCoffeeWorks and we also provide a variety of free healthy, nut-free snacks for everyone there.
We have traveled to schools in and around Chicago and hosted schools in our theater space. We have been a popular birthday party destination and have enjoyed teaching improv workshops and hosting our Greatest Summer Camp Program.
Our mission is to enable creative and social maturation in communities by improvising stories that foster supportive collaboration among people of all ages, backgrounds, and abilities. We also seek to support the artistic vision and literacy education of children through the transformation of stories they improvise into a written storybook. The bonding, collaboration, creativity and collective spiritual growth that happens between family members, friends and strangers makes this experience elevate beyond the typical show geared towards families.
We have had a number of nice reviews from a wide variety of publications and online sites like: Chicago Parent, The Chicago Tribune, The Chicago Reader, Little Lake County, The Illinois Herald, The Witty City and were once featured on ABC's "Windy City Live". Our handmade and digital books are currently on the bookshleves and in the ipads of countless children in and around the city of Chicago.
If you had to go back in time and start over, would you have done anything differently?
I have a very strong willed "do-it-yourself!" attitude and therefore I avoided doing the thing that most theater companies have to do at some point: ask people for money. If I had found one way or another to begin the process with additional cash to properly pay my writers and artists what they are worth, I would have avoided some of the early headaches and conflicts. This money also would have allowed me to have a much more comprehensive and effective PR/Marketing campaign from the get-go, instead of relying so much on the cheaper and often less effective Social Media platforms.
Pricing:
Tickets range from $15-$25
"Liking" us on Facebook entitles you to learning about special codes for $10 tickets
Contact Info:
Phone: 773-710-1639
Email: TheGreatestStoryInfo@Gmail.com

Image Credit:
Suyong Pak
Heather Scholl
Colin Ritter
Getting in touch: VoyageChicago is built on recommendations from the community; it's how we uncover hidden gems, so if you know someone who deserves recognition please let us know here.