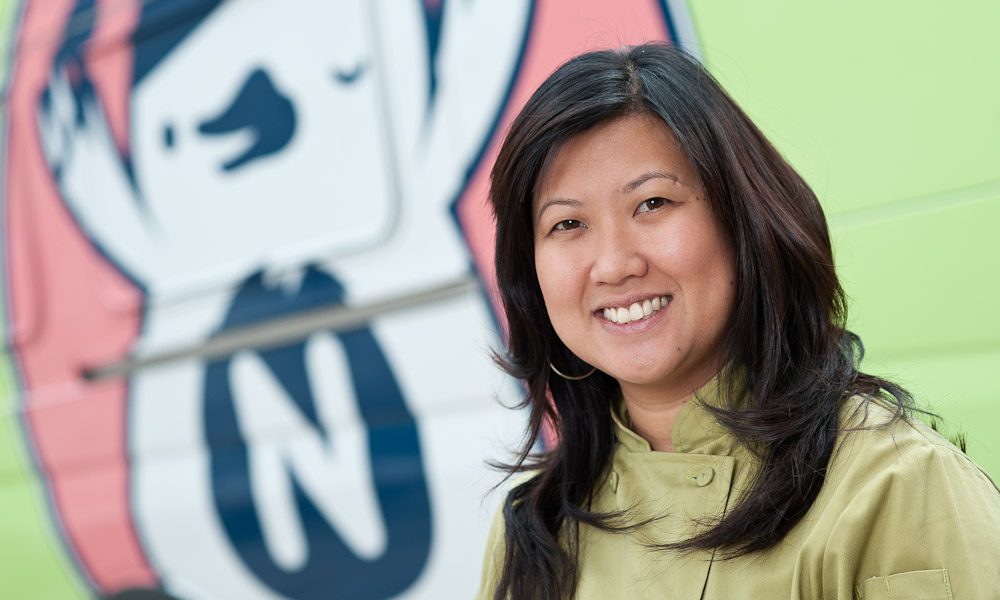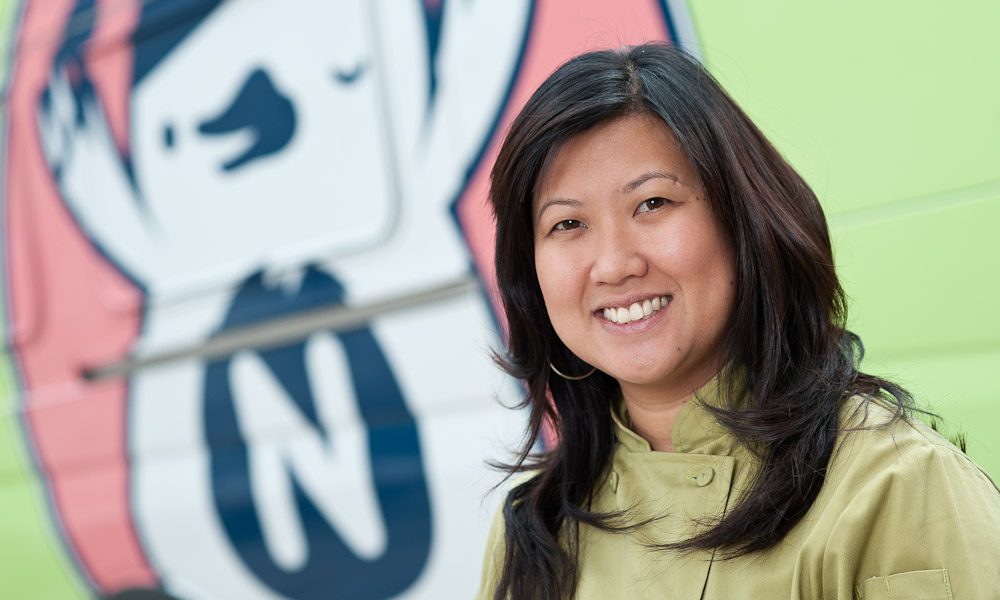 Today we'd like to introduce you to Amy Le.
As a budding Chicago entrepreneur, Amy works tirelessly to build businesses that challenge conventional ideas and bridge cooking styles from Latin and Asian cultures. Amy launched the DucknRoll food truck in October 2011, using a concept inspired by Vietnamese banh mi sandwiches.
In the dead of winter, she quickly turned the ground-breaking business into a success story – expanding on the traditional business model to develop a thriving catering business, a neighborhood test kitchen, and a media vehicle to drive interest in the food truck culture wave.
Amy and husband John Keebler founded the IL. Food Truck Association and helped work with legislators to draft new laws that cultivated the food truck industry in Chicago. In 2012 DucknRoll food truck was named by Details Magazine, as one of the top Asian food trucks in America.
Expanding their business away from the food truck, Amy and John opened Saucy Porka (2013) and Spotted Monkey (2015), brick-and-mortar restaurants in Chicago's bustling downtown financial district. In conceiving the menu, Amy teamed up with executive chef Rafael Lopez to pay homage to the home-style cooking rooted in their Latin and Asian cultures.
Saucy Porka and Spotted Monkey have been featured on WGN Chicago's Best, Steve Dolinsky's Hungry Hound, and has been written up in Chicago Tribune's Must Try Dining, Time Out Chicago's Best of 2013, Chicago Eater's Best Loop Lunch Spots, and USA Today's Top 10 Best Lunch Deals, and many other local and national food blogs and publications.
A 2001 graduate of the School of Communications and Journalism at the Loyola University of Chicago, Amy began her career as a reporter with the Chicago Sun-Times newsgroup. As the online industry began to grow, Amy parlayed her skills into a new role as the first social media and public relations manager at GrubHub.com, a new multi-million-dollar, publicly traded company.
Inspired by helping to grow companies from the ground up and her experience working in her mother's St. Louis restaurants, Amy decided to blaze her own trail as an entrepreneur, chef, and restaurateur. Her eclectic training gives her a unique leg-up on the competition – her social media outreach keeps a steady stream of curious new customers while directly embracing long-standing patrons.
In 2016 OSR magazine named Amy among the 20 women in the country changing the game of the fast-casual industry.
Has it been a smooth road?
Always plan for the unexpected and expect the unexpected. It's a mantra I have learned during my journey as a restaurant owner. The everyday challenges of running a restaurant range from equipment failure, employees not showing up for shifts due to illness or late night extravaganzas, to frozen water pipes in the dead of winter in Chicago.
At the end of the day, you always put on a smile and open the doors, no matter what the restaurant gods have to throw at you. However, the greatest challenge for me personally as an entrepreneur is continuing to challenge myself when it comes to menu development, expanding the business, and staying connected with my staff to make sure they are growing with me during this process.
When we first opened, we had a great following of loyal customers and the staff that opened with me was with me for the first 3 years. Over time, new restaurant competition came to the neighborhood and some of my staff moved onto other great opportunities. Watching the decline in business was soul-crushing for us.  It took some time for me to want to change the formula because it worked for so long.
But with time and failure I learned you have to believe in yourself and know that if you don't challenge yourself and create new menu ideas and create more opportunities for your team to grow with you, the business can't continue to grow.
Whenever things get too comfortable, I always find new ways to get a little uncomfortable. Some of my crazy business ideas have worked and some haven't, but I've learned that failure isn't something that should be feared.
We'd love to hear more about your business.
While navigating the food truck scene in Chicago, DucknRoll Chef and owner Amy Le discovered a kindred spirit in fellow food truck Chef Rafel Lopez, formerly of Wagyu Wagon. Through Saucy Porka, the two aspiring chefs have recreated their childhood memories in blended dishes like the pork carnitas ramen soup made with a pho broth and arrozo con edamame with curry chicken.
The recipes have been passed down from their grandmothers and mothers, but the most valuable lesson passed down is that a recipe is nothing without the heart and soul one puts into it.
In conceiving the menu, Le and Lopez wanted to pay homage to the home-style cooking rooted in their Latin and Asian cultures.Blending the bold flavors and spices found in Puerto Rico, South East Asia, China, Japan, and Korea they are serving up comfort foods they grew up with, adding a touch of modern technique to fuse the cultures.
While pork is the starlet of the show, the menu offers a variety of unique dishes that will satisfy both non-pork and vegetarian palates.
Is our city a good place to do what you do?
Chicago has an amazing culinary community. The diversity in neighborhoods lends to some of the most diverse produce and meats available to a chef. It is a great place for a business, however, some of the challenges for a small mom-and-pop can be the high rents and fees and licensing required to get a business started in Chicago. It takes almost 3 months and $200+ just to get a sign approved to hang outside your shop. Less red tape is always welcomed for small business owners.
Pricing:
Contact Info:
Address: 400 S. Financial Pl. (corner of Van Buren and Financial) Chicago, IL 60605
Website: saucyporka.com
Phone: (312)662-1351
Email: info@saucyporka.com
Instagram: Saucy_Porka
Facebook: facebook.com/SaucyPorka
Twitter: @SaucyPorka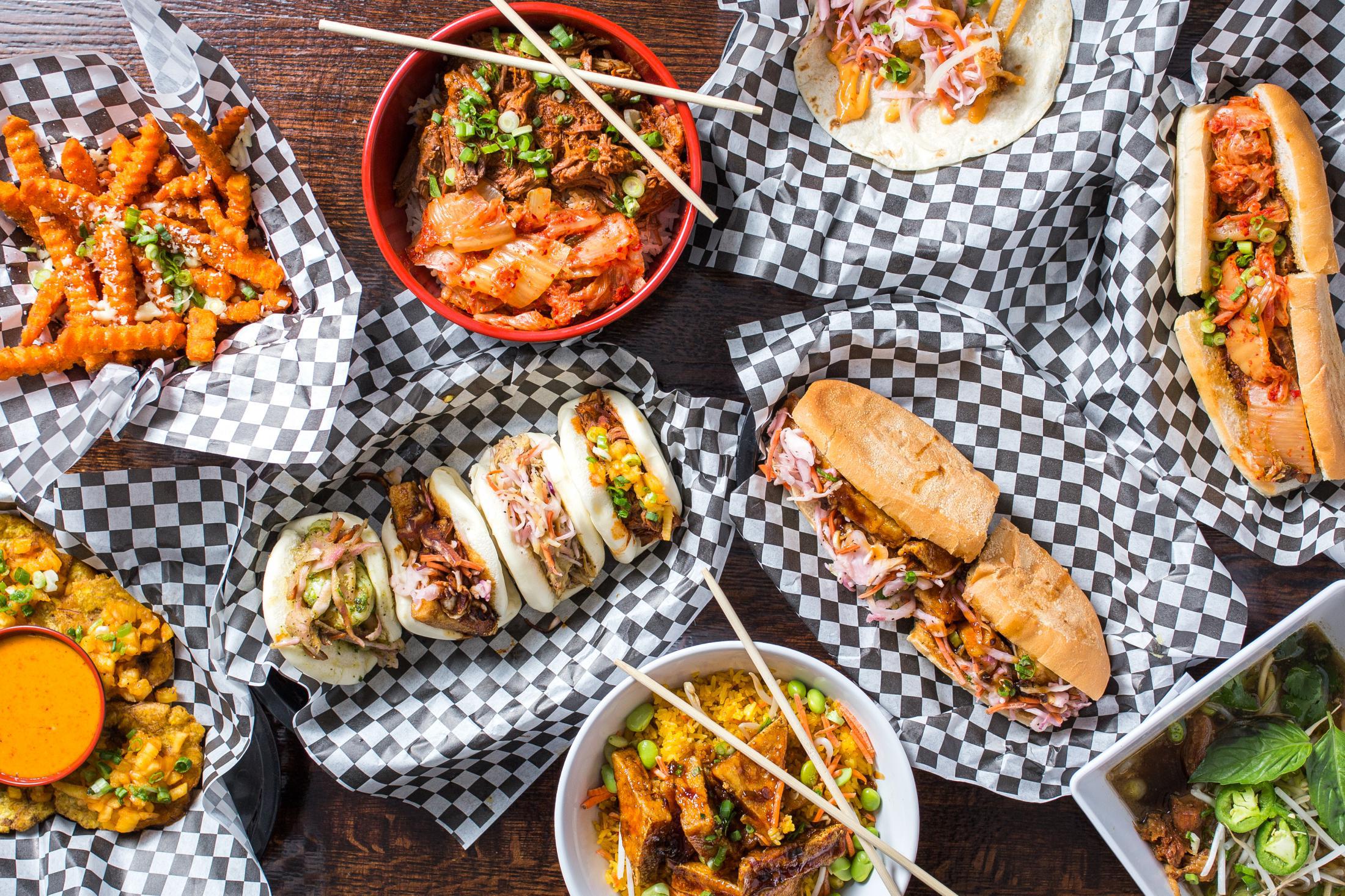 Image Credit:
Anna Knott
Getting in touch: VoyageChicago is built on recommendations from the community; it's how we uncover hidden gems, so if you know someone who deserves recognition please let us know here.