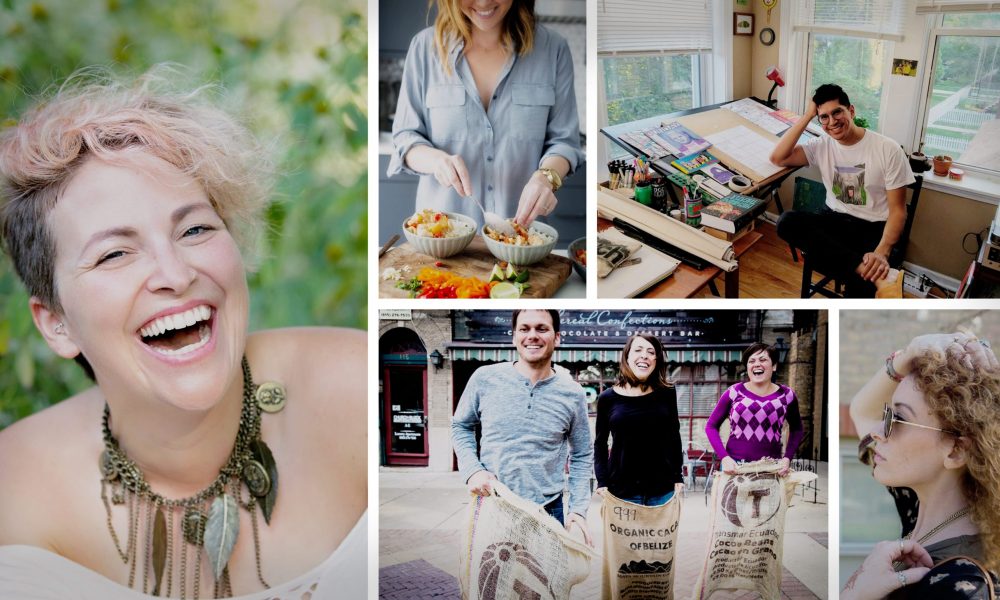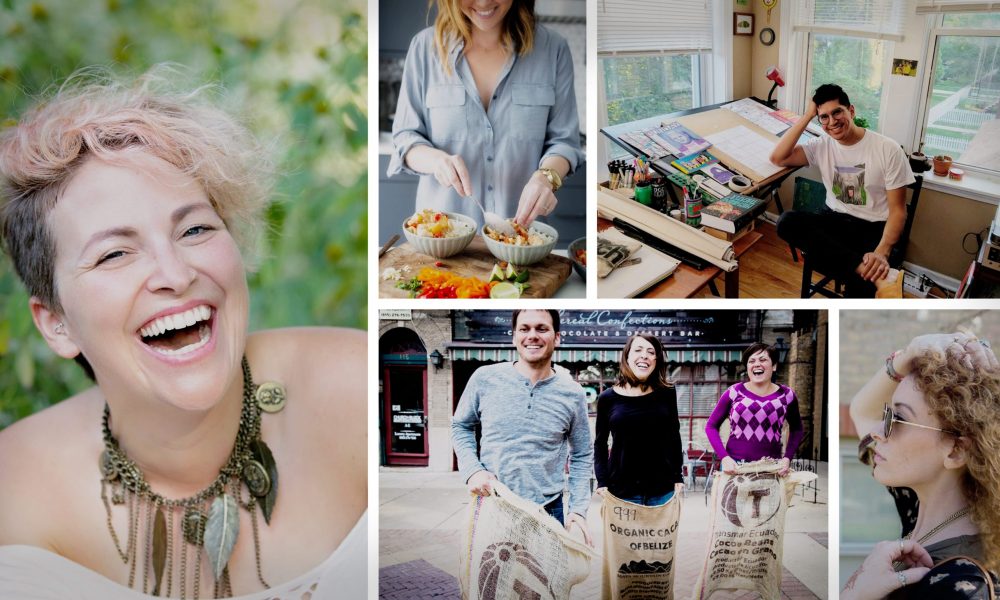 The heart of our mission at VoyageChicago is to find the amazing souls that breathe life into our city. In the recent weeks we've had the privilege to connect with some of the Chicago's finest artists, creatives, entrepreneurs and rabble rousers and we can't begin to express how impressed we are with our city's incredibly deep talent pool. Check out rising stars from the North West side below.
Abbey Prow

I guess the biggest turning point in my story came as I was a sophomore in College. I was attending the University of Missouri exploring hard classes like Peace Studies and my social life, but still making good grades, when I realized I was almost done with my general ed courses and would soon need to declare a major. Read more>>
Rick Kaempfer

I founded Eckhartz Press in Chicago in 2011 with my long time collaborator and friend David Stern. The name "Eckhartz" is a tribute to the men that gave us our creative genes; My father Eckhard, and Stern's father Fritz. Read more>>
Pia Cruzalegui

I lost my mom, I was admitted to graduate school and I moved to Chicago from Miami. Looking back, these events prompted me to start anew in a city I hardly knew. Chicago is an exciting city for an artist and curator with crazy big ideas like me. Fortunately, my small network of mentors, a group of artists and a couple of curators, took a chance on me. Read more>>
Brent Straitiff

From a pretty young age, I felt the drive to be an entrepreneur. I got my start in the real estate business, which was an easy choice for me because I had already been exposed to it through family members. After a few years in the industry, I started to see what was working and what wasn't and began to feel the desire to build my own business to "do it my way." Read more>>
Staci Sterenberg

Opened a store in 19997-2001 in Roscoe village called Stella Designs. After having two children I started working as an elementary school teaching artist and recently earned a Masters in Art Education from the School of the Art Institute of Chicago. Read more>>
Peter Kozlowski

I grew up in the suburbs of Chicago, my parents were both doctors in Poland before immigrating to the United States. I was unsure if I wanted to follow in their footsteps, I went to college and ended up studying economics and psychology, during my senior year, one of closest friends was diagnosed with Lupus and passed away one week after graduation. Read more>>
Michael Drew

I began my musical journey at age 9 when my parents enrolled me in piano lessons. Music has never been something that has come easily to me, and as a child I struggled with it and did not enjoy playing or practicing. At age 13 I got my first guitar, and the world of music instantly came alive to me. Read more>>
Jillian McCann

Professionally I began my career as a commercial photo stylist, working my way up the ladder from the bottom. I was prepping products for photo shoots, everything from folding shirts, to steaming racks of clothes and cleaning small kitchen appliances. Read more>>
Maureen Werrbach

I opened Urban Wellness in June of 2012 because of a personal goal to provide mental health services to the community I live in. That mission quickly expanded as I hired mental health clinicians to work with me. I've always wanted to grow something that was bigger than myself, something that could continue on and touch many more lives than I could do all on my own. Read more>>
Scott Gave

Hi my name is Scott Gave and I am the owner of Fit 2 Defend Academy. Here is my story: Like most kids growing up in the 80-90's and having 10 siblings, I was very active and loved being outside with friends. Read more>>
Jennifer Betzen

I founded MidWest Women Network soon after the contentious Presidential election of 2016 because the country needed to stop shouting and start listening to each other. I wanted to talk with other women to see what they were thinking and feeling, and I wanted to connect women across the MidWest – from the cities, suburbs and small towns. Read more>>
LuAnn Himebauch

My story actually stems from a very sad part of my life. My mother, Sadie Dunham, was killed in a car accident in December of 2005 – 9 days away from my 50th birthday. I have always been very close with her brothers and sisters in Northern Minnesota and Grand Forks, North Dakota. Read more>>
David Alvarado

I graduated from Columbia College Chicago with a BFA in Illustration. As an illustrator and cartoonist I have gone through a few different paths that ultimately lead me to where I am today. I believe that some of the things that have shaped me into the artist that I am today have been shops like Quimbys, organizations/events like CAKE and Chicago Zine Fest and the close community of cartoonists, artists and illustrators in this city. Read more>>
BboyB

BboyB grew up in the Logan Square neighborhood of Chicago but saw his first graffiti during a family vacation to New York City in 1981. By 1982, he had his tag all over Logan Square and had formed one of Chicago's first iconic Graffiti crews, ABC, the Angel Berto Crew, along with fellow graffiti writer Angel/Seen. Read more>>
Mike Helbing

I always drew, painted and constructed art. I started when a child. I had some art classes early on and switched from engineering to art while at Purdue University. After a stint of life training study of art began in earnest at Ball State in Indiana.
Jyl Bonaguro

I have always been an artist, however living and working as a professional artist is something else entirely. I really began my life over after Hurricane Katrina in New Orleans. After losing so much and feeling shattered, I recognized that much of what I lost were simply things that I didn't need anyhow.  Read more>>
Samantha Gassel

When I was 13 years old, I had my first tonic clonic (a.k.a. grand mal) seizure and was diagnosed with Juvenile Myoclonic Epilepsy. I was lucky — we got my seizures under control with medication right away, with very few side effects. Everyone was very supportive. Read more>>
Rosemary Swierk

After graduating from Indiana University and working for a large corporation, then as an independent manufacturers representative for many years, I met my husband. In 1991 while pregnant with my first child, I kept driving past a dilapidated building that had been on the market for a couple of years. Read more>>
Rebecca Gould

I have always loved expressing my creative side. Originally I had a dress company (sewing). I took all my photos for my website and knew a little about editing and that process. A friend that bought dresses for her daughter from me contacted me to see if I could take photos for her cousin that was visiting! Read more>>
Becca Thomas

I completed my BFA (Bachelor's of Fine Arts) from Indiana University in 2016. I moved to Chicago in August of 2017 pursue my MFA in Fiber and Material Studies at SAIC. Living in Chicago has been a big change for me. It's the biggest city I've ever lived in. I grew up in a very rural area so it's the exact opposite of that. Read more>>
Jacki Stanley

When I was a kid and we were on vacation, my dad had this real dream where he was told to invent these kids' shoes that you can paint with nail polish – he was told what they should be called, what they should look like, to get a patent right away, and to give back to a specific charity with the profits. Read more>>
Tara Troy

I went to medical school at Rush and completed my residency and fellowship at University of Chicago. I have been working as a gastroenterologist in Lake Forest for the past twelve years. I recently decided to leave Northwestern Medicine and begin my own small practice in Northbrook.  Read more>>
Nicole Triebe

In 2004, I graduated at the top class at the Cooking and Hospitality Institute of Chicago and obtained a degree in Pâtisserie Arts. Though well-versed in all areas of cuisine, I realized that my true passion was in the creation of beautiful cakes. Read more>>
Joe Diamond

I got my studio in the Historic & possibly Haunted Dole Mansion in 2014. After using it as office space for two years, I started doing 13 person mind reading shows in the studio every month. It became so popular I turned it into a weekly show, and now it's Number One on TripAdvisor & won "Best of the Fox" for Live Theatre. Read more>>
Nash (Nebojsa) Zivkovic

Even after I learned new skills and become freight broker I always had higher goals ,2009 I started webdesign and marketing company but did have enough time to run this new business because freight brokerage was my primary job. Read more>>
Sara Miller

I went to college for Interior Design and worked in the commercial design industry for about 5 years. I enjoyed the work, but I didn't love it. I didn't feel passionate about it the way my coworkers seemed to be. What I did feel passionate about was food. I loved cooking and creating in the kitchen. Read more>>
Erik Hilger

I started playing bass guitar when I was 14. The goal was to play in active bands that were playing shows, writing, recording, etc. I refer to myself as a hired gun. Out of all the bands I've played in, I was an original member in one. Read more>>
Antje Kastner-Panya

I'm an immigrant. Born and raised in former East Germany. Both my parents and grand farther were hairdressers. I stepped right into their shoes. Though my passion always lay in art. I went to beauty school in Germany, After that made my master craftsman diploma and ran our family studio in my hometown. Read more>>
Scott Little

I have always loved art, but it has taken a long and winding path to get where I am today. I graduated from the American Academy of Arts in Chicago, with a degree in Illustration. I took a few freelance art jobs before I decided to join my dad at Precision Drill company full time, first as a machine operator, then supervisor. Read more>>