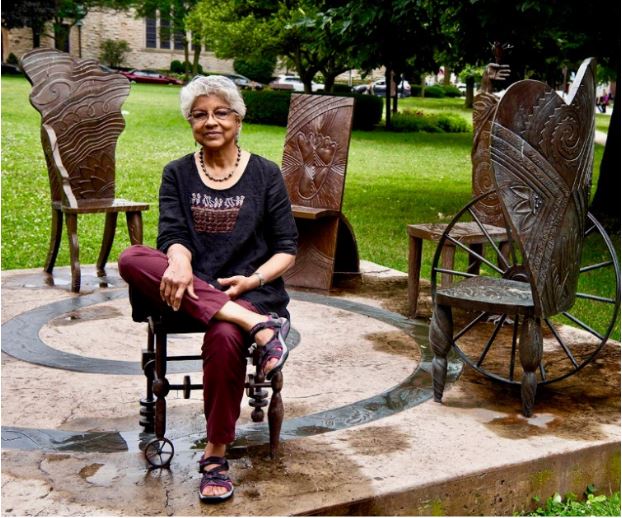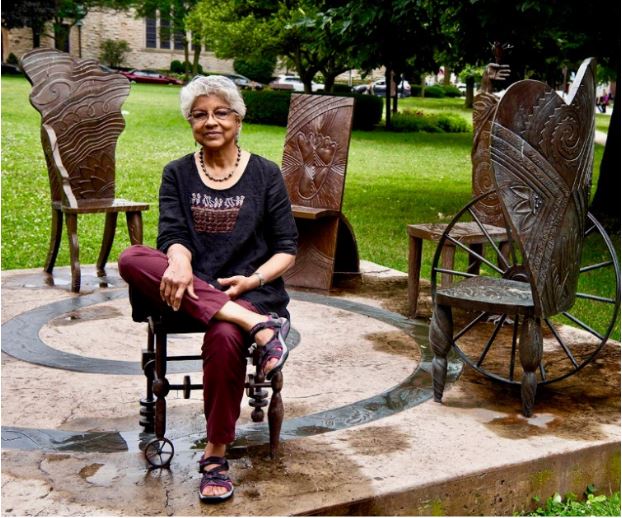 Today we'd like to introduce you to Indira Freitas Johnson.
Indira Freitas, we'd love to hear your story and how you got to where you are today both personally and as an artist.
I used to receive Zero, in Drawing, throughout my high school years in Mumbai, India. My art teacher would call me a liar because I could not create a realistic rendering of the still life that she set up in class. Despite the grades and ridicule, my self-perception that "I was an artist!" only grew. I loved expressing my own vision of the world through my drawing and painting and routinely created posters for the various social service and community events that my mom organized and facilitated throughout my childhood. Happily, I convinced not only myself but my parents as well about my artistic ability and when I graduated from high school, they determined that regardless of my "Zero's" I would attend Art School.
One thing led to another and I was privileged to receive a fellowship to do graduate work at the School of the Art Institute of Chicago. While my formal art education was in advertising design, I am fortunate to have had a wide range of "arts learning" experiences that enriched my creative process. These stretch from the age-old folk art traditions practiced in the villages of Bihar, India where collective visions are ritually painted on floors and walls of huts to the works of contemporary artists like Suzanne Lacy, Maya Lin, Rirkrit Tiravanija. My social activist mother and artist father, an ardent follower of Gandhi's teachings, resulted in art and nonviolence practice becoming a major thread that is interwoven in my art and life and is the foundation upon which I have layered the learning I accumulated throughout my journey.
My first public art project was with Western Railway and a Mumbai based Health and Community organization that focused on the curability of leprosy. We worked with children from a community that had experienced a high incidence of leprosy. The children expressed their feelings in words and drawings, which were then painted on a commuter train that traveled from the far suburbs to downtown Mumbai. The children's responses were powerful in their simplicity and straightforwardness like the child who said, "I took my pills and I was cured" which was exactly the message we wanted to convey.
The success of this project motivated me to continue to work in public art. I knew nothing about it but felt that the combination of art and activism that had been such an integral part of my upbringing was a perfect fit for a public art and community practice. I loved the fact that art could retain its aesthetic value and still be used in this practical and purposeful way.
We'd love to hear more about your art. What do you do and why and what do you hope others will take away from your work?
My identity has evolved as part sculptor, cultural worker, peace activist, and educator. Art and life are interwoven; creating objects in the studio goes hand in hand with site-specific installation and interactive/community-engaged projects.
Much of my studio work centers around combining objects discarded by society with my sculptural work to create new objects that explore the constant process of transformation and change in the cycle of birth, death, and rebirth. As I get older, my fascination for these abandoned objects keeps growing, leading me to question the issues of permanence and decay, strength and vulnerability.
My public art projects reflect my passion and commitment to cultivate peace as individual action, to make art part of everyday life and to involve local communities in the artistic process. Over the years my skill at building structures that encourage conversations and creating visual metaphors for communication has grown. Ten Thousand Ripples (TTR), my ongoing Public Art and Peace initiative, is a partnership between Changing Worlds, the lead arts organization, a consortium of over 30 cultural, educational and social service organizations and myself.
At the center of TTR are one hundred emerging Buddha sculptures, which were installed throughout the Chicago area in sites chosen by ten host communities. Our goal was to provide the general community with an intense and meaningful public art experience outside of traditional art venues and in doing so act as a catalyst for community conversations and interactions about peace and nonviolence.
The emerging Buddha sculptures were welcomed, hugged, interacted with, ignored, debated, occasionally graffitied, and protected. Ultimately, they provoked questions, introspection, and conversation at a neighborhood level and invited communities to move from reflection to action. The success of this project garnered significant public attention, and I was honored with Chicago Magazine's 2013 Chicagoan of the Year Award.
Given everything that is going on in the world today, do you think the role of artists has changed? How do local, national or international events and issues affect your art?
Artists have continuously reflected themselves and the world around them in their art, helping us to see different points of view and to understand things physically as well as emotionally.
I believe deeply that art belongs to all of us. Unfortunately for many, art has no relevance in their daily life. I want to engage people in the power of possibility where and as they live. Because of this, my art practice is firmly grounded at the intersection of art and activism. The numerous studio artworks and community engaged projects I have created and presented over the last three decades cover an array of social issues including the cultural dimension of domestic violence, leprosy health education, labor, the environment, gender, peace, nonviolence, and literacy. They share a common theme; the need to explore ways in which art can increase awareness of the social, political and environmental conditions of our world and can motivate people to play an active role in shaping the social fabric of their community.
As an immigrant one is always slightly out of context – there are certain shared histories that I will never be a part of. And the place where I came from, where I thought I belonged no longer exists. What is left instead is a wished for the reality of that last place. Sharing, collaborating, giving voice to groups who also feel dis located, and who don't ordinarily have a voice helps me come to terms with my own separateness. I have found that in the search for a personal truth one discovers universal truths that bind us to each other, to the past and to future generations.
Do you have any events or exhibitions coming up? Where would one go to see more of your work? How can people support you and your artwork?
I look forward to opportunities to work on arts based community projects that enhance community engagement and foster dialog. Community Workshops. I am encouraged by people wanting to collect my artwork and am happy to welcome people to my studio in Evanston.
My public art installations can be seen at:
– Overlapping Connections Chicago Transit Authority 18th Street Chinatown Station.
– Windows of Faith, Lobby of the Loyola University Museum of Art, Chicago, IL.
– Ten Thousand Ripples Peace Circles – Lake Shore Drive just north of Fullerton and Jackson Park opposite the Museum of Science and Industry.
– Journey Into Possibilities- Lincoln Hall Advising Center, University of Illinois, Champaign, IL. https://www.youtube.com/watch?v=5KLqkRWHE7o&feature=youtu.be
– Conversations: Here and Now, corner of Chicago and Grove Avenues, Evanston.

Contact Info: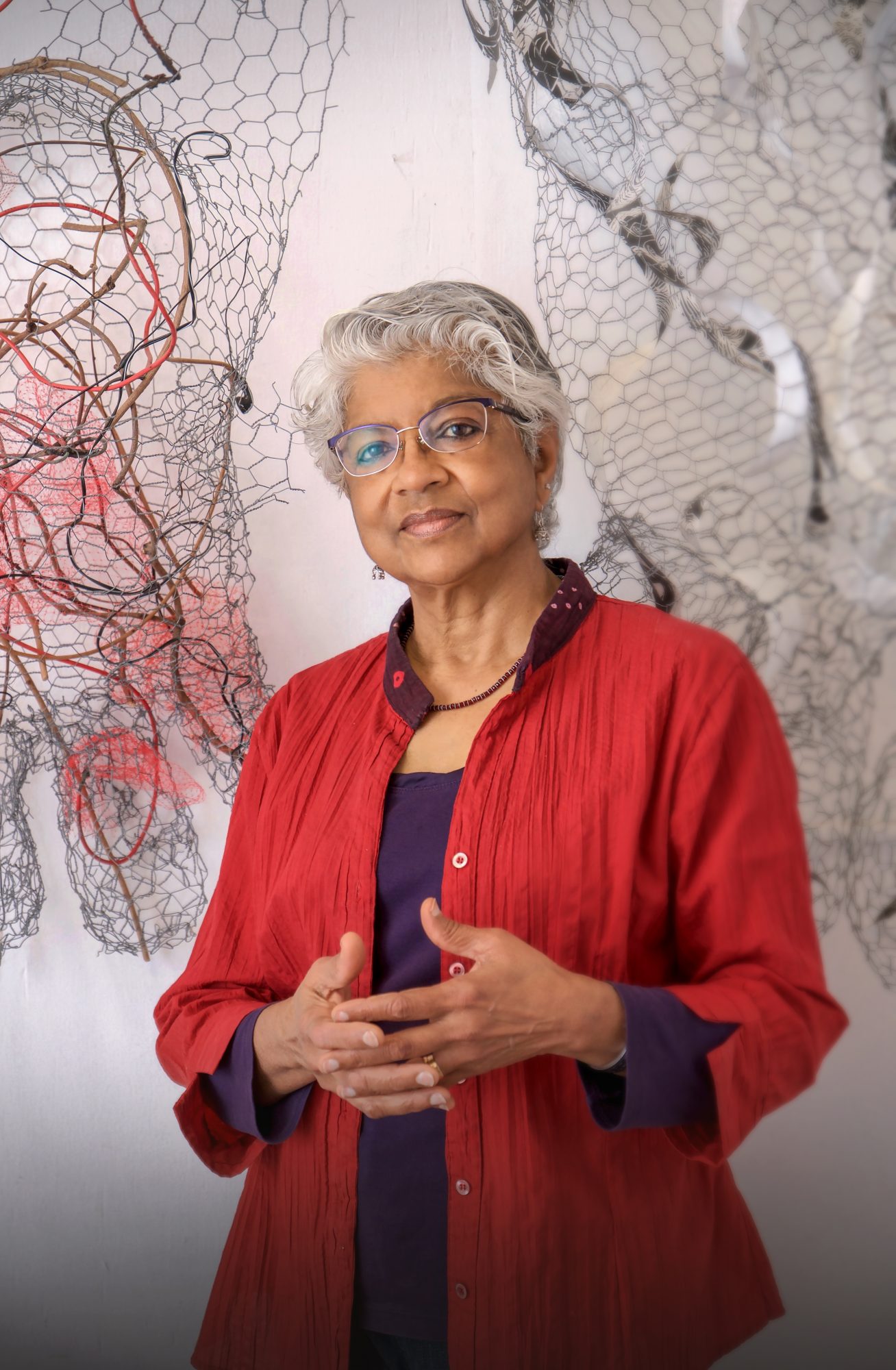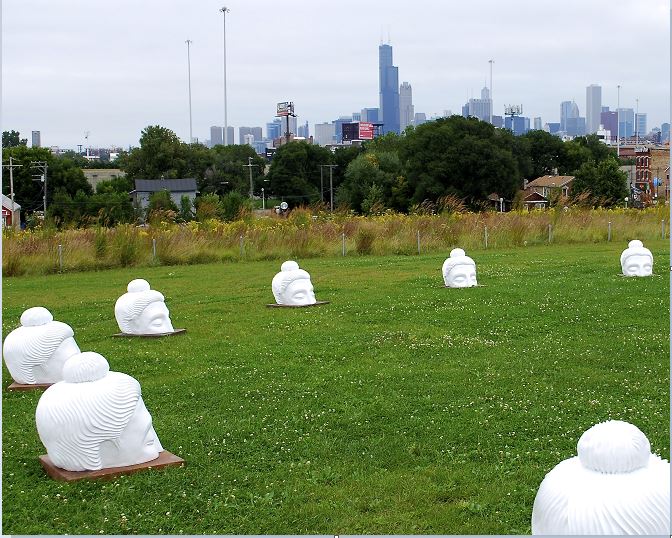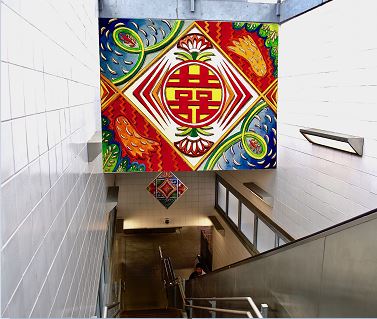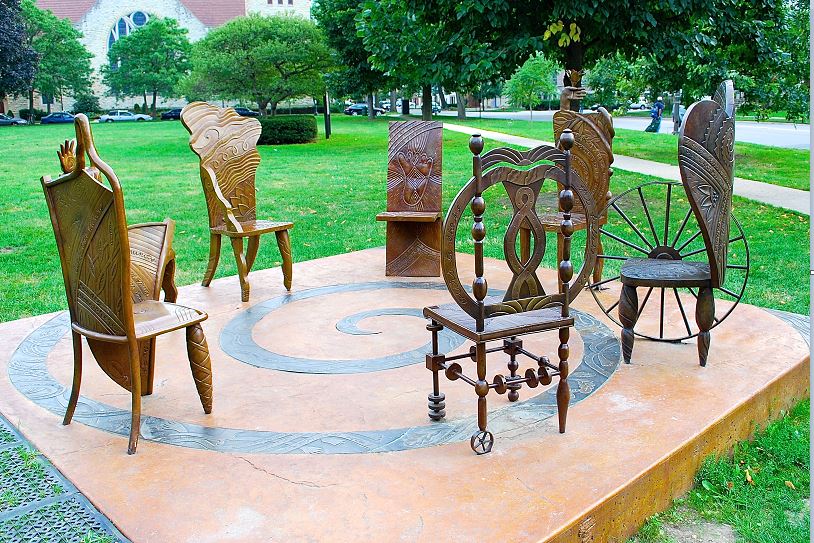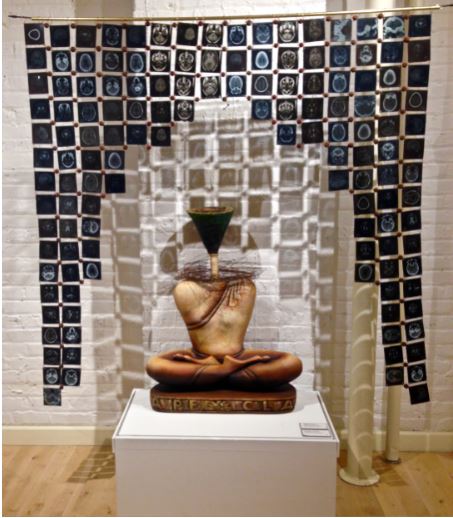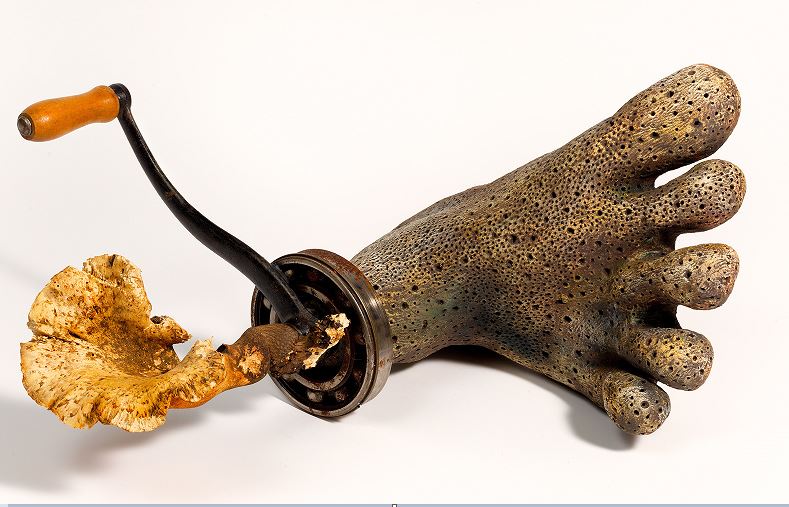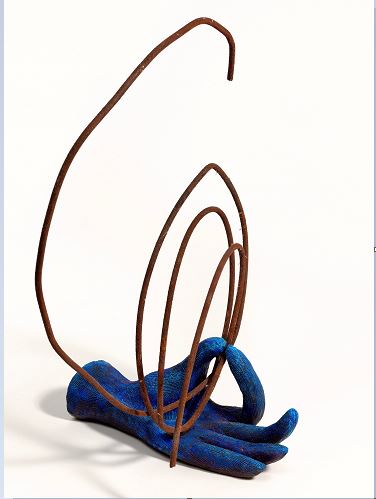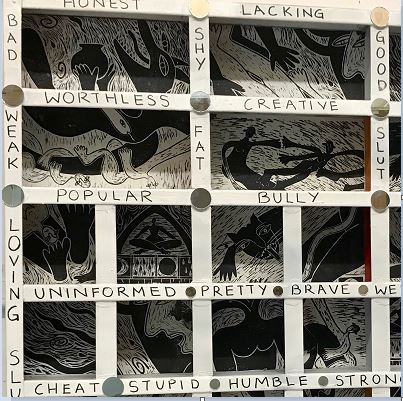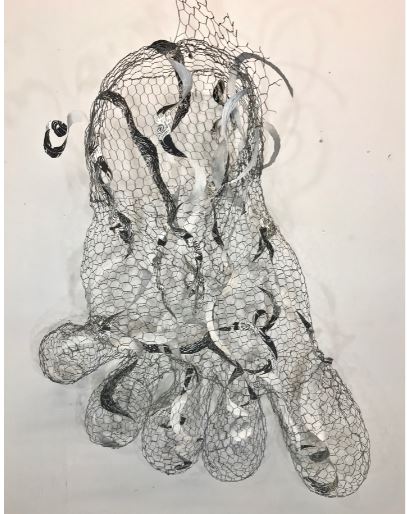 Image Credit:
Adeline Sides, Ten Thousand Ripples, Public Art, Peace and Civic Engagement, Palmisano Park, Chicago Park District, Overlapping Connections, Chinatown/Cermak Station, Chicago Transit Authority, Conversations: Here and Now, Raymond Park, Evanston, Searching, Chicken wire, torn block print, Escape Clause, Human Technology; Seeking IV, Human Technology; UnderstandingIV, Gloria Araya
Getting in touch: VoyageChicago is built on recommendations from the community; it's how we uncover hidden gems, so if you know someone who deserves recognition please let us know here.