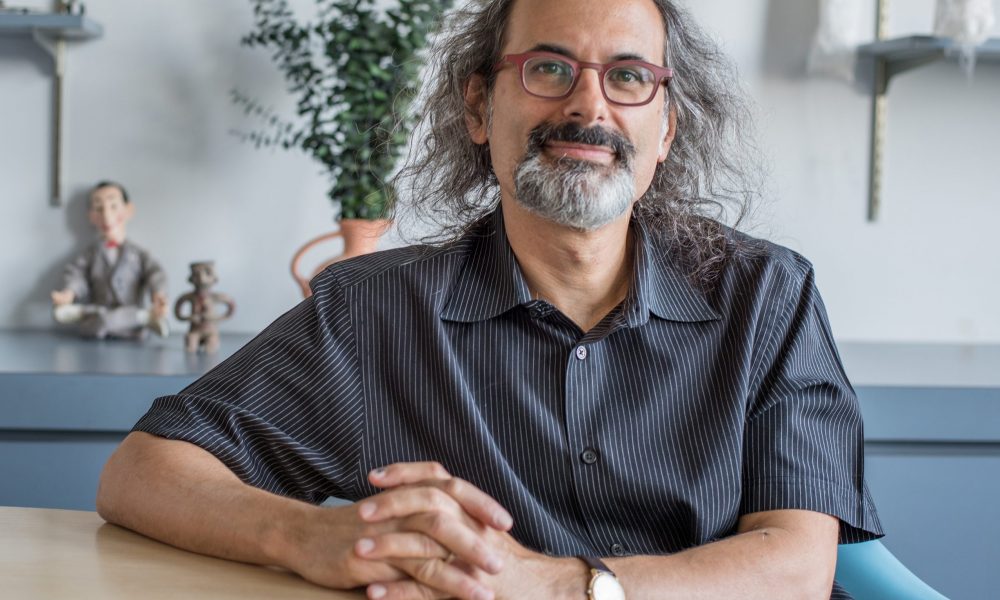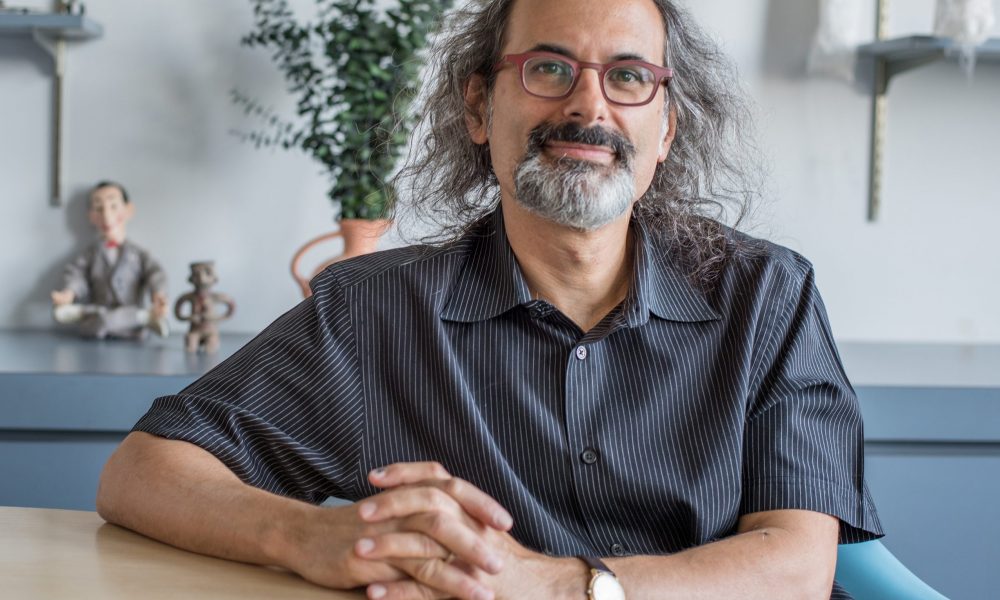 Today we'd like to introduce you to Tony Trigilio.
Tony, we'd love to hear your story and how you got to where you are today both personally and as an artist.
My story is a life obsessed with words and music. I've been a writer for as long as I can remember. I've always been drawn to language that tries to say the unsayable — the essence of poetry, for me. My first exposure to this kind of language was in sacred texts, where I found devotional writers using everyday language to talk about phenomena that exist beyond our five senses. This is where the poet in me originally took shape. I was thrilled to read the work of others who were trying to explain the unexplainable in language, and at an early age I realized that I wanted to create this same thrill in readers. My sister's Beatles records helped, too — the lyrics in songs like "Eleanor Rigby" and "Nowhere Man" spoke to the solitary nature of being human in a crucial way for me as a child. Along with the religious verse I was exposed to, these songs taught me that something vividly spiritual might be found inside those intense moments when we are alone with ourselves.
I grew up in Erie, PA, and I've spent most of my life in Boston and Chicago. For the past 20 years, I've taught English and Creative Writing at Columbia College Chicago (I can't believe it's been two decades; it feels like I just started yesterday). I'm lucky that I've had amazing artistic mentors over the years, and their guidance inspires me to be an artistic role model for my students — not just someone who helps them shape their own work, but also someone who guides them through the highs and lows of being an artist in a utilitarian culture such as ours. My first important mentor was my fourth-grade writing teacher, Ms. Omark. She convinced me that I could shape real-life autobiographical material into writing that people would actually want to read. When she would ask me what I was writing, I knew she actually wanted to hear my answers. I wrote my first serious poem that year, an anxiety-ridden response to my abject fear of tornadoes. She liked it so much that she asked me to rewrite it on poster board, and then she taped it to the front of her desk. (Thanks, Ms. Omark, for my first "publication"!)
But it wasn't until my first undergraduate poetry workshop, at Kent State University, that I really took poetry seriously as an artistic practice. I grew up poor, and we had very little space in our family to cultivate the arts. But here I was, in a college-level classroom with 12 other students who believed, somehow, we all could write poems that other people would want to read. And our instructor, Mac Hassler, was there to guide us with formal and informal writing prompts, and he also taught us how to keep a regular journal and then to incorporate our journaling into finished poems that could have a shape and voice all their own.
My Creative Writing workshops continued through graduate school, and I've been lucky to have incredible writing mentors along the way, like Guy Rotella, Joseph DeRoche, Diana Hume George, and Robin Becker, among others. Early in grad school, I took on positions as an editorial reader for a number of literary magazines and writing contests. I learned from these experiences to read more than I think I need to read — and then to read even more. It's something I always remind my Creative Writing students at Columbia. We assume filmmakers watch lots of movies, for example, and we assume that musicians listen to lots of music. The same is true for writers — we read everything we can get our hands on, and everything we read has the potential to inspire our next piece of writing.
I'm also a musician (drummer and percussionist). Music has always been an important part of my writing. I write poems as a musician and make music as a poet. The sense of rhythm and sonic play in my poems owes a debt to my years of playing, recording, and touring. Also, my understanding of poetic voicing and phrasing — my feeling for the trajectory of words as they span the length of a poetic line — is a reflection of the subtlety and suppleness I hear in musical phrasing. The notes you play as a musician are, of course, their own language in themselves, and they "speak" to the audience just as clearly and distinctly as words do in a poem. In the early 1990s, I recorded and toured as a member of the Boston-based psychedelic/pop band, Drumming on Glass. I took a lot of time away from the music business afterward, only playing casually, until I helped form Pet Theories, an eclectic Chicago-based trio that recorded and played from 2012-2016.
We'd love to hear more about your art. What do you do you do and why and what do you hope others will take away from your work?
Poetry is my primary focus. I also write and publish literary scholarship and nonfiction essays. I build each poem around a particularly charged scene, image, or sound. If I start with an idea, instead, then the poem is usually doomed. I find that idea-driven poems try to persuade readers to adopt one particular emotion or rhetorical position, rather than give readers a chance to discover themselves in the poem on their own terms.
I'm particularly drawn to making autobiographical poems and documentary poems. My most recent project is a multi-volume experiment in autobiography. I'm watching every episode of the old 1960s-1970s Gothic soap opera, Dark Shadows, which I watched every afternoon with my mother when I was a very small child. Back then, sitting in front of the TV as a little boy with my mom, I was obsessed with the show's main character, a two-centuries-old vampire named Barnabas Collins. I was enormously attracted to, and repelled by, Barnabas. I was overwhelmed by constant nightmares I had about him. It got so bad that I used to go to sleep with my shoulders hunched, thinking this would prevent him from biting my neck at night. I'd wanted to write about my Barnabas fixation for years, but I didn't find the perfect form for my ideas until 2011. For this project, I write one sentence in response to each Dark Shadows episode, and then I shape these sentences into verse or a hybrid of poetry/prose, using each sentence as a conduit for past and present autobiographical explorations. The show ran for 1,225 episodes — so it's going to take quite some time for me to finish. I'm grateful that my publisher, BlazeVOX Books, specializes in experimental literary work that tries to stretch the boundary of what we call literature. The first book in the project, titled The Complete "Dark Shadows" (of My Childhood), came out in 2014, and the second volume, Inside the Walls of My Own House, was released in 2016. I'm nearly finished with the third volume, a poetry/prose hybrid tentatively titled Ghosts of the Upper Floor.
My first book of poems, The Lama's English Lessons (Three Candles Press, 2006), was a collection of autobiographical narratives, many of which explored my family's experience immigrating to the US from Italy in the early twentieth century. My second book, Historic Diary (BlazeVOX, 2011), was a collection of documentary poems that examined the myths and texts of the assassination of John F. Kennedy, with a primary focus on the diary Lee Harvey Oswald kept when he lived in the Soviet Union (he named his journal "Historic Diary," and it seemed like the perfect title for my book). I love the flexibility and range of documentary projects in poetry. I'm drawn to how persona poems, dramatic monologues, and found texts (from personal diaries to government documents) combine to tell an unofficial version of the historical narratives we have come to accept as otherwise authoritative.
This summer, I just finished the manuscript of my latest documentary project, a poetry collection titled Proof Something Happened. The poems in this manuscript explore the story of Betty and Barney Hill, who claimed to have been abducted by aliens in the White Mountains of New Hampshire in 1961. Rather than try to solve the mystery of what happened to the Hills, I instead explore the psychological and cultural trauma they experienced as a result of their alleged abduction. The Hills were an interracial couple, and my poems often dramatize the psychological trauma of their alleged abduction within the context of the cultural and historical trauma of racism. Whether or not the abduction actually occurred is less important to my poems than the Hills' efforts in subsequent years to make sense of their experience within a skeptical and racially hostile culture.
I'm also an editor and scholar. In 2014, Ahsahta Press published Elise Cowen: Poems and Fragments, a collection of poems I compiled and annotated from Cowen's only surviving notebook. Very little was known about Cowen's work before this book. She primarily had been seen as a friend (and onetime girlfriend) of Allen Ginsberg, and as the person who typed the manuscript of Ginsberg's long poem, "Kaddish." But she was a poet in her own right, and I'm grateful that I've been able to bring new readers to her work. A German edition of the book was released this summer from Stadlichter Presse, and translations are in the works for Spanish and Turkish editions.
My work with Cowen's poems grew out of my scholarly research into the poetry of Allen Ginsberg. I'm the author of Allen Ginsberg's Buddhist Poetics, the first book-length study of his Buddhist influences. It was published by Southern Illinois University Press in 2007, and a second edition came out in 2012. My first book of criticism, Strange Prophecies Anew, was a study of the visionary poetry of Ginsberg, William Blake, and H.D. (Hilda Doolittle). Fairleigh Dickinson University Press published this in 2000.
With David Trinidad, I co-edit the poetry journal Court Green, which I co-founded in 2004 with Trinidad and Arielle Greenberg. Since 2017, I've also served as an Associate Editor for the multi-genre literary journal, Tupelo Quarterly.
What do you think it takes to be successful as an artist?
Most of all, I consider it an enormous success when readers or writers tell me they've connected with my writing in some way. Nothing is more important to me as an artist than this kind of human connection. More specifically, though, I want artists to help me discover new ways of seeing and being in the world — and I want to be this kind of artist for those who read and listen to my work. This kind of artist-audience relationship is just as often an emotional as an intellectual dynamic, but it's also a matter of politics for me. I was fortunate to be mentored by writers and thinkers who taught, and lived, the idea that the personal is political. This is partly why I'm drawn so much to autobiographical work. It's so difficult to try to document a life, but I think it's absolutely vital to do this in a world whose power structures often actively discourage such documentation.
Do you have any events or exhibitions coming up? Where would one go to see more of your work? How can people support you and your artwork?
A list of my upcoming readings and publications is updated regularly at the website I share with my cousin, multimedia artist Michael Trigilio:
http://www.starve.org/tony-readings-pubs.html
My Amazon author page is (https://www.amazon.com/Tony-Trigilio/e/B001JS7OSI). My books also are available directly from my publishers, including BlazeVOX books (blazevox.org), Apostrophe Books (apostrophebooks.org), and Ahsahta Press (https://ahsahtapress.org/), and at bookstores that support independent presses.
Here are links to a few recent interviews on my writing and teaching:
Co-Interview with Joe Fletcher in The Brooklyn Rail (2018)
https://brooklynrail.org/2018/07/books/POEMS-FROM-THE-DARKSIDE-JOE-FLETCHER-in-conversation-with-TONY-TRIGILIO
Columbia College Chicago, Poetry Faculty Interview (2017)
https://blogs.colum.edu/marginalia/2017/03/29/poetry-faculty-interview-tony-trigilio/
Interview by Joe Milazzo in Entropy magazine (2016)
https://entropymag.org/my-vampiric-proustian-madeleine-a-conversation-with-tony-trigilio/
Contact Info: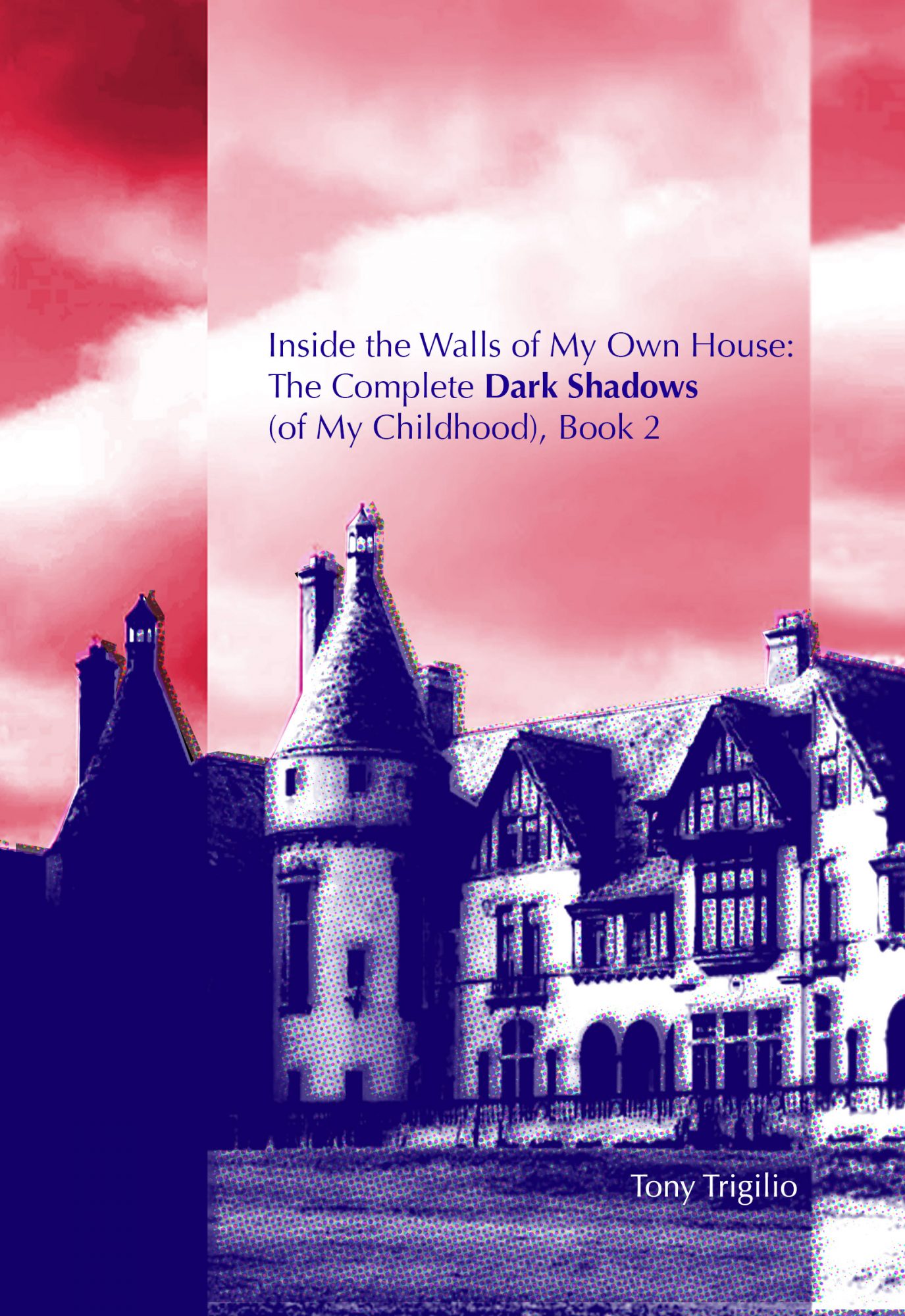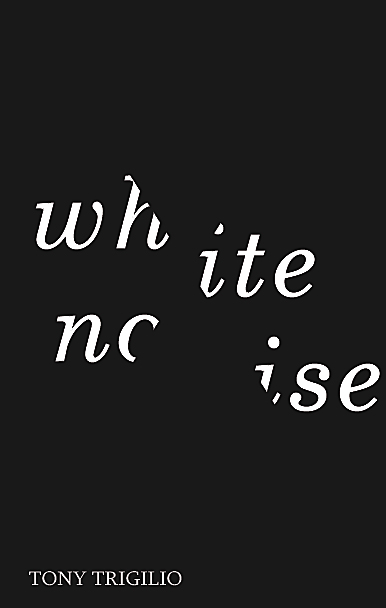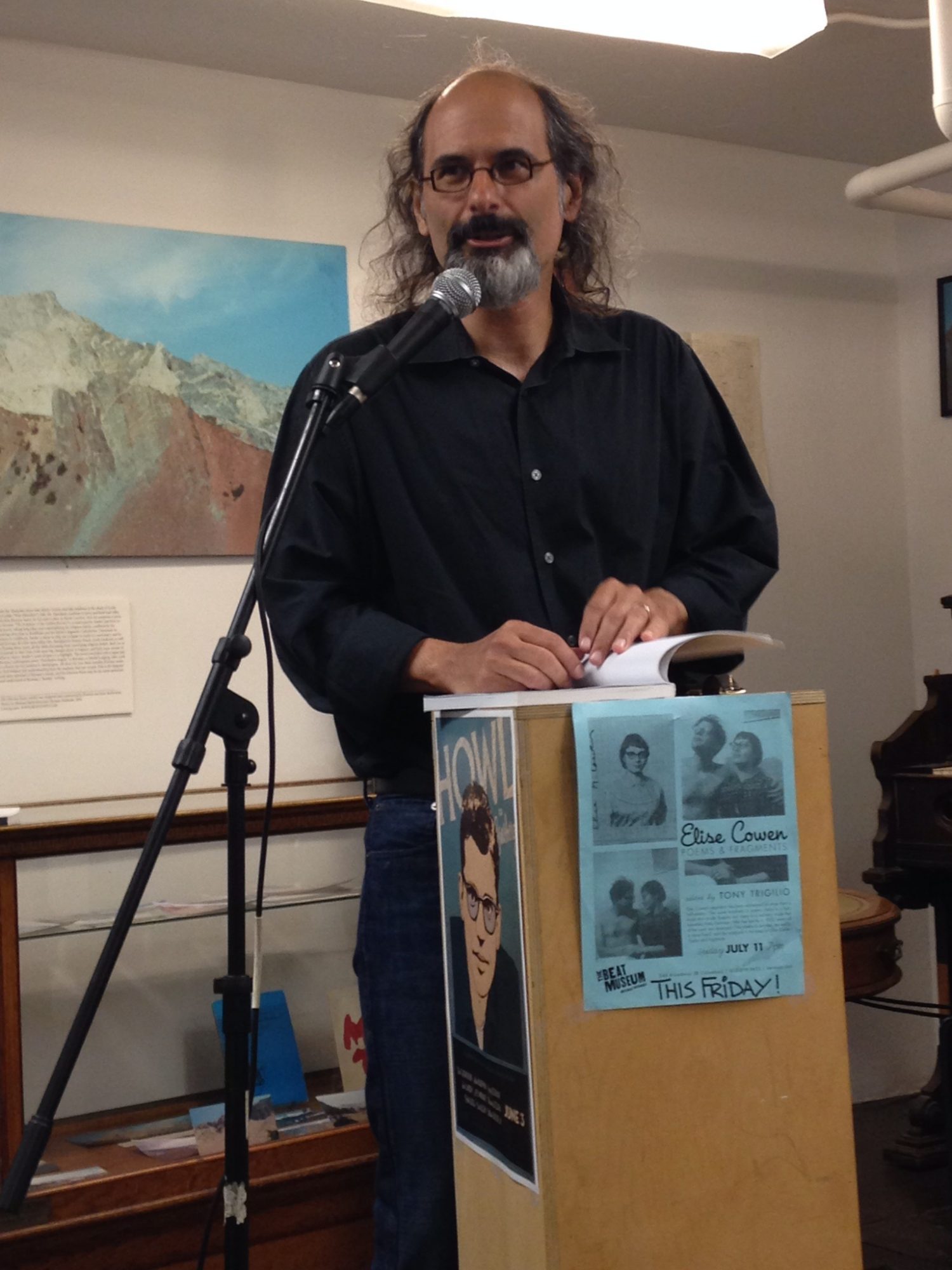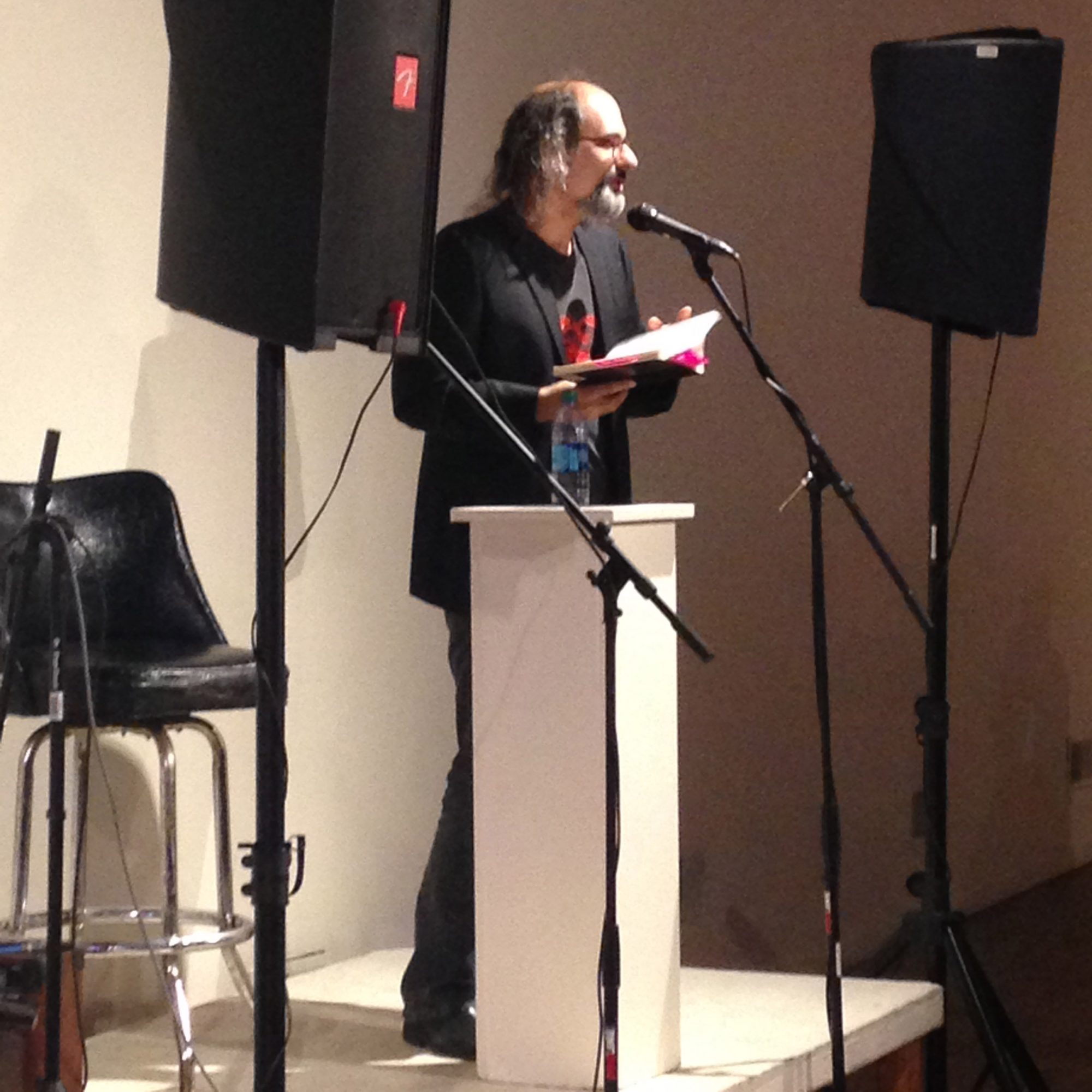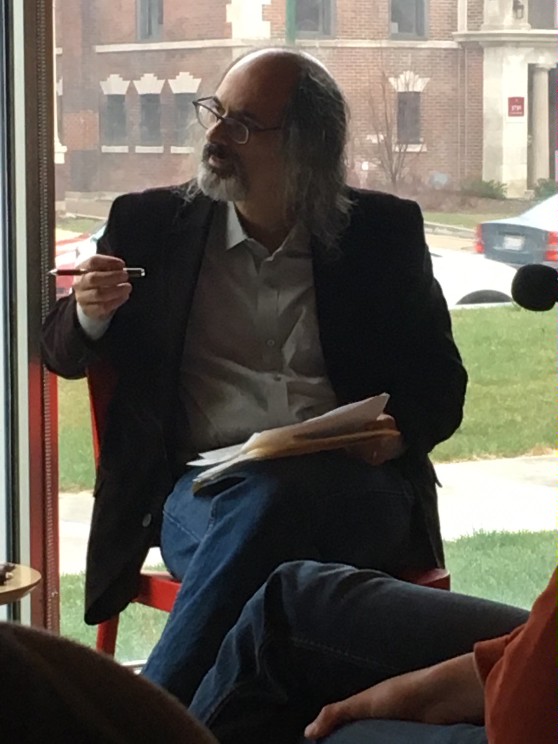 Image Credit:
Horizontal photo at top of page: Kevin Nance
All other photos: Liz Shulman
Getting in touch: VoyageChicago is built on recommendations from the community; it's how we uncover hidden gems, so if you know someone who deserves recognition please let us know here.