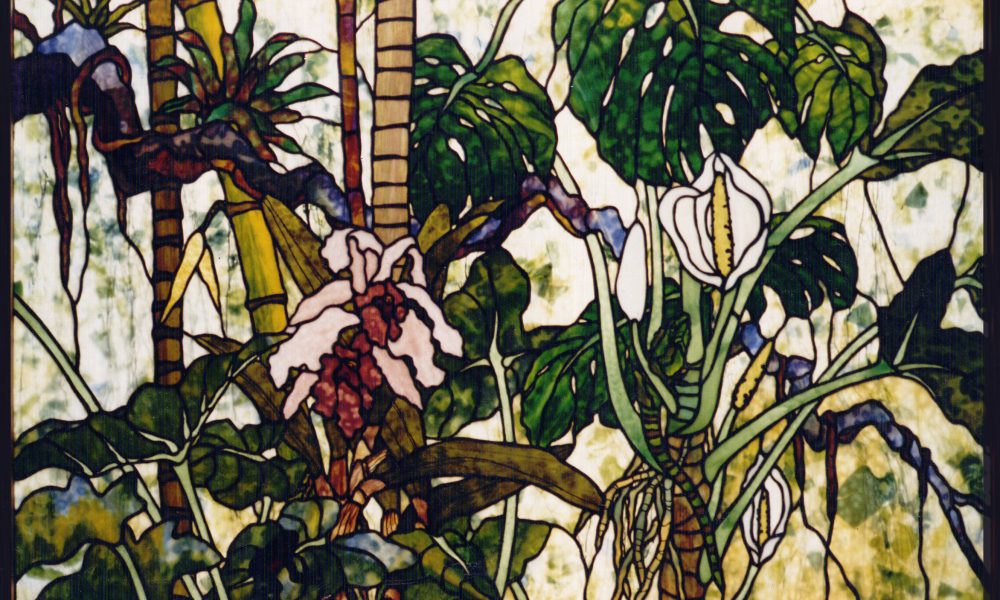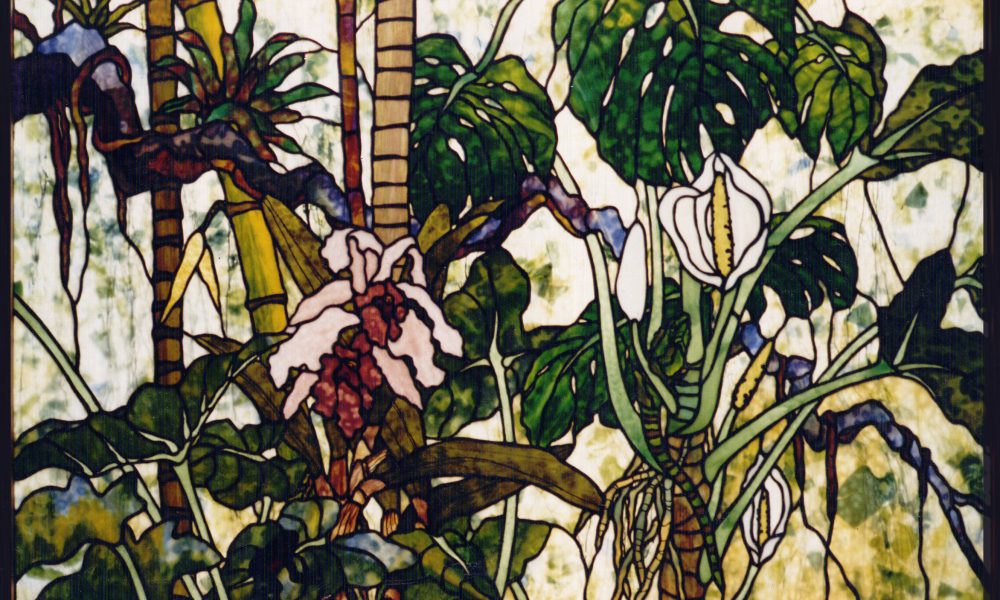 Today we'd like to introduce you to Sharon Bladholm.
Sharon, please kick things off for us by telling us about yourself and your journey so far.
I started making art at a very young age as my father was an artist, so it's always been something I am involved with. I never really thought about doing much else. For me, it was more about what kind of artist I would be, and studied dance and theater when I was quite young but realized, I was more suited to the visual arts.
I officially opened my own studio at the age of 23, hand painting and hanging a sign that said Opal Glass Studio, still the name of my art glass and custom lighting endeavors. I spent about seven years at 3449. N. Sheffield in Wrigleyville before I moved out to what is now called East Garfield Park in 1989. The large classic timber loft studio I have maintained since 1989 has fueled my growth as an artist, allowing me to explore many mediums and processes. My studio is like several laboratories with different areas to explore different directions including fine art, such as sculptural works in ceramic, bronze and glass. I have kilns that dually fire ceramic and cast glass and also create drawings and other works on paper. There is also an area with large tables to create stained glass windows and lighting fixtures.
Can you give our readers some background on your art?
Though I have mainly pursued art, I did consider going back to school to be an ethnobotanist in my early 30's after I was the artist for an expedition to the homelands of the Yanomami who live in the deep, remote Amazonian rainforests of both Venezuela and Brazil. But I realized I was more interested in the shapes, colors, and forms of the plants than cataloging them although I appreciate the science and taxonomy that goes into identifying plants. And I am fascinated by how humans have used them for millennia. I have been deeply inspired by my collaborations with scientists on Expeditions to the Amazon. I always say if I wasn't an artist, I'd be a scientist and precisely an ethnobotanist as that would be the science version of much the focus of my art making.
I have honed a method of working in remote and pristine natural areas that include drawing and watercolors done on site, along with some photography. I bring these elements of inspiration back to my studio and then distill them through the artists' process creating more elaborate and sometimes more abstract pieces, such as the "Biophilia" plant form series. Biophilia is a wonderful word E. O. Wilson coined, meaning the innate love of nature I also believe humans have. Especially when they have a chance to actually be out in nature.
The "Biophilia" series grew out of my long term investigation into the botanical realm. They are a synthesis of the numerous plants I have studied, drawn and grown. Sketches from actual plants become an internal deposit of plant anatomy, leaf, stem, stamen, seed, blossom, and thorn, combining in new ways to inform and infuse these hybrid sculptures.
Often my art, such as my series of mono types called "Scientists at Work" bring alive my collaborations with scientists on expeditions in the Peruvian Amazon as well as local investigations that have been the ongoing inspiration for my artistic practice. Time spent with indigenous people, such as the Yanomami in the Brazilian Amazon, traversing the Rio Pastaza in Peru with biologists from the Field Museum and Conservation International discovering new species, hunting for rare and new orchids in remote rainforests with the Botanical Research Institute of Texas… wandering forest reserves during an arts residency with the non-profit Project Amazonas that was abundant in sprouts and seeds have all shaped my worldview. My art reflects my journey and explorations, creating a unique perspective gleaned from direct experiences in nature.
My recent solo exhibit last year entitled. "Soils Seeds and Sprouts: Tropical and Temperate" was quite directly informed and inspired by my time at Project Amazonas's Santa Cruz forest reserve deep in the Peruvian Amazon, where I spent two weeks wandering every trail, some multiple times, creating watercolors on antique ledger paper from the amazing diversity of seeds and sprouting seeds. I collected them with help from the local children, who hiked with me, munching on pods and fruits like a kid here eats candy. These seeds helped inspire "Seed Rain: Seed Bank" a large installation that celebrated the diversity of seeds, shape, color, form as they hung from twine. The initial idea came from restoration biologist Karen Holl's lecture that mentioned the term which I found both important and poetic. When I read that Charles Darwin once sprouted 537 seeds from three tablespoons of pond mud, "all contained in a breakfast cup", I decided to include seed banks.
I also found Earth Stars, a special type of fungi I have loved for years in the forest reserve three times, which helped inspire my large ceramic installation "Earth Stars; Above and Below" that featured over 100 ceramic earth stars. Larger ones lay on the floor, while medium sized ones creep up the wall and tiny ones dangle like stars in the firmament becoming a metaphor for the earth that nourishes the mushrooms and the atmosphere that also sustains life.
The recent and ongoing ORGAN-ic Inflorescence series looks inside the human body, inspired by cutting edge neurocardiology and finds connections between James Lovelocks Gaia theory and the cellular communication of the heart and brain. "Intelligent Heart" communicates the concept that natural systems are now on life support and we will continue to lose species without human intervention. Lungs morph into vegetation, the b-RAINFOREST sprouts a mini live rainforest, a heart and brain hang in the balance on an antique scale and an enlarged heart dominates a tiny beeswax brain.
Artists rarely, if ever pursue art for the money. Nonetheless, we all have bills and responsibilities and many aspiring artists are discouraged from pursuing art due to financial reasons. Any advice or thoughts you'd like to share with prospective artists?
I would say… Be Diverse! Of course, I am a lover in diversity, in people, plants, ecosystems, habitats, and being so diverse with my art has served me well. If one endeavor is slow, chances are there is something happening with another of my many disciplines. Not everyone is so diverse with their art, we all work in different ways, so if it's not with your art, still learn some diverse skills.
Don't be afraid to take a less than ideal job, look at it as a means to an end and that it's buying you time and supplies to do your artwork and you'll get through the day easier.
Figure out something you can do for money that you can do in your studio. I find it easier to transition from my Opal Glass Studio commissioned work into my own personal artwork rather than come home from a job. Then your day job is paying for your studio.
Learn to be frugal, it's better for the environment not to consume so much, you need less than you think and it will give you more time/money for your art!
What's the best way for someone to check out your work and provide support?
People can see my work at Cultivate Urban Rainforest and Gallery in Evanston at 704 W. Main. I just ending a four-month exhibit entitled "Verdant Passion" that included bronze, ceramic, watercolors and cast glass. Louise Rosenberg, the owner always has a selection of my art on display in the lush setting that also includes a wide and unusual selection of plants that are for sale. Another gallery that shows my work is Jackson Junge at 1389 N. Milwaukee.
I also show my art in other galleries and often in museums… "Soils Seeds and Sprouts: Tropical and Temperate", received a lot of positive attention and I was strongly encouraged to travel this exhibit to other venues. I am currently working on a proposal to send out to museums across the country and elsewhere.
Visitors to the Notebaert Nature Museum at 2430 N. Cannon Drive can always see my artwork, a stained glass window of marsh habitat and bronze Blandings turtles and endangered Hines Emerald Dragonflies in the permanent exhibit, Mysteries of the Marsh, located on the 1st floor.
People are always welcome to call or e-mail me and make an appointment to visit my large studio in East Garfileld Park at 319 N. Albany. It is filled with many kinds of art in a varied range of prices, including my line of Terra Verde natural history inspired ceramic and glass tiles. And if they send me an e-mail requesting it, I am happy to include them on my mailing list for exhibit announcements.
The public can also see my permanent art installation at Openlands Lakeshore Preserve at 3101-3167 Patten Rd, in Highland Park, IL. The 1o bas-relief wall pieces cast in bronze filled resin, depict algae, bacteria, protozoa, actinomycetes, tardigrades, mites, bdelloid rotifers and springtails in all their complex details revealing a more often unseen world beneath our feet, which is vitally important for soil health. During my in-depth research, I learned fascinating stories about the lives of these dirt denizens, such as a tardigrade who went to the moon and survived, no miniature spacesuit needed! Also, fascinating is the bdelloid rotifers that have been all female for 40 million years and ingest their genetic diversity from DNA of other microorganisms they are digesting!
Contact Info:
Address: Opal Glass Studio 319 N. Albany, Chicago, IL 60612
Phone: 773 638 3500
Email: sharonbladholm@sbcglobal.net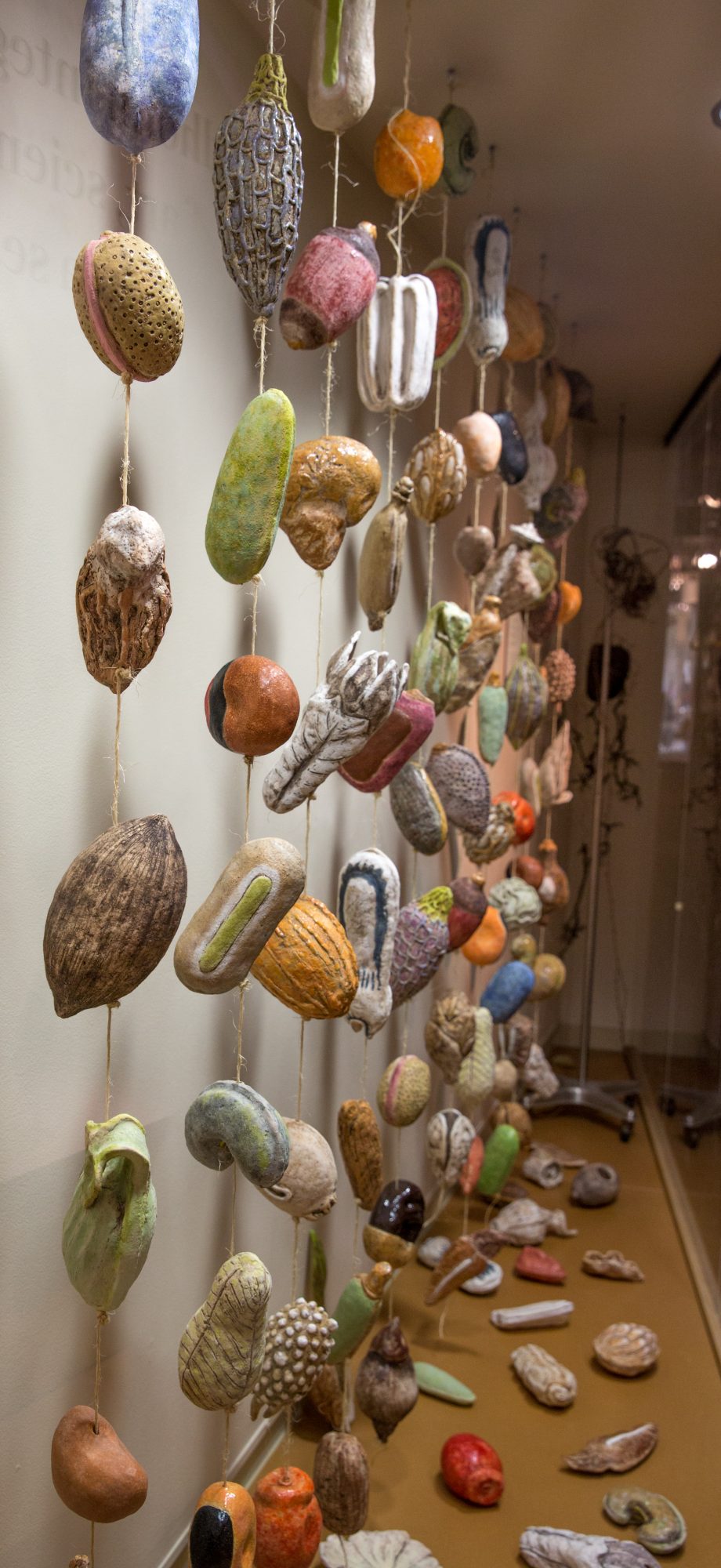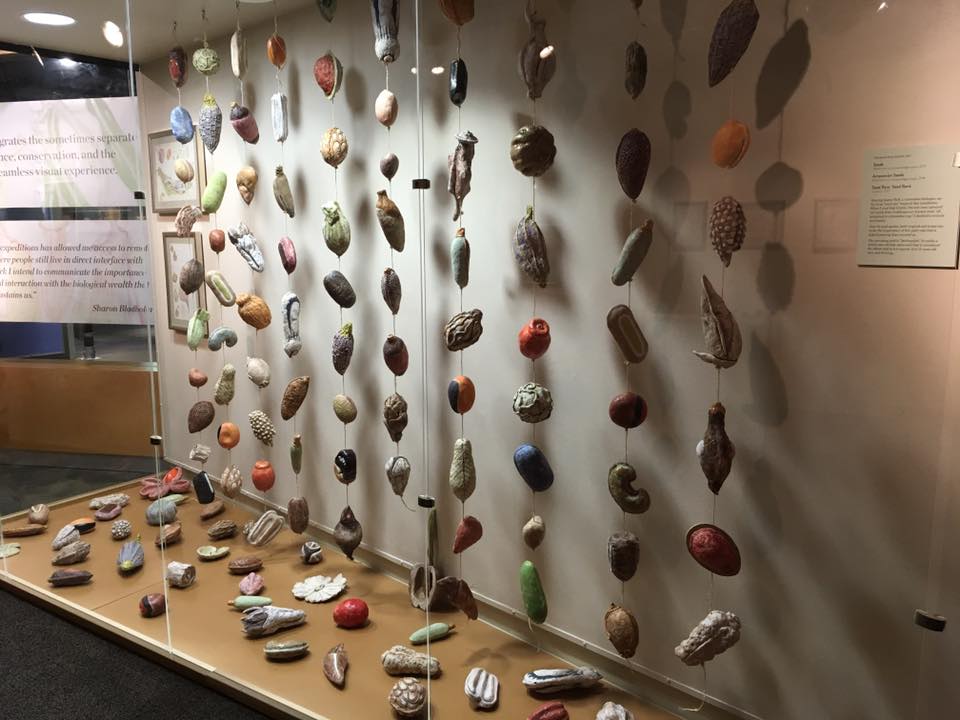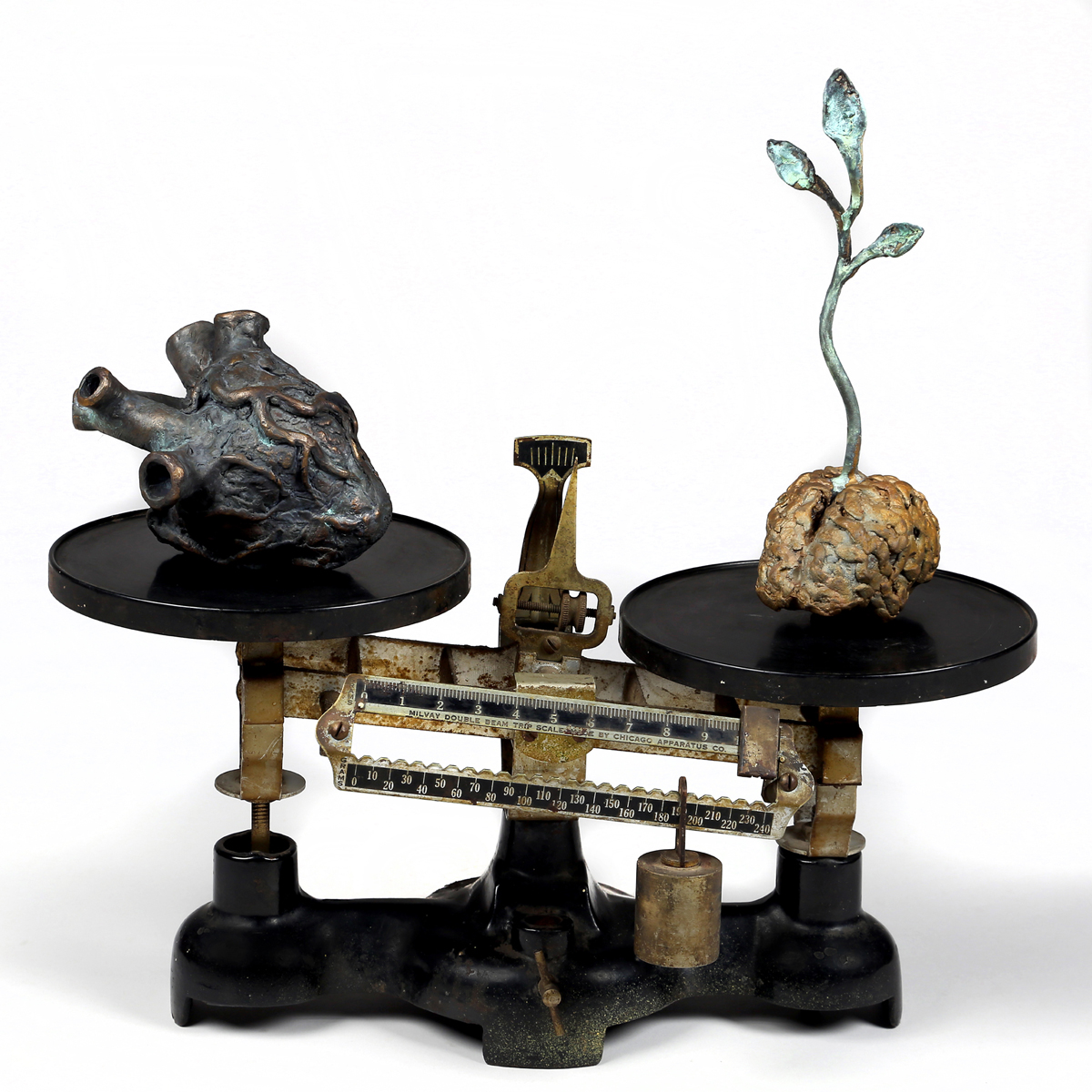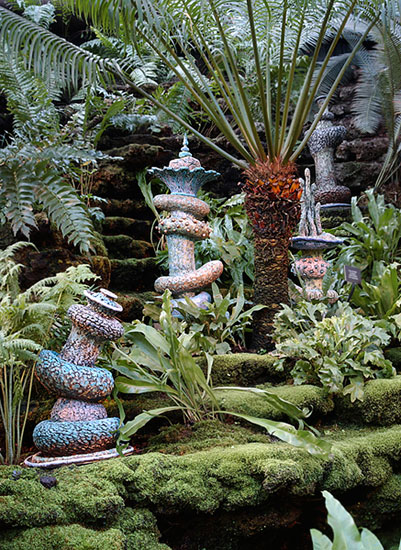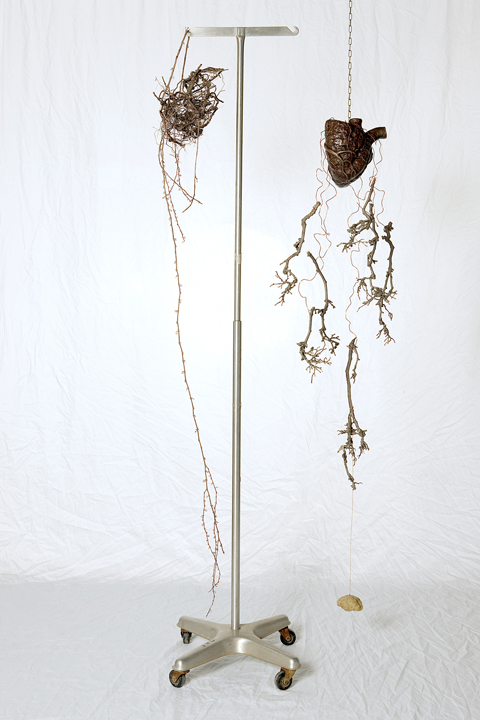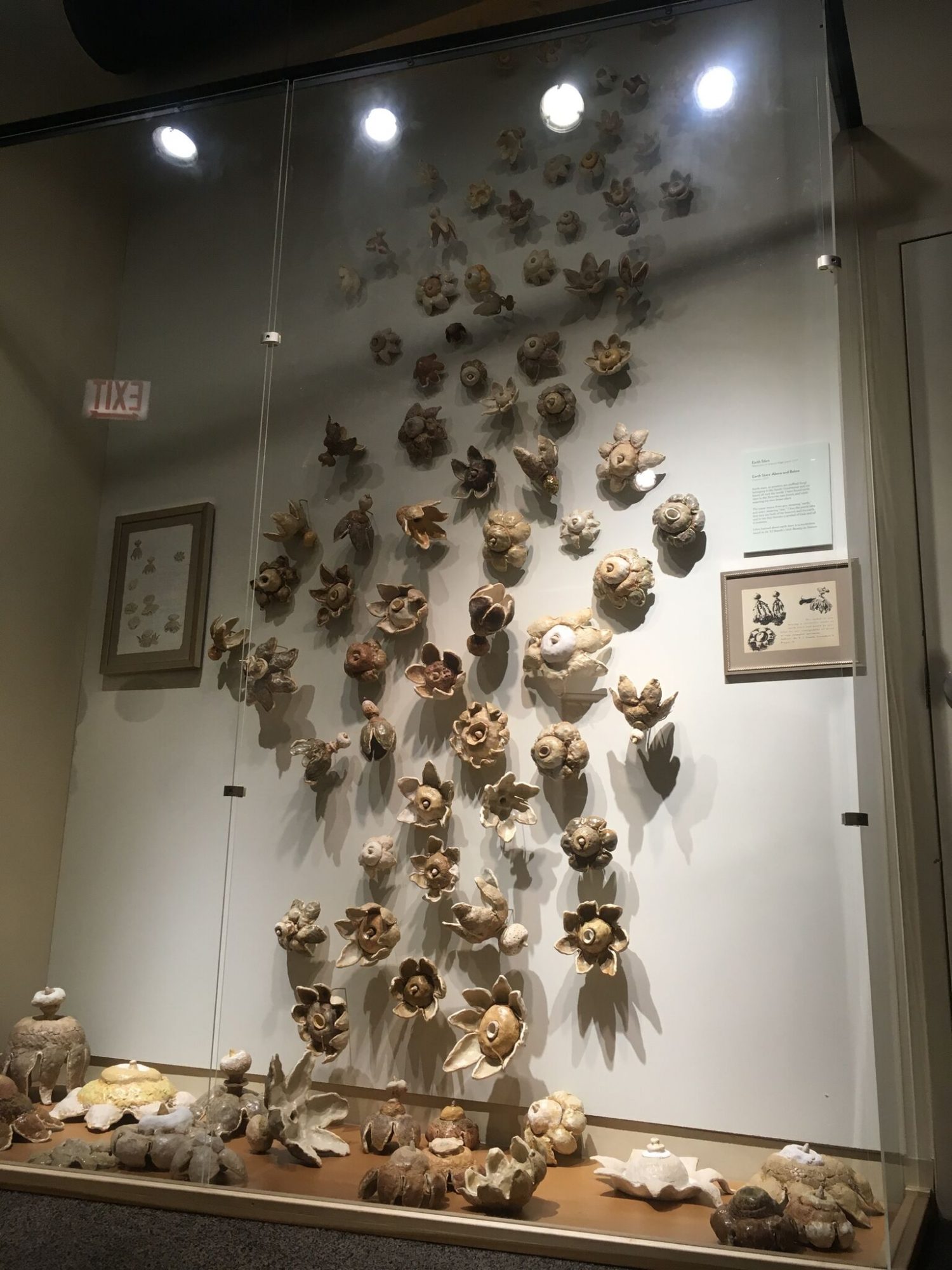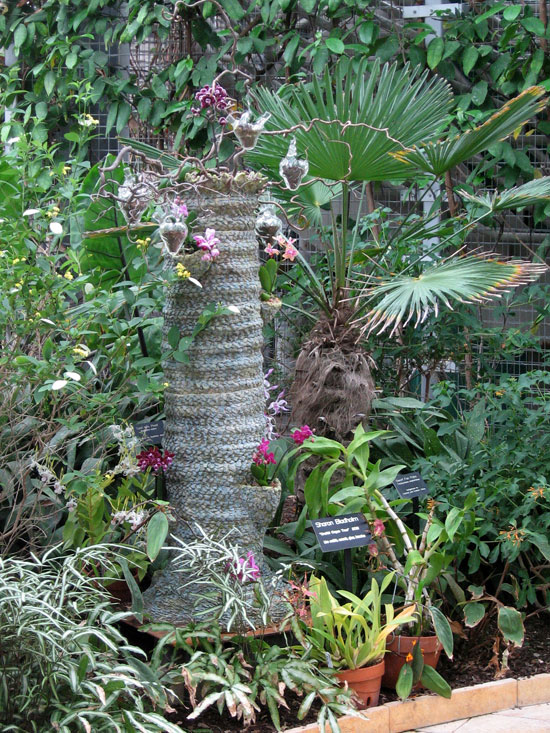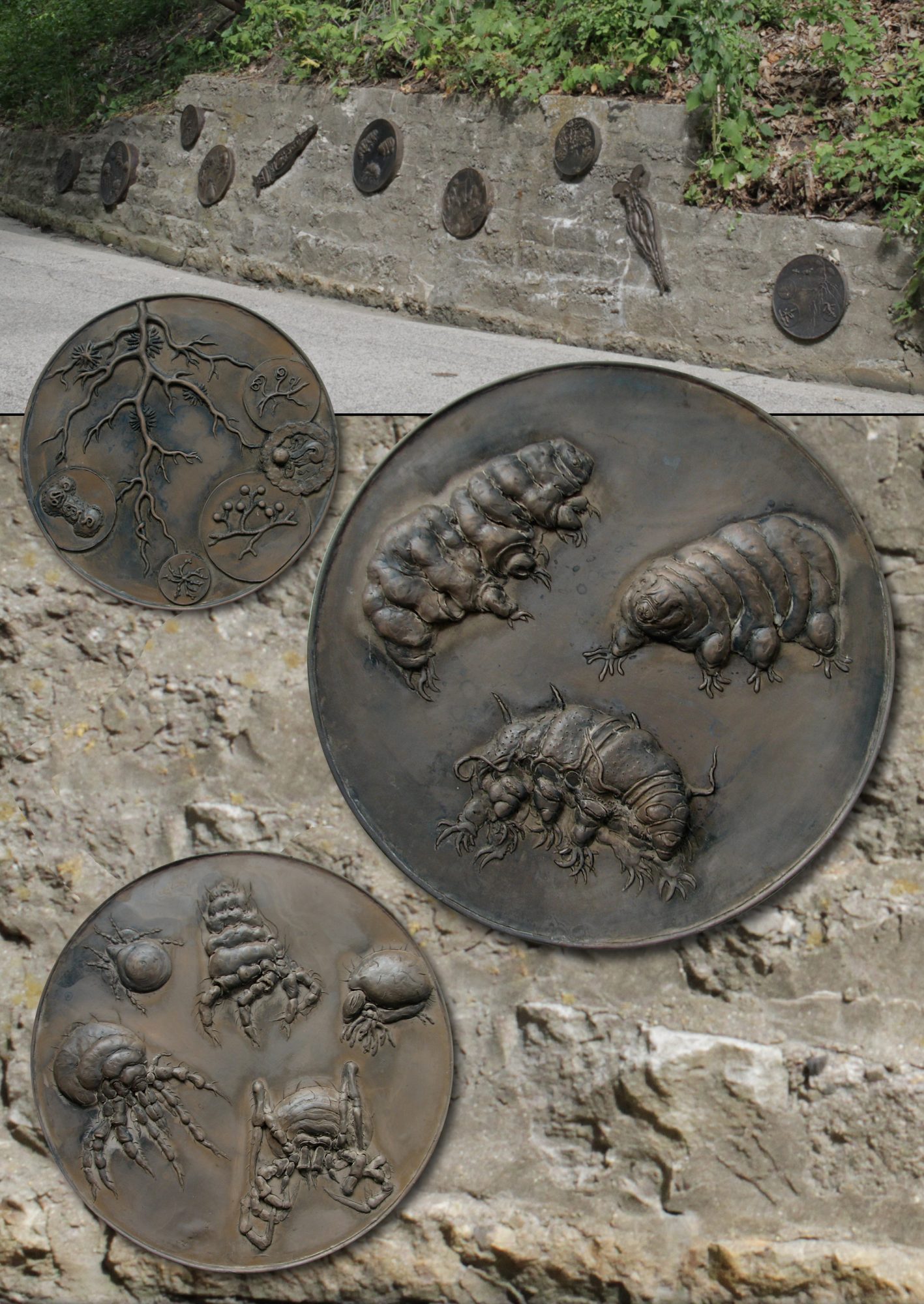 Image Credit:
Portrait Jyoti Srivastava, Seeds Jo, "Balancing heart and Brain" Antique Scale Eric Bladholm
Getting in touch: VoyageChicago is built on recommendations from the community; it's how we uncover hidden gems, so if you know someone who deserves recognition please let us know here.