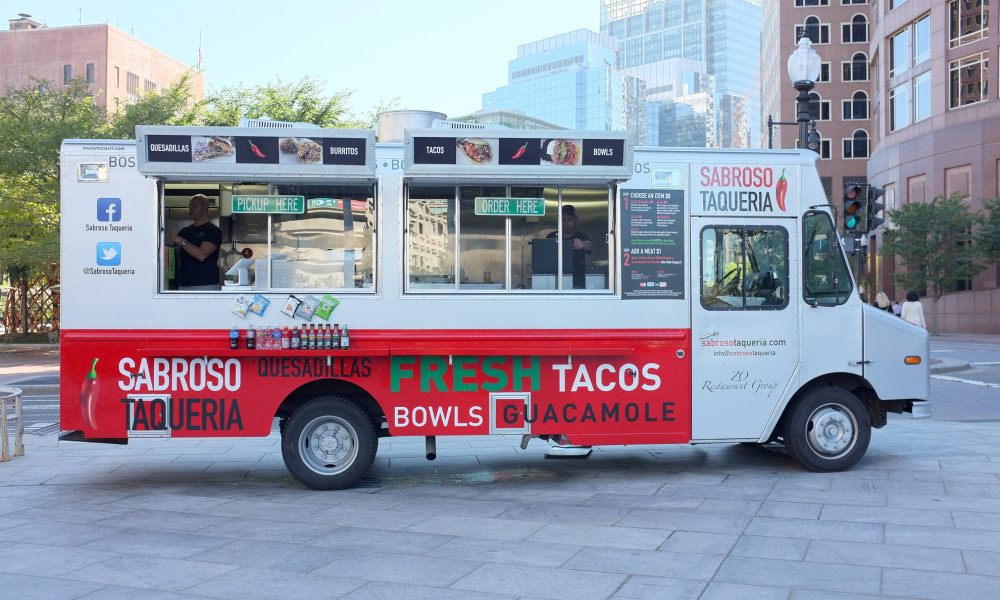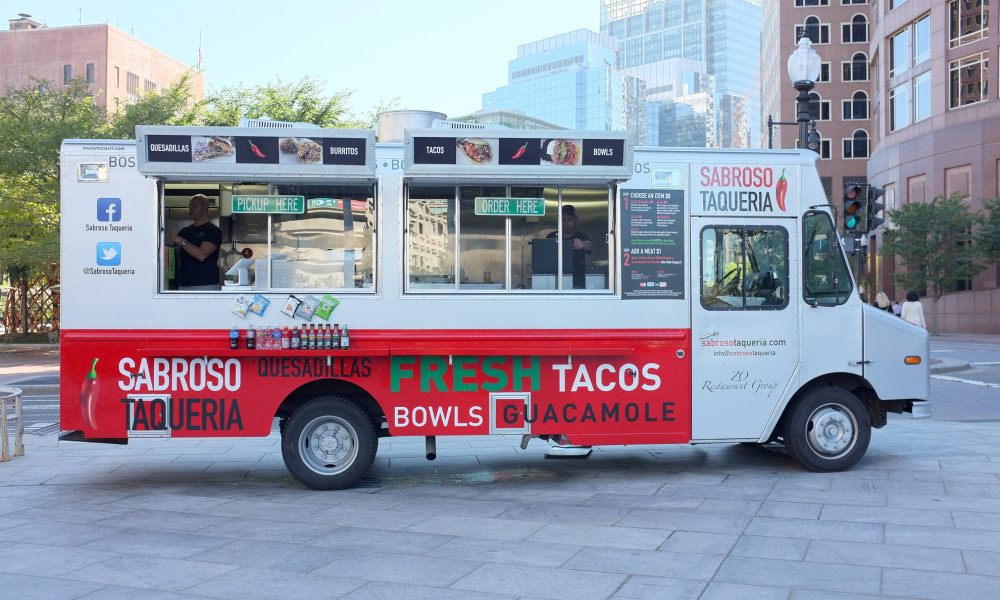 Food trucks are the heart and soul of Beantown's emerging street food scene. Below we've listed some of Chicago's most hotly sought after street food.
1. Tamale Spaceship
Address: 1341 N Damen Ave, Chicago, IL 60622
Phone: (312) 909-7009
Yelp
Website
Schedule: Monday:U of C; Tuesday:600W Chicago; Wednesday:Clark & Monroe; Thursday:Wacker & Adams; Friday: Clark & Monroe
Fresh, authentic Tamales – 2 for $9.  It's well worth the price.
2. Bombay Wraps
Address: 330 E Ohio St, Chicago, IL 60611
Phone: (312) 955-0733
Yelp
Website
Bombay Wraps has taken the best of Indian cooking and delivers it in wrap or bowl form. Each wrap or bowl starts with delicately seasoned and marinated fillings like Chicken Tikka or Cheese Paneer, then pickled onions & cilantro mint chutney are added to the wraps or fresh cut veggies & yogurt / dressing is added to the bowls.
The menu continues to evolve it gains inspiration from all things Indian, but you can be sure to find popular Breakfast Wraps (egg & paratha combinations), Lunch & Dinner wraps and bowls plus a variety of classic Indian drinks (Mango Lassi, Thumbs Up, Frooti).
3. Chicago Pizza Boss
Address: Chicagoland, IL 60605
Phone: (630) 915-0063
Yelp
Website
Their main dough recipe is a traditional Neopolitan one using high hydration with flour, water, yeast, & salt which is proofed for over 48 hours. They use the highest quality California whole peeled tomato on the market, Grated Parmesan Cheese, & Award Winning Cuputo Brand Fresh Mozzerella made from Wiscon Milk by Wiscon Corp in Melrose Park, Illinois.  As soon as your hand crafted pizza is placed into their Forno Brovo wood fired oven at 750 to 850 degrees, it is destined for greatness and 2 minutes later it is in your hands and ready to enjoy.
4. Curry Point
Address: 3913 N Sheridan Rd, Chicago, IL 60613
Phone: (773) 935-9048
Yelp
Website
Authentic Indian food
Great naan, rice portion is small
Try their Gobi Manchurian – AMAZE BALLS
5. The Cheesie's Truck
Address: 960 W Belmont Ave, Chicago, IL 60657
Phone: (773) 633-1801
Yelp
Website
Voted best Grilled Cheese in America by Esquire
Our favorite is the popper – Cheddar, cream cheese and jalapenos
6. Beavers Donuts
Address: 131 N Clinton St, Chicago, IL 60661
Phone: (773) 392-1300
Yelp
Website
Amazing mini doughtnuts.  'Nuff said.
7. La Adelita Truck
Address: Chicago, IL 60612
Phone: (312) 877-5005
Yelp
Website
Some of the best tacos in Chicago
They are really great at catering
8. The Fat Shallot
Address: Chicago, IL 60613
Phone: (773) 893-0826
Yelp
Website
The brain child of the amazing Sam Barron and Sarah Weitz. Sam's career began in Chicago with a long tour of duty at the four-star Everest Restaurant, followed by time in Spain at a three-star Michelin restaurant. Sarah and Sam then traveled throughout Europe and Asia working on small local farms, honing their culinary skills and eating the best street food the world has to offer. New Orleans beckoned as the next stop, where they cooked professionally and developed a deep appreciation of the food and culture of the city. Most recently, Sam left his post as sous-chef at the reopened Pump Room.